Cedar Mill gets two new representatives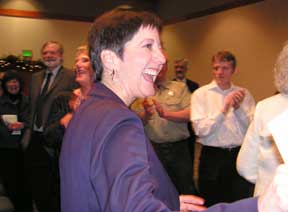 Kathryn Harrington at the Metro Inauguration
Kathryn Harrington was sworn in as our new representative to Metro, the tri-county regional government, on January 2 in a spirited ceremony at the Metro Zoo. She will represent us on the Metro Council. Harrington, a former Intel executive, has been very active in local politics, most recently serving as Chair of the Washington County Committee for Citizen Involvement (CCI).
Desari Strader was elected as County Commissioner to replace John Leeper, who has retired. She was sworn in on January 9. Strader was previously a legislative director for State Representative Mitch Greenlick and a congressional aide and business liaison to U.S. Congresswoman Darlene Hooley.
We look forward to hearing from both these representatives at upcoming meetings of CPO 1 and in these pages. Harrington, along with State Representative Mitch Greenlick, is scheduled for the April 3 meeting.