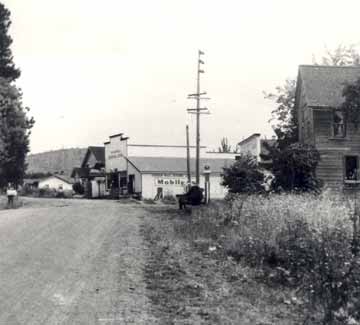 Cornell Road looking east toward Barnes Road intersection in 1938. Photo courtesy of Oregon Historical Society.
History in the News


Muddy roads or you can't get there from here

Roads were never very good around here. At first, settlers used old Indian trails or animal paths to get around. These usually represented the line of least resistance, going around a boulder, a fallen tree, past a neighbor's property or along a dry creek bed. Today, some of these routes still exist, the obstacle being long gone but the change of direction still noticeable and mysterious if not explained. But today the local roads are passable if you don't get stuck in traffic. Not so in the past when a traveler was at the mercy of road conditions worsened by weather.

In 1852, Mary Hall Reeves recalled her arrival to Cedar Mill with her family. "It took all day to travel the seven miles The road wound among the tall trees and logs, there were dense forest all the way and the only way we could see any distance was straight up. We went up the canyon where later Canyon Road was built. The road was steep and sliding in places but after the rough roads we had traveled over in crossing the plains it did not seem so bad."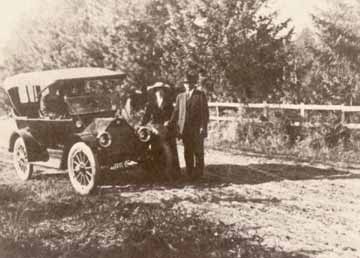 Henry Hamel's 1913 Rio on Kaiser Road near Laidlaw intersection, about 1914. Note the muddy ruts! Photo courtesy Carl Hamel
During wet weather the roads were nearly impassable from January through May. The silty soil mixed with moisture became as slippery as ice. Leave the buggy or wagon in the barn, keep the horses under shelter and strike out on your own two feet staying well away from the deep, slimy ruts. Many children stayed home from school, mothers relied on family food storage and preserving, fathers got lucky and occasionally bagged wild game.
Things were slow to improve. In the early 1950's, Doris Burton still recalled wearing boots to get to the mailbox on the corner of Saltzman and Burton Roads, not willing to attempt vehicle use in the sticky gooey mess just a few yards from her house. Gradually, gravel was obtained for the harder-to-use spots and slowly, slowly, roads were paved connecting neighbor to neighbor year round.
NOTE: For a future issue, we want to put together an article about Swedeville, which is the area around what is now the Sunset Transit Center, St. Vincent's Hospital and eastward. This area was not well covered in the Cedar Mill History book, so we are hoping that some of our readers can share their recollections of the history of this area. If you have any information, documents or photographs, please contact Virginia Bruce, 503-629-5799 or email me