Murray-Cornell intersection improvements planning underway
Washington County's Department of Land Use and Transportation will soon begin the design and construction of roadway improvements on NW Murray Boulevard between Cornell Road and Highway 26 in Cedar Mill. The County will host a kick-off open house meeting on Thursday November 9, 2006 from 5 to 8 pm at the Christ United Methodist Church, 12755 NW Dogwood St., to share information about the design process and specific planned improvements. The open house is an opportunity for neighbors and local business owners to learn more about the project and provide feedback. County staff and engineering consultants will be available to answer questions. There will be two short presentations at 6:00 p.m. and 7:30 p.m.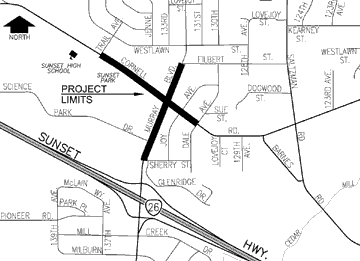 The project will improve capacity and safety along Murray between Highway 26 and Cornell Road, and at the Murray/Cornell intersection. Improvements include:
• An additional travel lane in each direction on Murray, making it a four-lane roadway
• A center turn lane or median islands on Murray
• Additional turn lanes at the Murray/Cornell intersection
• Sidewalks, bicycle and transit facilities
• Curbs and gutters, landscaping and street lighting
Community members are invited to participate during project development. A Project Advisory Committee (PAC) that includes representation from neighborhood groups, property owners, the business community, other citizens, and affected public agencies will meet regularly to advise the project team. Those interested in participating in the PAC, or just receiving information, may leave contact information at the Open House.
Murray Boulevard is a major arterial connection between Cedar Mill and Highway 26. The roadway currently includes two travel lanes and limited turn lanes, and experiences congestion during peak travel times. Roadway widening and improvements will accommodate traffic increases in the area, which are expected to grow from the current 20,000 vehicles per day to 30,000 vehicles per day by 2030. The Murray Boulevard project will be funded by local property taxes as part of Washington County's Major Streets Transportation Improvement Program (MSTIP). The Board of County Commissioners selected the Murray Boulevard project following recommendations from local officials and the public.
If you have any questions please call: Alexander Sander, Project Manager, Washington County Capital Project Management Division, at (503) 846-7800 or e-mail alex_sander@co.washington.or.us