Cut-through traffic addressed by county project
Drivers have been using Filbert, Marshall, and Kearney streets as alternative routes to avoid congestion on Cornell and Saltzman for many years. Along with the new major improvements to Cornell and the right hand turn lane on Saltzman, Washington County Land Use and Transportation (LUT) initiated a study last May to identify and assess improvement measures. DKS Associates, a national transportation planning company with an office in Portland, is assisting with the study,
"We have been getting complaints for years about the situation," says Sheila Giambrone, Administrative Services Manager for LUT. "County Engineer Greg Miller just thought it was time to take a comprehensive look at the situation. We don't necessarily have the money to take on a major project, but there may be some relatively inexpensive things we can do to mitigate the problem."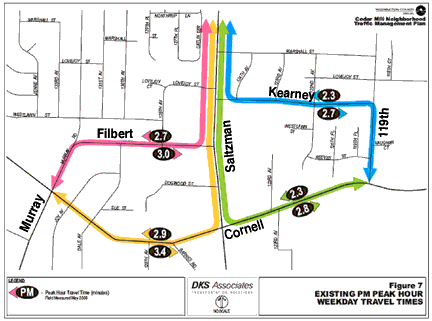 A Steering Team consisting of DKS and county representatives and five local residents and business people is conducting the study. They met in May, and based on their recommendations, DKS began examining existing conditions and evaluating future traffic demands. They were able to do their traffic counts after the Cornell Road improvements were completed and before school let out, to get as good an estimate of real conditions as possible. A public Open House was held in June to get citizen input on the situation.
"We are also trying to coordinate with the upcoming Murray/Cornell improvement project and the Saltzman planning process. Some of the problems that the neighbors have identified will be helped by those projects, especially with the new sidewalks," Giambrone explains.
The study is taking into account approved developments at the north end of Saltzman, but is not considering the North Bethany addition. "The Bethany planners tell us that if they do their job properly, they won't be adding a lot of traffic onto Saltzman," says Giambrone.
"DKS is currently preparing models of what the alternatives will accomplish. For example, they are looking at what will happen to traffic on Cornell if traffic on Filbert is cut significantly," Giambrone says.Another public Open House will be scheduled in late November or early December, depending on when DKS can get their studies finished and the necessary display materials created. To be notified of the Open House, contact Sheils Giambrone at 503-846-3681 or Sheila_Giambrone@co.washington.or.us More project information is available at www.co.washington.or.us/deptmts/lut/eng_srvy/nspproj.htm