Bank of America
Last winter, visitors to the Bank of America (B of A) parking lot at the corner of Cornell and Saltzman found a small lake where the pavement should have been. Turns out it was caused by the roots of the landscape trees that had invaded the drainage pipes beneath the lot. The old trees were cut and new ones planted this summer. Visitors to the lot watched as the small dogwoods nearly expired from the dry conditions, but apparently the plastic sleeves that eventually wrapped the little trees did the trick and the trees appear to be on the way to survival.
Now the pipes themselves are being cleaned out by way of an excavation occurring in back of the bank building. Such a lot of drama for a bank parking lot! Let's hope the lake won't return this winter.
The B of A building was originally built in the late 1960s, during Cedar Mill's second growth boom (the first being when the pioneers moved in), by Oregon Bank. In a series of mergers and acquisitions typical of American banking in the late 20th century, Oregon Bank was acquired by Security Pacific in 1986, which was then acquired by Bank of America in 1992.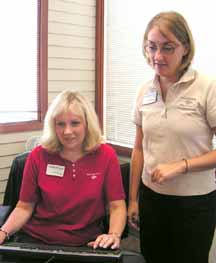 Manager Char Holmgren and Shanda Baker check a customer record
Charlene Holmgren is the Branch Manager, and has been in this position since June 2004. She had worked at this branch when it was Security Pacific as Operations Manager, supporting the tellers, and stayed with the company when it was acquired by B of A. She has worked in various positions within the bank, putting in a couple of years in the mid-nineties on the national help line – that person on the other end of the phone when your banker calls up for specialized information on how to handle something.
Shanda Baker is her Assistant Manager, and altogether there are eleven employees at the bank. Many of them are students who work part time. B of A has an excellent program to support students, reimbursing them for up to $2000 per year for their classes. So if it seems that there are new faces at the bank, it's probably just that you're coming in on a different day or time and seeing a different set of part-time employees.
The branches of B of A are referred to as "Banking Centers." There are 45 of these in the Portland Metro "Market." The Region is made up of Markets in Washington, Oregon and California, and the entire West coast makes up the Division. Holmgren reports to a manager at the Market level. Compared to some other banks in the area, she has quite a bit of authority in making decisions about customer issues, "based on the information we have about our customers, " she says. "We always want to protect them as well as the bank's interests."
The Cedar Mill Banking Center offers many standard services as well as some that are exclusive to B of A. Mortgages and Home Equity Lines of Credit can be done here, along with credit cards. Newly acquired MBNA added a lot of credit card products to the mix. The bank has a camera that lets them add your photo to your credit or debit card to protect against identity theft. Holmgren says, "I think we're the only bank in the northwest that does that."They have a program to reward customers for referring new banking business, and the bonus can be donated to your favorite cause or charity. They also have a nifty program called "Keep the Change" which deposits the difference between your debit card purchase and the next higher dollar amount into your savings account, – a pretty painless way to save.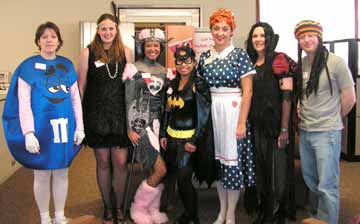 The staff gets into the Halloween spirit
Paul Erenfeld, a Financial Advisor, is available on Mondays and Wednesdays (and by appointment any time) to help bank customers with investments and other financial planning issues. Business services, including merchant services (processing credit card transactions) payroll services (direct deposit etc.), and Small Business Administration services are also offered. Larger business transactions – bigger loans, etc., are begun at the branch but completed "upstream."
They also have Safe Deposit boxes in the branch, which are priced by size. The smallest are $30 per year. "You get two keys, and we keep another. The box can only be opened with one of your keys and one of ours," says Holmgren. "You have to insure it through your homeowners policy, though, because we don't even want to know what you have in your box."
Bank of America also offers a comprehensive set of online banking tools, including transfers between accounts, statement downloads into your financial software, and credit card statements with expanded detail – a recently added feature.
The branch has both a (human operated) drive-up window and an ATM. The ATM is emptied in the morning and afternoon, with the contents sent to a "back office" location for processing. ATM transactions show up immediately online, though, which can be very helpful.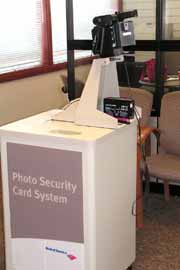 The bank noticed some drop in afternoon customers during the recent work on Cornell and Barnes, but numbers are up again. "The signal on Cornell (at Barnes) is fabulous!" says Holmgren. "It really helps customers getting in and out." She likes working in Cedar Mill because, "it's a tightly knit community and people are involved." She'd like to see the Cedar Mill Business Association offer group advertising to get the word out about the business community, and also offer more opportunities for local business people to get together.
The Bank of America company was originally the result of a merger between Amadeo Giannini's Bank of Italy (USA) and Bank of America, Los Angeles in 1929. California became the fastest growing state after World War II, with the highest use of checking accounts (partially driven by many soldiers being paid via bank accounts during WWII) resulting in BofA being swamped by checks. By 1949, the branches had to close at 2 pm in order to process the bookkeeping by 5 pm. To cope with the transaction volume, the bank invested heavily in information technology and is generally credited, together with GE and SRI, with inventing modern centralized bank operations, with a number of financial transaction processing technologies such as automatic check processing, account numbers, Magnetic Ink Character Recognition (MICR) and, based on these technologies, credit cards linked directly to individual bank accounts. Because of the efficiency of these technologies, the bank had significantly lower administrative costs than other banks and was able to expand further, until it was the world's largest bank by the early 1970s.
Due to changes in Federal regulations, BankAmerica Corp. expanded outside California for the first time in 1983 with the acquisition of Seafirst Corporation of Seattle. The next big expansion came in 1992 when it acquired Security Pacific Corp. This was at the time the biggest bank deal in history.