Featured Business
World of Smiles Pediatric Dentistry

Dr. Michelle Stafford decided to become a dentist when she was in high school while working for an orthodontist. "I have always been surrounded by children, and I believe that some people are just naturally good with kids. My love of children guided me into dedicating my career to pediatric dentistry," she explains. Her practice, in the Barnes Dental/Medical Campus, opened in August this year to serve infants through teenagers.
Dr. Stafford grew up in Apple Valley, California. She earned her Doctorate of Dental Surgery at the Arthur A. Dugoni, University of the Pacific, Dental School in Stockton. She then completed her residency in Pediatric Dentistry at the Children's Hospital of Michigan. After practicing in the San Francisco Bay Area for five years, she moved to Michigan to attend the Children's Hospital of Michigan, Pediatric Dental Residency Program. While in Michigan, she also earned a Certificate in Public Health.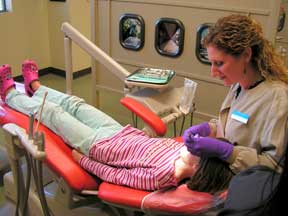 She moved to Oregon and began searching for a good location for her office. She says, "I found the Barnes Dental/Medical Campus with a diverse and very well-respected group of dentists. I realized that the location was exactly what I was looking for as I adore the immediate surrounding community and all it has to offer." They started putting the office together early in 2008, and held a Grand Opening celebration in August.
She had been thinking for a long time about the kind of office environment she wanted to create. She loves to travel, so she has turned the office into an international adventure. Various parts of the office depict different world regions, including North America, Venezuela and Japan. Framed photos that she and her friends have taken on their travels line the walls, and stuffed animals and artwork reflect each regional theme. Her father built the walls that separate the treatment areas to look like the walls of an airplane, with "porthole" frames for photos. Even her website reflects the international theme, with a home page that looks like a European subway map and line drawings of famous tourist spots.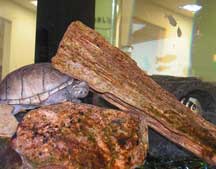 A large fish tank is the focus of the waiting area, with a resident water turtle. Also, a reptile terrarium holds Camelon the chameleon, who peeks out from the foliage to delight young visitors. An yellow road pattern is laid into the flooring and continues throughout the office, leading travelers on their way. Each new patient is given an inflatable globe to take home to help them learn about world travel.
Dr. Stafford's Office Coordinator, Amanda Olson, greets patients and their parents at the front desk. She handles all the billing, insurance, and other details that keep the office running smoothly. She says she loves working with kids, and, "I love working in an office where we strive to change the opinion about the dentist. Kids come into the office afraid but leave here with a happy, positive experience."
The office runs on a sophisticated dental software package that combines digital x-rays, patient charts and other relevant information. Parents can fill out most of the necessary forms on their website: visitworldofsmiles.com, before they come into the office, saving lots of time and hassle. The office employs paperless charting that combines images and treatment plans and makes it easy for the dentist and the parent to review the child's situation and progress. An easy-to-understand take-home statement can then be printed for the family to take home.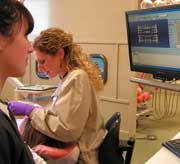 On a typical visit, eight-year-old Jenna arrives with her younger sister and mom. Dr. Stafford comes out to the waiting room and chats briefly with them, and then invites Jenna to follow the trail back to the "Japan" treatment area. While Jenna's mother and sister sit nearby, Dr. Stafford "counts her teeth" with her little mirror, noting the condition of each tooth while Dental Assistant Alece Levings records the information in the computer. Dr. Stafford then performs a cleaning, chatting all the while with Jenna and her mother.
During this visit, Jenna was so calm and comfortable that the overhead TV set never was turned on, but it's ready to play cartoons for any kids who are nervous or need some distraction during dental procedures. Dr. Stafford talked with Jenna's mother about proper nutrition and oral hygiene, while Alece took Jenna to the "Costa Rica photo room," where they use a pantomograph digital x-ray machine that takes a full 180° view of the child's teeth in one shot. Kids are fascinated by the way the camera moves around their head, and it's faster and easier on the patient and produces less x-ray exposure than conventional equipment. Because it is digital, it goes immediately into the patient record for easy access.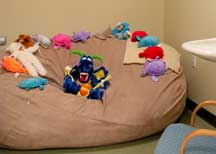 For children who need more than a simple cleaning and exam, there's a separate treatment room, this time with an Irish theme. When a patient requires sedation for complex procedures, an Anesthesiologist comes in to administer it, and afterwards the patient is brought to the Venezuela "cozy room" for recovery in a large beanbag chair with a rocker nearby for the parent.
Dr. Stafford is passionate about the importance of early and regular dental visits for children. She notes, "The American Academy of Pediatrics and the American Association of Pediatric Dentistry recommends that a child's first dental visit occur by their first birthday. This initial oral exam of the child includes checking for early signs of childhood caries (cavities), oral abnormalities and tooth eruption sequence. Further, at World of Smiles we spend time with the parents educating them on when and how to start cleaning their baby's teeth, proper nutrition including bottle and sippy cup usage; and answering questions on topics such as thumb/pacifier sucking habits, teething issues, and more."
For those very young patients, Dr. Stafford performs a "lap exam" where the parent sits in the dental chair with the child partly on their lap and partly on Dr. Stafford's lap.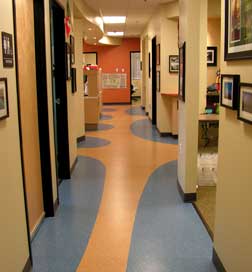 A pediatric dentist completes two years of additional training in the distinctive needs of children, which includes the best procedures for primary teeth as well as behavior management techniques for children with various personalities and levels of development. Further, a good pediatric dentist designs their office with a child in mind, making the space kid-friendly and welcoming to a nervous youngster. A pediatric dentist is more equipped to handle the specialized dental needs of children in the same way that a pediatrician is best able to care for children.
Dr. Stafford joined the Cedar Mill Business Association even before her practice opened this summer. She says, "I am a big believer in volunteering and being involved in my community. I think it is important to support local, family businesses and CMBA allows me to network with all the wonderful business owners in this community."
She also spends time giving presentations to pre-school and elementary school classes, "demonstrating how to brush and floss as well as teaching about healthy meals and snacks. Also, I am willing to talk to parents, teachers and/or coaches about the importance of good oral hygiene habits at an early age and what to do in a dental emergency."
Visit World of Smiles online at visitworldofsmiles.com, or call (503) 626-9700. The office is located at 11790 SW Barnes Road, Building A, Suite 280.