Public support sought for Cedar Mill Park trail grant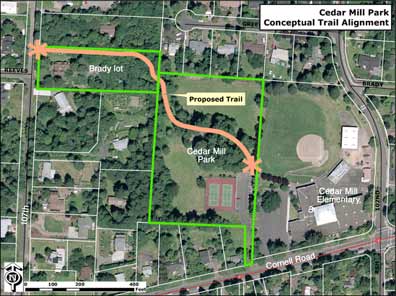 The alignment shown is approximate and conceptual. Once funding has been secured, THPRD will hold a neighborhood meeting to get input from interested parties that will help finalize the plans.
Cedar Mill Park, adjacent to Cedar Mill School on Cornell Road, is the home of the annual Cedar Mill Park Concert, and includes tennis courts, open spaces, and a natural area where local volunteers have been working to restore the native plant population.
The acquisition of the 1.63-acre Brady property at the northwest corner of the park will allow a trail connection between 107th and the school, giving kids a safe way to walk and bike to school, and enabling a connection to the nearby entrance into Jordan Park at the north end of 107th.
The approximately 1000-foot trail will cost around $80,000 to build, according to Steve Gulgren, superintendent of Planning and Development for Tualatin Hills Park and Recreation District (THPRD). The district will be applying in January to the Recreational Trails Division of Oregon's Parks and Recreation Department for a challenge grant for half of the money. The other half will come from the district's general fund.
If you'd like to express your support for this trail, you can write or email to Brad Hauschild. Park Planner, THPRD, 5500 SW Arctic Drive; Suite #2, Beaverton, Oregon . 97005 (bhauschi@thprd.com).
"It's very important to demonstrate that there is strong community support for this project," noted Gulgren. "We have applied for several grants from the state in the past and haven't been successful, but if there's a strong community behind it, we have a better chance," he says.
The trail will be eight feet wide, with four inches of gravel and a two-inch asphalt surface. It will stretch from 107th Street on the west through the park to the north end of the parking lot. There is a path leading from the lot to the school grounds. Beaverton School District is supportive of the trail but is not sending a letter supporting the grant application.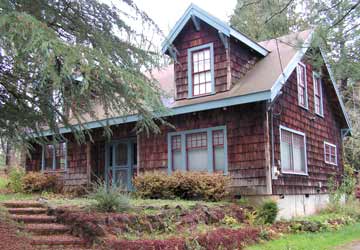 The five-bedroom Brady house will be sold but most of the 1.63-acre lot will become part of Cedar Mill Park
Originally THPRD was interested in acquiring portions of the then-wooded back sections of the lots between the northwest corner of the park and the boundary of Jordan Park for a trail. Developers have bought or optioned all the lots to the north of the Brady property since then however, and up to 33 houses will be going in at the north end of 107th.
"When we found out that the Brady property was available, we had our land acquisition specialist contact them," says Gulgren. "The Bradys were very receptive because they didn't want to see their house torn down and the land split up." Most of the house was built by the family themselves in a series of additions and improvements. The five-bedroom, three-bathroom, 2900-square-foot house and a surrounding lot will be offered for sale sometime in the future.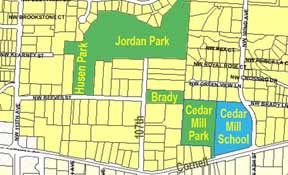 Vicinity map shows Jordan/Husen Park, Cedar MIll Park and the new property. All the lots north of the Brady property are slated for development.
Trail alignments that can help kids get safely to school will continue to be a focus for the park district. Bruce Barbarasch, Superintendent of Natural Resources, has recently also been named as Trails Manager for the district, and he will continue to work with community groups and trails advocates to identify potential trail locations.
Many of us remember a time when walking and bicycling to school was a part of everyday life. In 1969, about half of all students walked or bicycled to school. Today, however, fewer than 15 percent of all school trips are made by walking or bicycling, one-quarter are made on a school bus, and over half of all children arrive at school in private automobiles.
This decline in walking and bicycling has had an adverse effect on traffic congestion and air quality around schools, as well as pedestrian and bicycle safety. In addition, a growing body of evidence has shown that children who lead sedentary lifestyles are at risk for a variety of health problems such as obesity, diabetes, and cardiovascular disease. Safety issues are a big concern for parents, who consistently cite traffic danger as a reason why their children are unable to bicycle or walk to school.
From the Federal Highway Administration "Safe Routes to School" website (safety.fhwa.dot.gov/saferoutes)