New commercial building takes shape on Cornell
The "Cedar Mill Shops on Cornell," at the corner of Cornell and Dale, will be completed sometime this spring, according to Corine Nussmeier, Director of Global Retail Services for Pacific Security Capital, the company handling leasing for the property.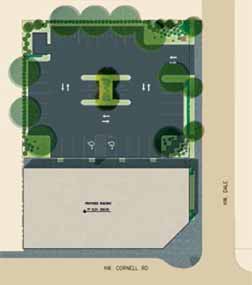 Site plan shows parking and entrances in rear
The whole building will be approximately 8100 square feet, divisible to as small as approximately 1400 square feet. Nussmeier says, "The storefronts will face the parking lot as it is the best access for customers from their cars." Design drawings also show one door at the corner of the building on Cornell and Dale.
Potential tenants for the building include retailers and service businesses. Interested parties may contact Corine Nussmeier or Emily Matza at 503-670-9300.