Featured Business
Scrapbook Attack
When most customers enter Scrapbook Attack, they quickly veer to the left to check out the "NEW" section where Sheri Fisher and her staff place the latest stock to arrive at the store. New items come in daily! "It's a trendy business – the materials, patterns and colors reflect what's happening in the fashion industry," explains Fisher. She keeps her website (www.scrapbookattack.com) updated with new items every day.
The store, located in the "triangle" shopping center behind Dairy Queen, is filled with a vast assortment of paper, stickers, ribbon, albums, tools and equipment – all designed to help people create books and other items using their personal memorabilia, photos and what-have-you.
"Scrapbooking gives people a creative outlet while documenting things that are important in their lives – family, trips, pets, etc.," says Fisher.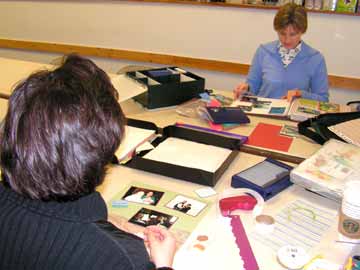 Customers drop in to "crop" and socialize
Scrapbooking has been around for a long time, "however it's only been in the last seven or so years that specialty retail stores have opened. Prior to that, people were buying their products either at the big-box stores or from home businesses. Approximately two years ago the industry as a whole surpassed the golf industry in gross sales!" explains Fisher.
Sheri Fisher started her business six years ago. She began in the smaller 1200-ft.space next door, but grew out of that in a year. "All our racks were built on wheels. We pushed them all against the wall to make space for our workshops," she recalls. The new larger store (2500 sq. ft) has an area of long tables where customers are welcome to come in and work anytime that classes aren't being held. The store offers free beginner classes as well as sessions focused on particular techniques and materials.
Classes and "crops" are held nearly every evening. Crops are "industry-speak for a bunch of people getting together to work on their scrapbooks away from their homes," Fisher explains. "We stay open late on those nights – 11 pm on Wednesday and midnight on Fridays and Saturdays. Of course, the cash register is open for any customer to purchase supplies. I love it when someone calls us on these days and asks, 'how late are you open?' The response is always the same – midnight??" She says these nights are very popular and space usually needs to be reserved a couple of weeks in advance.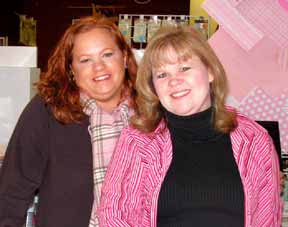 Sam Kangas and Sheri Fisher
Sheri Fisher grew up in retail business, in a "family-owned grocery store in the Bay Area, where I was expected to work from a very young age." She attributes her success in the volatile scrapbook industry in part to this business experience. A lot of stores have opened and closed since she started. "There used to be three stores in Tigard, and one in Lake Oswego. They all started closing when the owners realized that they needed more than arts & crafts experience to run a business," says Fisher.
Scrapbook Attack was just recognized as one of this year's three national "Premier Scrapbook Retailers" by Scrapbook Retailer Magazine.
When Fisher started the business, her children were both under three years old. "I thought I could do it all by myself with the kids at the store," she laughs. "Betsy, one of my customers, saw how frantic it was getting and volunteered to come in and help on Saturdays. Now I have six employees, including Sam Kangas, my manager, and Kelsey McDill who also works full time. The rest work part time as a creative outlet – some of them have other jobs and some are 'stay-at-home' moms."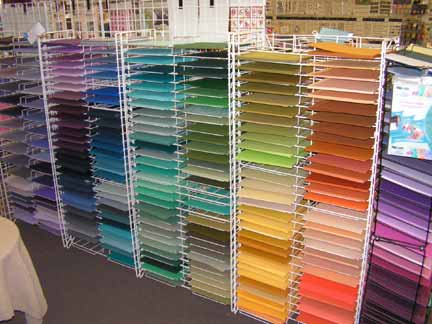 Fisher finds new items and new suppliers by scouring the internet, through email lists, and by attending trade shows. She goes to the Craft and Hobby Association show in Las Vegas twice a year. "We try and buy mostly from the small companies. I am a big believer in supporting the small companies. They tend to be family owned and are more likely to be on the creative edge that our customers are looking for."
The shop has a lot of items that will appeal even to people who don't make scrapbooks. "Kids and parents come in for things to help them do homework projects," Fisher mentions. The amazing assortment of ribbon would appeal to home sewing fans and home decorating types. An ingenious system of transparent do-it-yourself rubber stamp equipment might appeal to anyone needing to make their own "brand." Plus cutting equipment, glues and other adhesives, and the vast rainbow of colored papers could come in handy for many projects.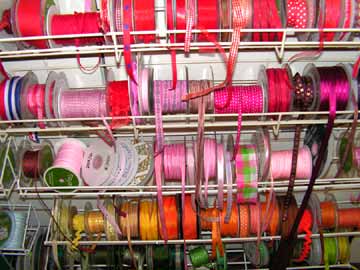 The store is available for private parties. Additionally, they will create scrapbooks for customers who don't feel they have the time to do it themselves. "We even went out to Nike to help them create a scrapbook for Mia Hamm when she retired from professional soccer," Fisher mentions.
The store is located at 525 NW Saltzman directly behind Dairy Queen. Their phone number is 503-641-3554, and their web address is www.scrapbookattack.com. They open at 10 am Monday through Saturday, and their closing hours vary from 7pm to midnight; they're open from noon to 5 pm on Sunday – see the website or call for specific hours.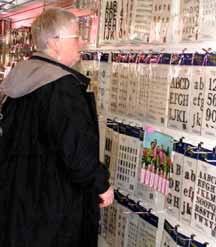 A customer checks out the modular, transparent "rubber stamp" kits