Featured Business
Cornell Cobbler

For 25 years Clarence Buehrle has been providing the service of shoe repair from his tiny shop hidden away in a corner of one of Cedar Mill's shopping centers at the corner of Saltzman and Cornell. He is a master craftsman, using a bit of glue or some thread to put a good pair of shoes back on the road. And his shop is fun to visit for a look at the cobbler figurines and prints on the walls.
Buehrle came to Oregon after his position as shift boss at Barney's Casino in Lake Tahoe ended when the management changed. Some friends invited him to come up and stay with them in Forest Grove. He liked it so much, he rented a house from a man who did shoe repair there. When money became available from the Comprehensive Education and Training Act (CETA) he went to work for his landlord at Dan's Shoe Repair. "It was a good deal for everyone," he recalls. "He got paid, I got paid, and I learned the trade from a master."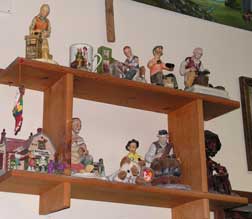 After his training, he worked for a while at a shoe repair shop in Beaverton. When that closed down, he was able to locate some old shoemaking equipment for sale in Bend and he and his former wife rented the shop in Cedar Mill.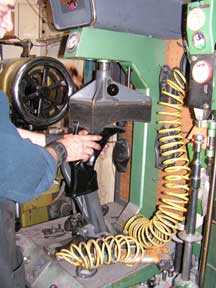 Buehrle is willing to tackle repairs on almost any type of footwear, along with belts and bags. The only thing that's nearly impossible to repair are shoes that have been chewed by a dog. He works on athletic shoes, designer stilettos, boots and work shoes, and everything in between.
If you're wondering if a pair of shoes is repairable, he says,"bring them in. If they're your favorite shoes, I can usually make them work again for you. It may be expensive, but if you love the shoes it's worth it. That's the way I was taught."
The most common request is protective soles and heels. This is fairly new technology—a thin protective layer applied to new shoes to extend the life of leather soles. He also carries Vibram® soles and heels for repairing worn shoes.
If the shoe doesn't fit
Most shoes can be stretched, he says. "If you can get it on your foot, I can stretch it enough to make it comfortable." It depends on the shoes, and what part is tight, but it's usually worth a try.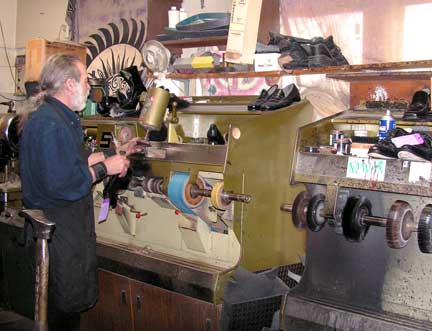 He blames poor shoe fitting on the fact that very few shoes are made in the US any more. The quality and sizing consistency have gone down, he says. Research has shown, however, that nearly half the shoes purchased are the wrong size to begin with. People don't like to think their feet have grown, but it's a good idea to have your feet measured every time you buy shoes.
It usually only takes a few days to have your shoes repaired, depending on his workload. "I can work with the customer's needs," he says, and can turn shoes around quickly since he's in the shop six days a week.
His customers seem to find their way to the shop despite the poor access that was the result of the road project. "You have to plan how you're going to get in and out now," he says. "But people still seem to manage."
He finds a lot of trust and good will in Cedar Mill. He takes checks and rarely has a problem. He has seen customers' children grow up and become customers themselves.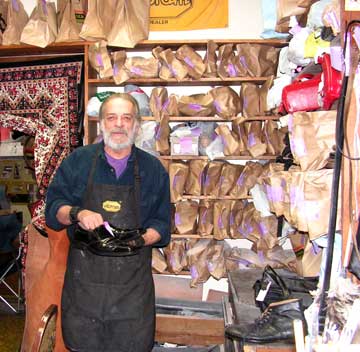 In addition to shoe repair, the shop has a full line of laces and polish, and he also has some shoes for sale—closeouts from other stores and like-new shoes that customers bring in for him to sell. He also sells beeswax candles and crystals for a friend.
Cornell Cobblers is open Monday-Friday 9-6 and Saturday 10-4. The shop is located just north of Papa Murphy's Pizza through the breezeway next to the dry cleaner shop. It's worth finding his shop to keep some of your old faithful footwear in working order.