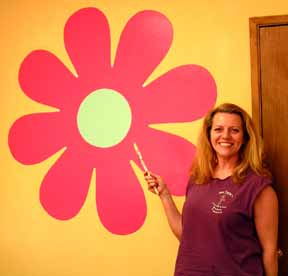 Rebecca Guyot bought the business in February and has been renovating it with paint donated by Sherwin-Williams
The Harmony School
On March 1st, The Harmony School opened on Cornell at the former location of Act One School of Dance. For ages "2-142," the school offers academic courses, crafts, and various forms of dance for anybody.
Academic classes include the usual suspects (math, languages, history, etc.) and the not so usual (advanced thinking, making lace, molds and masks). They're ideal for home school students to socialize and learn together or to help kids in traditional schools with trouble subjects. Theatre classes are also available and music lessons are in the works. There are daily hour-long classes for kids 2-5 ranging from "toward ballet" to math to art. For $6 parents can drop their toddlers off and head to the downstairs studio for one of the latest workout videos.
Dance classes range from hip-hop to ballroom to Kaeli (Irish couples dance). Even pointe ballet is offered for advanced students, though Rebecca stresses that the dance classes are about fun, not competition or rigidity. There are classes for special-needs students and an application is in the works for non-profit status so that families can get tuition fees reimbursed.
Summer day camps are also open for registration. So far dance camp and colonial camp are offered. Colonial camp is a creative way of getting kids to connect with history by learning about and experiencing life as it was lived in 1776.
Family- and community-oriented, this promising school will have an official grand opening on April 1st. Class listings, tuition, and registration info is available at www.theharmonyschool.org