Sunset High lacrosse sets season
At Sunset High School lacrosse is a club sport, meaning that organization and funding of the sport is done by parents and volunteers of the community. Currently Sunset has about 65 boys and 40+ girls participating in lacrosse. After making their first state play-off appearance last year, the boys hope to build on that with hard work and determination for the upcoming season. The girls team, which won a state championship two years ago, are again working towards having another great season.
You can learn more about Sunset High Lacrosse by visiting the team website at sunsetlacrosse.com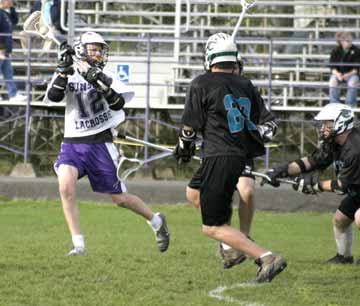 There are about 33 schools in the state that are involved in the sport with one or two more schools getting involved every year. The sport of lacrosse is fast and fun. If you haven't seen a game, it's well worth it to make an effort to go to a boys or girls game (see schedule - home games in purple). It's the fastest game on two feet!