Present-day farming in Cedar Mill
One way to look at the history of Cedar Mill is that when European settlers first arrived, they cut and milled the wood to build Portland; then on the cleared land they grew food to feed Portland; and now we house Portland. But a few farms still persist, maintained by tenacious people who love the land and have resisted the temptation to turn it into cash. Some of them raise crops and animals for sale, and for some it's more of a hobby. But there are still farms in the Cedar Mill area. Here are the stories of a few of them.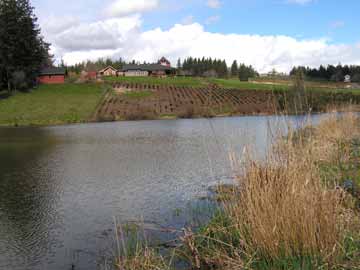 Native planting around the pond restores habitat and enhances water quality
Findleys – hay and cattle
Ken and Dolores Findley live on land that has been in their family for five generations. H. Ross Findley moved to the area with his parents, Alexander Findley and Sarah Reeves Findley, in 1898 and the family bought 109 acres on the northwestern corner of Saltzman and Thompson. The property was distributed over the years among various family members. Much of it comprised the strawberry farm where Ken grew up, helping his mother Lillian after the tragic death of his father when he was 12.
Ken recalls, "when I was only about 13 I went out to Frank Jeffries' hardware store at 185th and West Union and bought sticks of dynamite to blow up some stumps. We did everything in those days, drove tractors and trucks everywhere." Ken went on to study soils at Oregon State University, but ended up working with his stepfather, Odus Bales, to run Bales grocery store. Now that the store has been sold, he has "retired" and gone back to his first love — agriculture.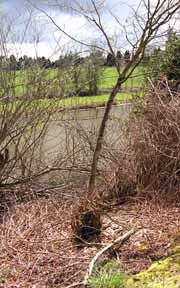 Beavers have gnawed all but one branch from this vine maple!
He grows hay on the remaining 38 acres on the south side of Laidlaw Rd. west of Saltzman, and brings cattle in from his ranch in Hermiston to graze on part of the land. He also rents acreage elsewhere in the area for more hay production, which he sells locally to "regular customers, mostly horse owners. We grow around 80 tons around here and make little bitty 52-pound bales because people can't handle the big bales. In Hermiston we make bales that measure 4'x4'x8' and weigh1600 pounds and we produce about 2000 tons on 500 acres."
His farm on Laidlaw has a branch of Bronson Creek running through it, and Ken has been working with Clean Water Services to restore the stream. His big man-made pond serves as a water retention facility, and along with CWS he's been planting natives on the banks of the stream and around the pond. "We get cutthroat trout up here, and also those native eels (western Lampreys). We've fenced it all off from the cattle and it's really coming along. Our biggest problem is the beaver and nutria – they eat just about everything. Electric fences seem to be the only way to stop them."
He hasn't had any problems with the neighbors unless someone hits his fence and the cattle get out. "Urban folks react differently when they see livestock on the road," he laughs.
Schmidt Family Farms – cut flowers and greens for the floral business
Karl Schmidt grew up on his family's farm on Miller Road. Martin Schmidt and Sons grows and ships fresh floral products primarily to the east coast via truck and air. The company bought the Saltzman Road acreage in 1966 from Ken Findley's uncle George, and Karl and his wife built a home there in 1973.
He and his wife are both from fourth-generation local families. Karl's mother is "the oldest living Teufel," one of the sisters of the holly-growing nursery family. Another sister married into the Dinahanian family that has the holly farm on Cornell near Highway 26. As in many farming communities, the early families intermarried.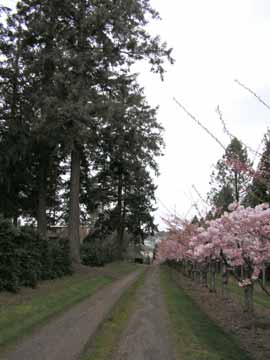 Flowering cherries line the drive to the house
The 34-acre farm grows holly, forsythia, flowering fruit trees, peonies, and greenery. Schmidt brings employees over from the Miller Rd. business on a sea sonal basis to do pruning, harvesting, weed control and maintenance.
In recent years, Schmidt has been turning more and more to natural and organic methods to grow his flowers and greens. Another branch of Bronson Creek flows through his property, which shares a border with Ken Findley's acreage to the north. He too has been working with Clean Water Services to restore the pond and stream banks on his property.
The plants they grow don't need a lot of irrigation. "We rely pretty much on Mother Nature," he explains. This minimizes runoff and further improves stream habitat.
The grounds around their home are beautifully landscaped. In the past, Karl and his wife have hosted tours as part of the library's garden tour fundraiser.
Although his property is surrounded on the south and west by new homes, he has no problems with his neighbors. He's happy to address any concerns his neighbors might have.
Lawrence and Leah Lehman – everyone's favorite cows
Lawrence Lehman also grew up in Cedar Mill from the age of 11, when his father married his stepmother, the daughter of Robert Thompson (for whom the road was named) and bought a farm bounded on the west and north by Thompson, and on the east by Saltzman. In the '30s and 40s the family raised turkeys and chickens with flocks of around 1500 birds at times. His sister is Lillian Bales – Ken Findley's mother – yet another family connection!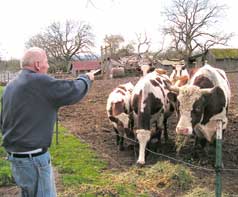 Lawrence Lehman and his Aylshires

As a young man he worked on the nearby Hamel family farm, and then became a truck driver for 20 years. He hurt his arm and had to quit. When he and his wife Leah married during World War II, they didn't have enough money to build a house, so they bought a house on Walker Road that was slated for demolition and had it moved to the location on the corner of Saltzman and Thompson. In addition to the poultry they grew lemon cucumbers, which they sold to Odus Bales for the grocery store. He remembers that the $400 they made paid their taxes for the year.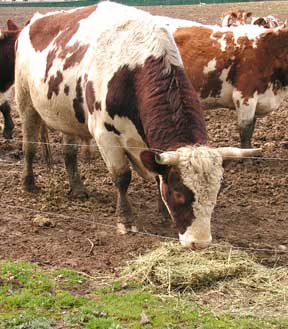 Now 86, Lehman sold much of his property a few years ago for the Arbor Creek at Bauer Meadows housing development. But he retained six and a half acres where he raises Ayleshire cattle. Three new calves are following their mothers around the field. He bought some property in Culver, near Madras, and ships hay for his cows from there.
He built a new pole barn recently that houses his "riding horse." He plans to build another barn to replace some buildings that have fallen down. He says his son isn't interested in farming but he hopes to hang on to the farm for his grandchildren.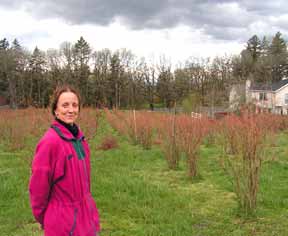 Joan Gunness and her Bonny Slope Blueberries
Joan Gunness – Bonny Slope Blueberries
For 45 years, people in this area have been getting blueberries every summer from the patch on South Road, just south of Thompson. The Fikes family planted them originally, when Bonny Slope was more rural. Several other families have owned the property that now belongs to Joan Gunness, who has lived there nearly 19 years.
Gunness teaches creative movement and dance to children and yoga to both children and adults. She cares for the blueberry patch in the time "left over." She hires a team of professional pruners each year to care for the bushes, and a local handyman helps with general maintenance, which includes weeding, maintaining the irrigation system, mulching and spraying against the fungus that attacks the berries.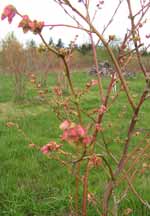 "When my children were small and I was busy with them and working, my mother, Jean Simpkins, ran the blueberry stand," Joan says. Now when the blueberries are ripe, she and her 19-year-old daughter Jordan fill orders for ready-picked berries, but most of the crop is "U-pick" and is snatched up by regulars who have been coming every summer for years. More recent customers find the farm through the Tri-County Food Guide, a yearly publication of the Washington County Extension office that helps us all find fresh local produce.
Blueberry bushes cover about one and one-half acres of her three and one-half acre property, which is now surrounded by new homes to the north and south, with more going in across South Road to the east. "I would like to keep the property as a farm," she says. "It becomes more precious all the time as things get built up. People come here year after year and feel it is a refuge. But it's a challenging equation given the land values and the fact that it's not my full-time job," she admits.