Hearing Voices: Storytelling Festival comes to Cedar Mill Library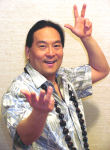 On April 6 at 6:30 pm, Alton Chung will visit the Cedar Mill Community Library to enchant us with his tales. Storyteller Alton Chung combines a rich cultural heritage, drawing inspiration from his Japanese and Korean roots, as well as being influenced by the superstitions, stories, and magic of the Hawaiian Islands where he grew up. Alton is a member of Portland Story Theater and the Portland Storytelling Guild. He collects oral histories of Japanese elders for the Portland Nikkei Legacy Center, is an apprentice to Eth-Noh-Tec, and is the recipient of the 2005 J.J. Reneaux Emerging Artist Award from the National Storytelling Network. (www.altonchung.com)
The Washington County Cooperative Library Services (WCCLS) is hosting the second annual Hearing Voices Storytelling Festival April 1 – 8 in celebration of the 2006 National Library Week. Designed for all ages, the festival includes local events to be held at eight of the WCCLS member libraries. The week-long Hearing Voices Storytelling Festival will showcase both professional storytellers and the opportunity for the general public to tell a tale. Visit the Cooperative Library Services website for a complete list of the ten festival events and a preview of the style and caliber of storytelling to be presented www.WILInet.wccls.lib.or.us/hearingvoices .
"There have been great societies that did not use the wheel, but there have been no scieties that did not tell stories"
Ursula K. Le Guin
Storytelling provides a foundation for literacy – and the appreciation of life-long learning. Our goal is to foster an appreciation for the role that the oral storytelling tradition plays within families, communities and cultures. It is our hope that this festival will help all of us understand that the stories we collect in our libraries can be multi-dimensional – when stories are spoken and are heard, they come alive.