The Nature of Cedar Mill


The Cedar Mill Wetlands

Most of us drive past it every day. Those who have lived here a long time remember when it was farmland. For a few years after the restoration in 1997, the area looked like a swamp full of white sticks. Today it's a wildlife-rich vista of water and vegetation performing valuable services to the environment and offering a peaceful view of nature and an interesting place to walk.

Historically, this property was a beaverdam wetland, with North Johnson Creek meandering through a flood plain between the steep ridges on either side. The land was drained and the creek was channelized along the south side of the valley by the Choban family in the twenties and thirties, who used it to grow beans, lettuce and celery in the rich soil, and also used part of it for a horse pasture. Area kids used to earn money picking beans there in the summer. The farming operation ceased in the 60s when Jim Choban died.

When the Sunset Transit Center was built and also when Barnes Road was realigned in the mid-90s, there were unavoidable impacts to the local wetlands. The US Clean Water Act specifies that development which impacts wetlands can be offset by the creation and/or enhancement of a wetland in another location, usually nearby. For more information see oregonstatelands.us/DSL/PERMITS/wetland_mit.shtml

Birds

Great blue heron
Green heron
Great egret
Mourning dove
Common crow
Red-winged blackbird
Mallard
Bufflehead
American widgeon
American bittern
Canadian geese
Red-tailed hawkWestern Scrub jay
Steller's jay
Cedar waxwing

Amphibians

Rough-skinned newt
Long-toed salamander
Bullfrog
(invasive non-native)
Pacific tree frog

Metro, TriMet and Washington County pooled their resources to achieve restoration of the historic wetlands at the site to compensate for the loss of wetlands . The easement at the southern edge of the area west of Barnes Road was acquired with the development of apartments to the south.

The Wetlands Conservancy (TWC) acquired title to the 16.2 acre Cedar Mill Wetland (CMW) Preserve in four separate transactions during the 1980s-1990s. This organization still owns and manages the property. TWC is the only organization in Oregon dedicated to permanently protecting and conserving Oregon's greatest wetlands—our most biologically rich and diverse lands. The Wetlands Conservancy works to promote local stewardship, restoration and to acquire properties. They train, educate and provide assistance directly to landowners, citizen groups, and businesses to increase local conservation and restoration of key wetlands.

TWC produced a report in 2005 describing the area, the work that had been done and outlining their management plan. It says, "N. Johnson Creek enters the system at the southeast corner. A small tributary also flows in a channel along the east property boundary. Together N. Johnson Creek and the tributary fill a large pond above the wetland. The pond has been created by a large beaver dam at the top of the creek on the TWC property. The creek flows from this pond, down the south side of the east wetland. It passes through a culvert beneath Barnes Road and continues along the south side of the center wetland. Then it passes beneath the paved path in a culvert and continues along the south side of the west wetland. It flows away from the wetland into a culvert beneath I-26. The mitigated wetlands were created as a series of ponds through which water flows via connecting rip rap channels."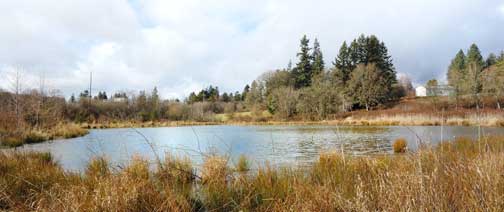 TWC's goals for the project are to preserve natural resource and functional values of the wetland, including bio-diversity of local native vegetation communities, habitat, aesthetic, educational, flood control, water quality and all other values provided by urban wetlands; and to restore and enhance those resource and functional values of the wetland by continued invasive weed control and revegetation with native plants.
They carry out these goals by working with volunteer groups. Jennifer Schley, TWC Urban Land Steward, says, "I have a Natural Resource group from Open Meadow Alternative School, called CRUE—Corps Restoring the Urban Environment. This group uses CMW as an outdoor classroom twice each week. They do water quality studies, amphibian and bird monitoring, soil bio-engineering (fancy term for stream bank restoration), plant natives, etc."
She continues, "I also started a program called Adopt-a-Wetland, to increase community involvement on our wetlands, since we are a land trust and our wetlands benefit the community and watershed as a whole. And we are a small non-profit with only one land steward, me!" so they need to depend on volunteer labor to remove invasive weeds like Himalayan blackberry, Reed canary grass and Purple loosestrife, and plant desirable natives that will eventually crowd them out. The report notes, however, that there will always be invasives popping up (as any northwest gardener knows) so continuing stewardship will always be needed.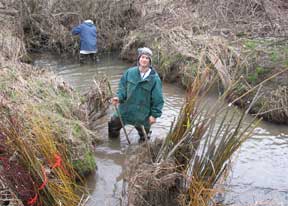 Open Meadow students immerse themselves in streambank restoration
Schley continues, "TVA Architects and Mayer/Reed Landscape Architects contacted me in December 2008 and wanted to get involved as a group to reduce their carbon footprint. I mentioned my adopt a wetland program to them, went to their offices and did a presentation and they agreed to adopt Cedar Mill. Their first adopt a wetland event was on March 14 and they helped me plant 500 native plants around the site."
Most of us have noticed the ducks paddling around, but the area is also frequented by a great variety of birds, amphibians and mammals. (see sidebar).
Take time out of your busy life sometime soon to walk or bike on the path that runs from the northwest end of Corby Drive to Barnes. And say thanks to all the partners who have saved and enhanced this lovely natural area.
For more information about the Wetland Conservancy, visit their website: wetlandsconservancy.org