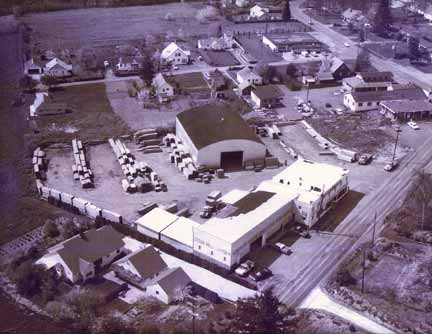 Aerial photo from 1962 shows roof damage from Columbus Day Storm. Photo is looking northwest toward Cornell at upper right, Barnes is at lower right
Cedar Mill Lumber
In October, 1962, the great Columbus Day Storm hit Cedar Mill, and took off part of the roof of the Cedar Mill Lumber building (see photo). The earliest part of the building, the long and narrow section in the middle, began as a chicken house for the farm on the other side of Barnes. The north end of the building caught fire one night in 1969, "and George Foege waited for us to arrive with the key before he put it out," Ken Anderson remembers.
Jim Perrine started the business in 1947 and sold it to Ken's father Conrad Anderson in 1954. "Perrine got into the nutria business after that," recalls Ken. "He had a place up in Bonny Slope. He thought he'd make a lot of money raising them for fur. It was a popular thing back then. Didn't work out for him, though, and he let them all go." (Now we know who to blame for those pests that eat trees in the area.)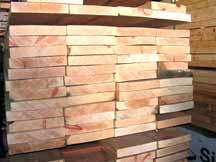 Sugar pine planks are used by the steel industry to make patterns for casting
Conrad Anderson was a manager at the Oregon-American Lumber Mill in Vernonia until it closed in 1957. He bought the Cedar Mill business for his sons to run. Ken and his brother Jack built the business as Cedar Mill grew. A few years ago the hardware and lumber side of the business was leased to BMC West Building Materials. Now Ken and his son Kurt primarily provide bark mulch and rock products for landscaping.
They have retained one part of the lumber business, however, providing specialty products to the steel industry. They stock boards of sugar pine from California, and 1/8" to 1 1/2" clear alder and cherry plywood that is used in making patterns for casting. "It's sort of like making candles," Kurt explains. "They make the pattern and press it into sand. Then they remove the pattern and pour in the molten metal. They can reuse the patterns a number of times." This lumber is not for sale to the public, however.
In addition to the lumber, inside the large warehouse is a variety of machinery. There is the lawn and garden equipment that they rent out, such as thatchers, aerators, mowers and rollers. And then there are the old trucks that used to serve the lumber business. "George Foege (of the Foege Garage, which was nearby on Cornell) built these for us," Kurt says. One is a forklift and the other is a flatbed. (This flatbed can be seen behind the building in the large photo.) Kurt likes to restore old vehicles, and there are a couple of classic cars and a vintage Harley in various stages of restoration. There's also a shop where they repair their equipment.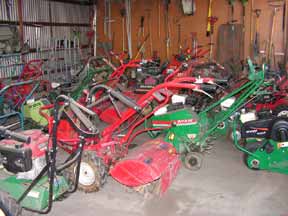 Lawn care equipment for rent in the Cedar Mill Lumber warehouse
The Anderson family has a history of community involvement. Kurt's mother helped start the Sunset Merchants Association, a forerunner of the Cedar Mill Business Association. "And we're honorary life members of the library," Kurt says. They also help support Cedar Mill Little League.
The Town Center road construction was a nuisance as first, when Barnes was all torn up in front of their store, but it didn't last long. They say the light at Cornell and Barnes is very helpful, both to customers and to their own trucks.
The Andersons deliver their landscape products in their familiar black and yellow trucks. "They are our best advertising," Ken says. "People see them around and call us."
They stock several types and sizes of river rock and gravel, barkdust, sand, compost and sandy loam. Their business has grown significantly as the area has developed. Green Earth Landscaping is one of their bigger clients, but their customers are mostly homeowners and small gardening businesses.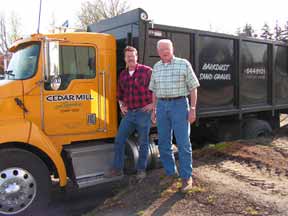 Kurt and Ken Andersen with one of their delivery trucks
Located at 12700 NW Barnes Rd., just south of Cornell, they are open from 8-5 Monday through Friday and 8-4 Saturday. You can reach them by phone at 503-644-9101 and fax 503-644-6335.