History in the News


How Cedar Mill roads got their names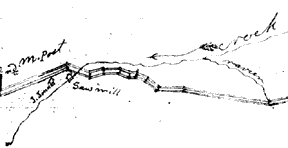 Portion of the original 1863 survey map of Cornell from Washington County files
We tend to take road names for granted, but there are pioneer families behind the names of most of our familiar roads.
Upper Thompson Road was likely an early-established trail that was later named for a local family. In 1919 it was extended to the west thanks to a land contribution from the Henry Hamel family.
William and Emily Cornell arrived from San Francisco in 1852 and laid claim to land including and around current Cornell Road. William Cornell is believed to have been the first licensed preacher in the area and was very active in establishing the local school. The road itself was surveyed in 1868.
Present-day Barnes Road follows part of the route of the Old Mountain Road, one of the earliest routes that passed through the community. It was named after Charles Barnes, who was one of the "road viewers" for the 1867 survey. After 1873 the route down the Burnside Street canyon became part of Barnes.
Murray Road was named for Irish settler Owen Murray, who had a home in the vicinity of the present road where it joins Cornell. Until the '60s it dead-ended a quarter-mile north of Walker, but was extended to join the former Hyland Road and is now a major arterial.
The Reeves family founded the first Cedar Mill General Store, and the short road that crosses 113th north of Cornell was named for them.
Saltzman Road was opened along the Skyline Ridge in 1893 and 1894 and originally crossed the Tualatin Hills. It was named after local character Peter Saltzmann whose homestead was a little west of the route. His descendants dropped the final "n", the decision to Americanize the family name being a common one among many Swiss and German families. There is still a remnant of Saltzman over the hill intersecting with Highway 30.