Sunset Accoyos Alpacas
Last month we explored some of the farms that remain in Cedar Mill. There are several more, and this month we visited the alpaca farm on Thompson.
When Bettsy and Wally Preble's three boys were young, the family decided it would be good for them to grow up in a rural environment. They found a property on NW Thompson Road that suited their needs. At first they raised cows and horses.
But a fishing trip changed all that. They were staying on a ranch in Chile and the owners had some alpacas. "We would awaken to the gentle humming of these special animals just outside our window. Alpacas and our farm seemed a perfect match," Bettsy recalls.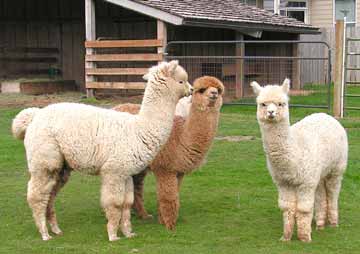 Alpacas are members of the camel family
After doing some research into alpaca breeding, they purchased their first alpacas from Estancia Accoyo, the ranch of world-famous alpaca breeder Don Julio Barreda located in the 15,000-foot Altiplano of Chile. Barreda was one of the first breeders to separate the two types of alpacas – Huacaya and Suri. The Suri have very long "hair" while the Huacaya have shorter and thicker fur, and the two types had traditionally been allowed to interbreed. He set up a strict breeding program and introduced many innovations to the raising of alpaca, including rotating them between fenced fields, which is carried on at Sunset Accoyos's eight-acre farm. Barreda passed away earlier this year at the age of 87.
Barreda sent four separate shipments of animals to the US that were then distributed among breeders. Bettsy Preble realized that since they wouldn't be raising a large herd, they needed to "brand" themselves by specializing. "I could count on Barreda's genetics. We got the benefit of all his years of research and culling. He actually sent his best animals to the United States. We still have two of the original animals from the ones he sent. And they're both pregnant this year," she says.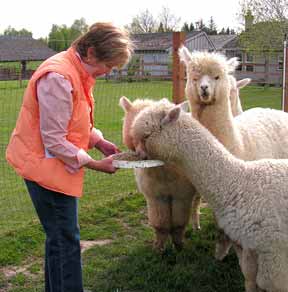 Bettsy Preble gives some of the yearlings a treat
Alpacas come in several colors, but the Prebles specialize in white ones, because the wool can be so easily dyed. Alpacas produce some of the world's finest fiber, which is judged primarily on three characteristics–crimp, fineness, and density. It is hollow which makes it light and warm.
Shearing is done in the spring, and is quite an art. Their shearer was originally from Australia and shears only alpacas, traveling around the west to his clients. He's due at the farm on May 23.
Sunset Accoyos sends wool to a national cooperative organization that collects alpaca fiber from farms around the country. The wool is sent to Peru for processing now, but the co-op is hoping to find a cost-effective way to have it processed here. The Prebles also sell some of their wool to a few local spinners.
Alpacas do best on grass, with supplemental "alpaca chow" for extra nutrients. They don't have hooves, but like all "camelids" have padded feet with toenails so they're not hard on pastures. In addition, they tend to select one or two spots to do their business, so it's not difficult to clean up after them.

Recently constructed homes don't seem to bother the alpacas, and neighborhood kids love to watch them
Daily chores on the farm include feeding and pasture cleaning. Each month they have a "health day" when they trim nails and do worming or other necessary medication. Then there's seasonal halter-training, breeding and birthing. "We try to plan for spring births, but with an 11 1/2-month gestation period, that's not always possible," says Bettsy.
Sunset Accoyos'mission is "to breed, raise and sell award-winning alpacas and to continue the Accoyo legacy." They sell around 4-6 animals per year to new and existing breeders through their website (www.accoyo.org), print advertising, auctions and alpaca shows such as the recent Alpaca Western Extravaganza which was held at the Expo Center in mid-April. Prices for these prize breeding animals range from $20,000 to $50,000, and one of the Preble's best males fetched nearly a quarter million for a part-ownership! They keep a foundation herd of nine females and currently have 26 alpacas.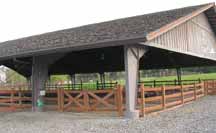 The spacious shelter lets the alpacas stay out of the rain during the winter
Do they worry about security with such high-priced stock? "Each animal has a microchip, and they're all insured of course. I don't think there would really be a market for a stolen animal, because it's all about the pedigree and I hold the papers," Bettsy explains.
In spite of the high sale prices, they, like the other farmers in Cedar Mill, depend on farm tax deferrals and deductions to be able to keep their acreage in agriculture. When they acquired the land in 1980, it was surrounded by other farms. Now it's surrounded by high-density housing developments. Neighborhood children enjoy watching the herd through the fence.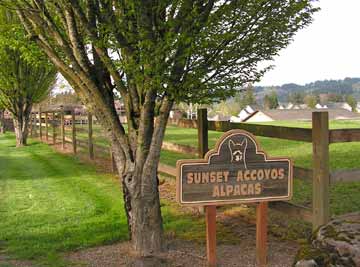 The Preble's beautiful contemporary-style home is landscaped with planting that has all gone in since they bought the property. The fields are irrigated from the large pond filled by their well. Bettsy points out a curly willow tree towering over the pond that "started as a little stick I poked into the ground."
They have one full-time manager, who lives on the property. The rest of the work is done by the Prebles. Wally Preble is the co-owner of Carr Auto Group. Two of their sons work in the business, and one of them has just built a house adjacent to the farm. Their other son lives in San Francisco. Bettsy says, "We hope that our children will perpetuate the conservation of this land."