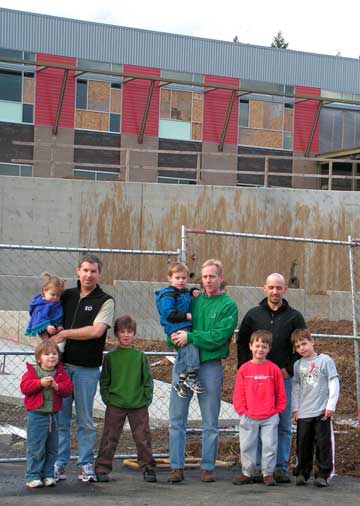 Barry Raber, Doug Bergmann and Jon Epstein with their kids in front of Bonny Slope Elementary
Citizen effort wins park addition, safe way to school
Nearly two years of sustained effort on the part of a small group of dedicated volunteers has resulted in a new park addition for our area, and a safe way for hundreds of kids to walk or bike to the new Bonny Slope Elementary School. The "remnant parcel" of land left over from the construction of Bonny Slope Elementary School on McDaniel Road is being transferred to Tualatin Hills Park & Recreation District (THPRD) as an addition to The Bluffs Park. In exchange, Beaverton School District (BSD) will get about $1 million in improvements to district playing fields from THPRD.
BSD put together the 10-acre site for the school after nearly five years of negotiations and four different land purchases. One of the sellers' conditions had been that the steep, wooded property to the north be included in the purchase.
Doug Bergmann, who lives next to the newly-acquired land, attended the first BSD public meeting on the potential new school in Spring 2006. His son will be attending Bonny Slope Elementary, so he was very interested in the proposal. "As it became apparent that the two-acre parcel would not be used as part of the school, I testified at a THPRD Board meeting, encouraging them to obtain this land as an extension the Bluffs Park. I felt it would be an ideal situation—connecting the neighborhoods and providing a great opportunity for kids in the surrounding neighborhoods to walk or bike to school while preserving a natural area. I also felt we were underserved with parks in this area and our neighborhoods would benefit from an additional park," he recalls.
Barry Raber, who lives north of the new school in the Ironwood subdivision, heard Bergmann's idea at the public meeting and contacted him to offer help. Raber did some online research on the property and found out that Morissette Homes had an option to purchase the remnant. He says, "I found a copy of the option agreement and noticed the wording seemed to have an exclusion if the land were transferred to a public entity versus to a private person. My attorney verified that the language allowed BSD to transfer the land to THPRD without being obligated to sell to Morrissette. Then I sent a copy of the agreement and my conclusion to BSD Board and staff. They acknowledged this opened the door to the possibility of a park."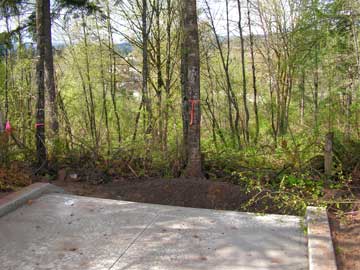 A set of steps at the top of the schoolyard leads into the new park section. Ironwood is in the background.
Bergmann and Raber developed a strategy of gathering public support and engaging with BSD and THPRD board and staff. Raber says, "We showed both boards the coalition we had formed and asked their advice on how to make this happen. They were very helpful. Board members suggested having people speak at every board meeting to keep the issue on their minds and suggested a petition and lobbying of the other board. So we then simply followed their advice."
They put together a flyer that was distributed to around 300 homes throughout the adjoining neighborhoods. They and other volunteers gathered 200 signatures on a petition, and encouraged neighbors and others to attend school and park board meetings to testify during public comment periods. Raber and Bergmann met with park and school staff to figure out how the transfer could work. Neighbors and other supporters wrote letters and emails to BSD & THPRD board and staff members. Bergmann says, "Barry did an unbelievable job coordinating this effort."
Another neighbor, Jon Epstein, knew BSD Board member Tom Quillin. He recalls, "We met one morning to walk around the neighborhood and park/school site. I think he acted well to ensure this was heard out and considered by his fellow school board members and administrators in BSD."
On April 7, the BSD board gave final approval to the deal, which calls for THPRD to make improvements to playing fields at Sunset, Aloha, Southridge and Westview high schools. According to THPRD general manager Doug Menke, these improvements will mainly be turf improvements such as drainage and irrigation for playing fields. They will enable high school activities to move off of middle school sites, making those sites more available to the park district.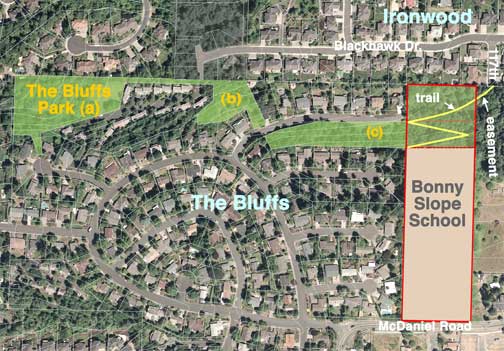 In addition, the district is currently working to acquire an easement on property adjoining the new park land so that students and others can access the property from 117th, which stubs out just south of Blackhawk. The switchback trail will connect the Ironwood neighborhood and the rest of Bonny Slope to the new school. It will also allow students from The Bluffs neighborhood to walk to school without using busy McDaniel.
Until recently, neighbors to the north had no easy way to reach nearby The Bluffs Park on foot. New development at the west end of Blackhawk includes an access trail to the narrow strip of the park that runs behind The Hideaway condos so that neighbors will be able to walk to the playground and enjoy the natural area (area "a" on the map). The new trail, slated for completion in Spring 2009, will create the beginning of a nice loop that can be completed by putting a trail through the middle section of The Bluffs Park (area "b") which is called for in the park's master plan.
Barry Raber wants to give credit where it's due. He says that Doug had the original idea, and that, "This could not have been done without a big group effort from the neighborhood and the wonderful people staffing these agencies and volunteering their time to be on the two boards. The two districts were excellent to work with. They were open to listening to anything, even though they have so many demands on their time."
Raber sums the deal up, saying, "It's a win-win-win situation! The neighborhood gets a walking trail and a nice natural area, the kids get a safe way to get to school, and the school district gets needed improvements to their properties. It's a once-in-a-lifetime chance to be a part of something that benefits everyone forever." We will just add that the entire community wins when citizens get active in local issues.