Cedar Mill Park Concert will feature two bands
Mark your calendar for August 6, the date of the sixth annual Concert in the Park, presented by Tualatin Hills Park & Recreation District. Bring your family and meet your friends and neighbors to enjoy an evening of music, food and fun. The concert runs from 6-8 pm at the park adjacent to Cedar Mill School at 10385 NW Cornell Road.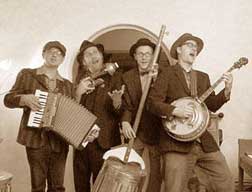 Trashcan Joe, the band that entertained us in 2005, returns this year. They play original tunes, classic standards from early jazz and blues, movie theme songs, and swing on a variety of handmade instruments including the "Trashcanjo," a banjo made from the lid of a galvanized trash can. Visit their website at trashcanjoe.com to get a sample.
They'll be joined this year by Stolen Sweets, a swing combo with tight vocal harmonies styled after the popular 30's band, The Boswell Sisters. Samples of their tunes and more information about the band is at stolensweets.com.
Bring your picnic, or purchase food at the event. The Cedar Mill Business Association will again sponsor a Passport Contest encouraging you to visit the community partners' booths by awarding gift basket prizes to folks who turn in passports stamped by each booth.
New this year will be the opportunity to use the new trail that is being built from 107th to the park. And as in the past, parking will be available at the Cedar Mill Bible Church parking lot with a shuttle bus bringing folks to and from the park.
Updated information on the concert is at the THPRD website at thprd.org/events/event.cfm?id=273