CMBA Member News
Market gets the squeeze

In real estate there are always clients upgrading and downsizing regardless of the economy, but even with today's economic down turn, "downsizing," or moving to a smaller or lower-overhead home, is not as easy as one might think. While we all hear about short sales, foreclosures, and the tumbling housing market, many homeowners believe they will sell their $700,000 home and capitalize on a great value at $400,000. This is becoming increasingly difficult because prices are beginning to stabilize on homes under $500,000 due to several reasons: 4.5% Fixed Rate Mortgages available for loans up to $417,000. Loans above that amount are available at 6%; The Federal Government's $8000 first time home buyer tax credit; More homeowners than ever needing to downsize due to financial hardship; New home starts being almost non-existent for the past 12 months.
The most pressure is being applied to the homes between $300,000 and $500,000 as first-time buyers may buy a $180,000 townhome pushing the townhome owner to purchase their second home in the $400,000 range. On the other hand, there are many downsizers who would like to sell their $700,000 home and would like to land in a quality community for $400,000 as well. We are working with families today who are experiencing this challenge first hand and are noticing that the homes in the $300,000 to $500,000 price range are not as plentiful nor have they seen their price declines continue.
What is further troubling is that home price in higher ranges still appear to be falling while the homes in the mid ranges are beginning to hold steady. For example, a home in Bauer Oaks Estates that sold in May of 2006 for $858,000, just sold again in April of 2009 for $677,000. On the other hand a home in Graf Meadows that sold in June of 2005 for $374,000, closed in April of this year for $390,000.
Great values can still be found in the sub $500,000 market in suburban markets such as Happy Valley and Hillsboro where overbuilding occurred. There is also the occasional foreclosure or transferee in the more sought-after communities, but be prepared to move fast and pay full price, as you will not be alone in the pursuit. Otherwise, if you are looking for that that perfect home in the ideal community between $300,000 and $500,000, be patient, be a student of the market, and be prepared to make an offer quickly.
Village Gallery News
The Village Gallery of Arts group show for June is "In the Garden". Our featured artist is oil painter Estera Nanassy.
Estera Nanassy began her artistic training at the age of 16 at the Conservatory of Arts and Music in Bucharest, Romania. Upon arrival in Portland, Oregon in 1981 she and her husband rebuilt their lives here on their artistic pasts. Estera's travels worldwide and here in Oregon greatly influence her love and respect for nature and greatly influence her current work in oils.
Estera is a member of the Beaverton Arts Commission, The Oregon Society of Artists and The Village Gallery of Arts.
The Village Gallery of Arts is a cooperative, non-profit gallery located next to the Cedar Mill Library. We sell our member artist's works of art and offer a wide variety of art classes for all ages.
New this summer for children is Animal Art Camp with Susan & Shelley. Other classes give you a chance to create your own glass pendant, mosaic an art piece or learn to paint using beeswax! Call the gallery at (503) 644-8001 or see our classes online at www.villagegalleryarts.org
Fathers' Day Gift Baskets from Giftique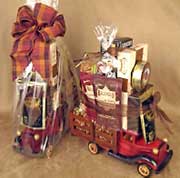 Has Dad got plenty of neckties? Are his work tools and garden equipment overflowing? How about celebrating Dad this year with something different. Instead of giving a gift that suggests "work," how about giving him a unique container gift basket that has plenty of gourmet goodies and snacks? When the snacks are gone, Dad will still have a great gift he can keep.
The classy Antique Roadster Gift Collection is perfect for the auto enthusiast as well as the classic car collector. Loaded with gourmet snacks, it also includes a roadster coffee mug. Check out our cute Truckload of Snacks filled to the brim with wonderful gourmet foods that Dad will enjoy. This replica of an old-fashioned delivery truck delivers the goods.
Is Dad a golf enthusiast? With our deluxe Tee Off basket of gourmet foods and treats he can celebrate that great game he just finished playing or commiserate over the final score. Either way this is a wonderful gift for him to enjoy.
Call Giftique Oregon at 503-643-2153 for more information, or you can order baskets on the website at GiftiqueOregon.com.
Surviving the wedding of your dreams

You've found the perfect partner. You have the perfect ring. Now all that's left is planning the perfect wedding. From favors, flowers, and food to the dress, ring, and honeymoon, wedding details and costs are more than enough to make most couples want to elope. The UPS Store® can help brides-to-be conquer tasks and save time and money at the same time.
"Many people don't think of us as an extension of their wedding planning team," says Tim Kimble, The UPS Store owner. "However, we offer a one-stop shop for a number of items on a typical bride's to-do list."
The UPS Store can print wedding programs, copy maps, order and mail invitations, as well as offer mailbox services so brides won't worry about gifts being left on their doorsteps. Unlike a P.O. Box, mailbox holders at The UPS Store can receive packages from any carrier and be notified via e-mail or text when a package is waiting.
It's likely one or both of you may be moving, and we have moving boxes on sale for 50% off and moving supplies 25% off through August.
The UPS Store, located at 10940 SW Barnes Rd., Peterkort Towne Square, is open Monday-Friday 9 am to 7 pm and Saturday 9 am to 5 pm. For more information, call 503-646-9999 or visit our website at www.theupsstore.com/3379.htm.
The Harmony School owner publishes children's book
Rebecca Guyot, founder and owner of The Harmony School, has recently published Flyin' Ryan the Rescue Ranger in The Puzzletown Storm through PublishAmerica.
"I grew up telling stories to my brothers and sisters, then to my kids," Guyot said. "I've had a lot of careers in my life: spokesperson, model, actress, shoe salesman. Now I own a performing arts school and write a new performance every three months. I guess I'm still telling stories."
For many years the flowerbox girls, Madeleine and Melinda, have lived outside the window of our hero "Flyin' Ryan the Rescue Ranger." They spend their happy days sunning themselves and chatting about the many heroic deeds and exciting adventures of Flyin' Ryan. The story they're enjoying today is called The Puzzleton Storm, wherein our hero must save a small, unsuspecting, puzzle-shaped town from a terrible storm. But how?
Guyot adds, "While the book can be purchased through Amazon or book stores, I'd like to ask that you purchase your copy through The Harmony School of performing arts. Simply visit the website at www.theharmonyschool.org and click on the Flyin' Ryan link."
"When you purchase this book through The Harmony School all proceeds and royalties will go directly to the school. These books will all be signed by me personally. Your name will then go onto our front page as a supporter of The Harmony School. If your business, school, or other establishment purchases the book they will receive a permanent link on The Harmony School website." People who buy the book directly from the school will also receive a 20% discount.