Jay and John watch as Scott Proctor shows Sandi a file for a new customer.
Featured Business


Impact Signs


Not every job loss is a bad thing. Just ask the Proctors. Sandi and Scott Proctor got into the sign business in 1998, after Scott was "downsized" from his job as the NW Sales Director for Stroh's/Weinhard Brewing. The company offered employment counseling benefits, and he worked with Terry Rost, of the Franchise Group, to find a new career path. He realized that he had enough contacts that would provide him with startup customers—his beer customers could be sign customers. So the sign business seemed a good "business-to-business" fit.

In the beverage business, there are always signs and banners that need to be made, so they got off to a good start. "It was high volume and low profit, but it got us going," says Scott. "We purchased a 'business opportunity,' not a franchise," Scott explains. "It gives you the tools and training, but then you're on your own. I didn't want to be working for someone else, paying them and having them make our decisions."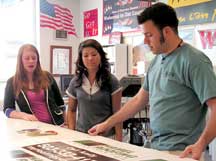 Sean Bucknam with two job-shadow students; Alina Lindsey from Century High and Victorial Gallaway from Forest Grove High. Both students have parents in the design business. Hosting job-shadow students is just one of the many community support activities of Impact Signs.
Sandi, who had been teaching piano lessons at home while raising their two children, was involved from the beginning. "We were able to have the kids come in and work with us in the shop. In fact, at the beginning, we used to have a 'Happy Hour' with pizza and our friends would come in and then we'd put them to work. It was the only way we'd get to see anyone, because we were so busy!" she recalls.
At first, they both worked in all aspects of the business. But as time went on, they realized that each of them had strengths and that splitting up the responsibilities worked best. Scott is the salesman, working with customers and products. Sandi is the office manager, handling personnel, paperwork, and making sure everything flows smoothly.
Scott's previous job was very high pressure, with a lot of traveling. Things are so much better now, says Sandi, that, "He turned back into the guy I had married." She says that they don't spend that much time talking to each other during the day, so they enjoy discussing business in the evening. "It's our answer to the empty nest," she laughs.
Their shop has always been in the same place, located in the shopping complex near the big Goodwill store at Bethany Blvd and Cornell. When they started, most signs were made with vinyl cutouts that were then attached to various substrates. Designs were limited to "spot" or solid colors only. Now a lot of the work is produced on what amounts to a huge inkjet printer that can apply designs directly onto a variety of materials.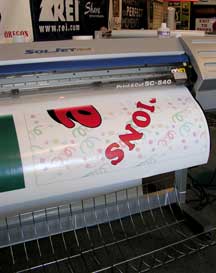 The Sol-Jet prints and cuts materials up to 54" wide
They produce signs for a variety of customers, from real estate companies and developers to retail centers, the park district and schools. A small number of their customers are individuals who come in for special-event signs such as graduation lawn signs, wedding signs and signs for sports teams. "We don't make a lot of money on those jobs, but we often get great referrals from those people, so we never consider anything to be too small," says Sandi.
Scott adds that 30% of their clients produce 70% of their revenue. He enjoys crunching numbers to keep track of the business. He says that 80% of their business comes from repeat customers or referrals, with 10% from their website (impactsign.com) and 10% walk-ins who noticed their storefront.
Most corporate customers provide computer files that are already complete designs. They do layout primarily for smaller customers, who come in with an idea or a drawing. "Most of the time involved in a job is in getting the design right," says Sandi.
Impact Signs uses a sign-business management software package called Cyrious SMS, that lets them keep track of invoicing and payments, employee time, customers' orders and information, and workflow. Photos of completed jobs are kept with customer records, and the software helps them keep track of seasonal orders so they can remind customers when it's time to order signs for seasonal events.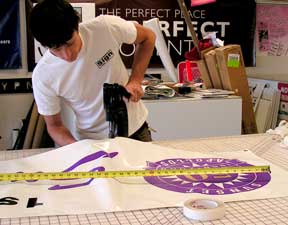 John applies grommets to a banner for Sunset High.
They have three regular employees. Sean Bucknam is the graphic designer. He uses a sign-industry-specific software package called Flexi-Sign Pro, which is quite similar to Adobe Illustrator, but has special output capacities that work with the digital sign-printing equipment they use. He also orders all the materials used in the business. He keeps up-to-date on new materials and techniques with an array of industry publications. He's been with the firm for nearly three years.
Jay Aubertin is their estimator and customer service representative, in addition to helping out with production duties. Originally from New Hampshire, he moved here so his fiancé could attend Oregon College of Art & Crafts. His father had a sign shop so he grew up in the business.
John Langston is the production specialist. He works three days a week and on-call if they get extra busy. Handling everything from lamination to hand-cutting of mounted signs, he's also an avid rock climber. He's going to be working full-time this summer at a camp for children, so the Proctors have just hired a part-time production assistant for the summer.
Sandi explains that this kind of flexibility is important to them in keeping their good employees happy. "We have a great crew now. In fact, things are working so well that Scott and I have been able to take some time off together in the last couple of years, because we know the guys can handle things." But they do stay in touch via the internet when they're traveling.
They recently attended a big industry trade show in Las Vegas, and then stopped off in Denver to visit their daughter Pam, who just got married in February. Their son Kyle works for Intel and lives in nearby Orenco Station, and is planning to get married in September.
Scott and Sandi grew up in the same neighborhood in Beaverton and attended Vose Elementary, but didn't know each other. They first met at a frat party at University of Oregon, where Sandi got her degree in music education and Scott four years of business management. They moved back to this area and eventually built a home in the Spyglass neighborhood where they raised their family.
They print most of the signage that their customers need in-house, but they also use a few sub-contract suppliers who are happy to have Impact provide customer service. They've also recently added a line of promotional items that are available to order from their website. They're looking at adding programmable digital displays for on-site advertising. Sandi mentioned that they saw a new printer at the trade show that prints white, which would allow them to print on transparent materials.
Scott notes that the economy has affected them in slowing down the approval process. "Businesses are looking at every purchase more closely now," he says. He's also noticed slower payments, and a few clients have gone into bankruptcy. Half-a-dozen sign shops in the area have closed recently. "Our response is to stay active with our marketing efforts, community outreach, and fair pricing," he says.
They recently re-joined the Cedar Mill Business Association. "We're primarily a business-to-business company, so it's a great fit for us. We have no grand thoughts of expanding into other areas, we just want to be the first place our local businesses think of for signs," she says. "That means doing a great job for every customer, so they will give us their continued business and lots of referrals!"
Contact Impact Signs at 503-439-8347 or find them on the web at impactsign.com