Cedar Mill Chiropractic
When Jordan Stockton was a kid, he was athletic and enjoyed playing sports. When he realized that he wouldn't have a professional future in sports, he decided that he could work with athletes if he became a chiropractor. "Now, I couldn't care less about athletics, but I love being a chiropractor," he says.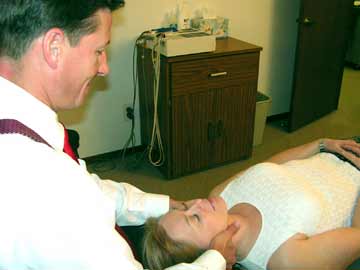 His office on Cornell was one of the businesses that was severely impacted by the road project. "At times, our customers couldn't even get into our parking lot," Stockton recalls. Their regular clients kept on coming in, so they managed to hang on and they're now looking forward to building their client list.
Stockton's wife, Linda, also manages the office. "She's one of Oregon's leading experts in health insurance. Chiropractors from all over call her with questions. We've taken on the insurance companies on several issues, and we've actually won a few!" Stockton mentions. He says there are many different professional chiropractic associations in Oregon, and the lack of cohesion dilutes their influence in Salem for getting better laws for insurance coverage, among other things.
His clinic, at the northeast corner of NW Joy and Cornell, is in a 50's-era building that he leases from Norman Davies, "a wonderful and kind landlord." It has been a chiropractic clinic for almost 40 years, and Stockton is the fourth practitioner to use it. The front door opens onto the parking lot at the rear of the building.
Stockton grew up in eastern Oregon, on a cattle ranch near LaGrande. "My dad still has 40 head, and he loves it," he says. Jordan graduated from Western States Chiropractic College in 1991, and worked in Eugene for a couple of years, before moving into his current Cedar Mill location.
His clinic also employs a physical therapist and a massage therapist. "We are all like family and enjoy each others' company in and out of the office," says Stockton. They also have x-ray facilities.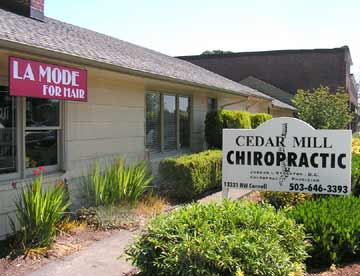 Every chiropractor uses their own assortment of techniques. Stockton says, "It's a very personalized profession. I primarily treat soft-tissue injuries. Other than on-the-job injuries and motor vehicle accidents, I treat headaches, tennis elbow, knee and ankle injuries, even make foot orthotics when appropriate."
Stockton says that everyone can benefit from chiropractic adjustments. "Think of the spine as an engine–if one part moves too much or too little, it will wear and tear and eventually fail. You get maintenance for your car periodically; you should do the same for your body."
Chiropractic has become widely accepted as an alternative form of medicine. "I treat Medical Doctors and receive referrals from them frequently. At one point, 90% of my practice was covered by insurance. Almost every insurance company offers plans that include chiropractic. Research has proven the efficacy and cost effectiveness of chiropractic," Stockton explains.
"Being a chiropractor is very rewarding," says Stockton. "I am allowed to meet many people and help them become healthier and get out of pain. Many people have been coming to me for 12 years, and I have seen their children grow up. I still have patients that make the drive from Eugene once or twice a year in order to get a treatment. This makes me feel like I have made a difference in their lives."
Jordan Stockton has been active in the Cedar Mill Business Association (CMBA) over the years, serving as President, VP, Secretary and as a Board Member. "We have a lot of small businesses here in Cedar Mill. The Business Association has been a good way to stay in touch socially and to make a difference by helping local institutions such as the library and the Sunset High band." He feels the CMBA could have had a greater impact on the road construction project, which he feels was a disaster. He'd like to see the group continue to work for a better business community.
Contact Cedar Mill Chiropractic at (503) 646-3393 or email jlstockton@hotmail.com