Long-range road planning for Cedar Mill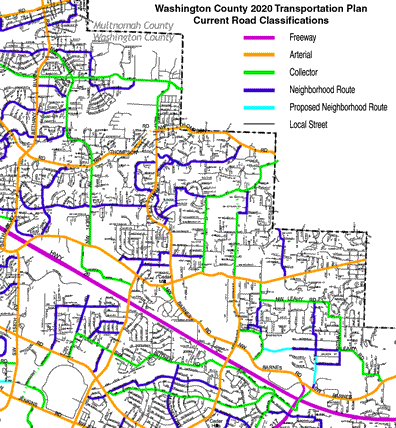 The Washington County 2020 Transportation Plan road classifications for the Cedar Mill area
This month's Powers That Be article focuses on long-range road planning for our neighborhoods. We interviewed four of the county's key people overseeing our area: Blair Crumpacker, Senior Transportation Planner; Phil Healy, Senior Land Use Planner; Alexander Sander, Senior Engineering Project Manager; and Anne Madden, Senior Program Educator.
First, a little background. In 1988, the county issued a transportation plan that forecast a population of 410,000 people by 2005. But by 2000 the county's population had already grown to about 445,000. Recognizing the need for a response to that rapid growth, in 2002 the county issued the Washington County 2020 Transportation Plan, setting out long-range goals for maintaining and improving our transportation system (see website). The plan considers all types of transportation, but this article focuses on roads and sidewalks.
In Cedar Mill, we have four principal types of roads. Arterials are meant for longer trips and link major commercial, residential, industrial and institutional areas (Cornell, Barnes/Saltzman, Murray, Thompson/West Union, and part of Cedar Hills Boulevard are our arterials. Collectors provide access and circulation between residential and commercial areas (143rd, Science Park Drive, 119th/McDaniel and 113th are some of our collectors). Neighborhood routes provide connectivity to the collector and arterial system (examples include Hartford/West, Burton, and Filbert). Local streets provide direct access to adjacent land.
Some improvements to roads are included as Conditions of Approval when a developer applies to build homes or commercial buildings—the county requires the developer to pay for all or part of the road improvements needed to directly service the new users. A prominent example is that Polygon paid for the improvements to the Cedar Hills/Barnes intersection to compensate for increased traffic resulting from the Timberland development. Turn lanes and road widening are commonly "conditioned."
What is the long-range plan for Saltzman? I understand that it is in the plans to eliminate the "thrill-ride" corner south of where it intersects with Laidlaw—moving the roadway to the west—and to continue the road north from there to join Springville. What can you tell us about that?
Saltzman is a collector and is planned to be three lanes from Cornell to Laidlaw. The first phase, in the area just north of Cornell, was completed as part of the Cornell/Barnes project. The next phase, to widen the road to three lanes (two travel lanes and a center turn lane) from there to Bauer Woods Drive (south) is currently in the planning stages (see sidebar p. 3). This phase will also include right-of-way (ROW) acquisition and possibly sidewalk improvements all the way to Thompson.
Future projects will extend the three lanes to Laidlaw. In addition, the corner north of Thompson will be altered to a more westerly alignment that will connect to 130th at Laidlaw (which will then become Saltzman) and this will extend to the county line. It may connect all the way to Springville, but since that section of Springville is in Multnomah County, the extension will depend on them.
Some people have asked if Saltzman should be five lanes rather than three, considering the large North Bethany development that's being planned, but traffic studies have shown that three lanes should be sufficient.
Renaissance Homes has proposed a subdivision near that steep turn; the county will condition the upper part of the new Saltzman alignment as part of that development. Completion of the new alignment will most likely await future development.
113th is a continuation of Cedar Hills Blvd, and will continue straight through to McDaniel when the currently approved developments are completed. Increased growth to the north is inevitable; doesn't it need to be upgraded?
113th was changed from a neighborhood route to a collector in 2002. It is a two-lane road with turn lanes where necessary. The County tried to condition a turn lane for one of the developments, but it was overturned in court—the landowner argued that there wasn't enough traffic to warrant the extra lane.
"Warrants" determine when improvements have to be made, and these depend on a number of factors including traffic speed and volume, anticipated number of turns, safety and likely "stacking" of cars behind people making turns.
One of the challenges for local government is knowing what our long-term plans are, but not having the money to buy land now and watching developers take actions that affect these long-term plans. We try to have them build needed improvements, and if we can't do that, we try to have them dedicate right-of-way. If we can't do that, at least we try to get them to stay out of areas needed for future transportation facilities.
What about 119th/McDaniel? I know that some turn lanes are being conditioned on new developments. Is it planned to be three lanes along its entire length eventually?
McDaniel is a collector similar to 113th. Turn lanes are only required where traffic warrants them.
How will the new Bonny Slope School affect traffic patterns on 119th/McDaniel? Will the Beaverton School District pay for part of that? Were sidewalks all the way to The Bluffs part of the conditions for the school?
The County did not condition a turn lane for the school because traffic projections didn't warrant it. The School District willl improve the road and add curbs, and a sidewalk will be built into The Bluffs development.
What kinds of reactions are you getting to the Cornell/Barnes work? Are people generally happy with the results, or is the County getting repeated complaints about any aspect of it? Are the business owners getting used to the shared access?
The median barriers at first were a source of complaints. Although they were on the plans from the beginning, we didn't build them until the end of the project and it took people by surprise. We learned our lesson from that and we are making a greater effort to clearly communicate with businesses about access issues as part of the Murray project. Shared access doesn't seem to be a problem.
The extension of 118th through "Timberland" is going to be built soon. How do you anticipate that it will change traffic patterns? Is there going to be a light at 118th and Barnes?
It is unclear at this point whether many people will begin to use the road as an alternative to Cedar Hills or Murray. There will be a traffic signal at Barnes.
What are the long-range plans for Bethany Boulevard?
Bethany is planned to be a five-lane road from Cornell to West Union by 2012. Future improvements beyond that will be tied to North Bethany development.
How about 143rd?
It is designated as a collector and will have two lanes with turn lanes. The traffic signal at Burton has been a big success with the neighborhood.
What is preventing the construction of interim sidewalks/paths on sections of arterials/collectors without contiguous sidewalk networks (McDaniel, 119th, 113th, etc.)? Could a Local Improvement District (LID) be formed to pay for construction of interim sidewalks in areas where it might be many years before the road is improved to its ultimate right-of-way?
LID's present several challenges. The current method requires that 51% of property owners must vote to join the LID, but the Board doesn't like having up to 49% of people opposed to it, because they will have to pay also. Also, people have to agree to pay for the improvement before the engineering is done, so they don't know exactly what they're agreeing to, and how expensive it will be.
Our Operations division is responsible for "minor pathways." They have just drafted a matrix for developing small projects that could include interim sidewalks that don't require extensive engineering with expensive drainage and curb requirements. The County typically owns or controls the ROW for sidewalks on the streets mentioned above so land acquisition would not be necessary.
Neighborhoods can work through their CPO to determine where these are needed
(cpo1friends.org). We expect that this will be a much better method than trying to organize an LID.
The intersection of Cornell with Science Park Drive and 143rd Avenue is starting to get really ugly. With more development in North Bethany, this intersection will only get more congested. What plans are under consideration to improve traffic flow in this area?
We are looking at creating a double left-turn lane between 143rd westbound and Science Park Drive eastbound. The County is seeking funding for this project, since currently it is not funded. It would be too expensive to try to acquire the land to make a direct connection. Columbia Sportswear has asked to have a signal there.