Cedar Mill Business Association Member News
Church group sells sausages at the Farmer's Market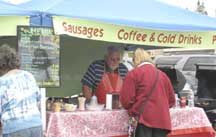 Christ United Methodist Church is grilling delicious locally made sausages and selling pastries, coffee and cold drinks every Saturday at the Cedar Mill Farmers Market, held in the Safeway parking lot at the corner of NW Cornell and Murray.
The stand also features a "Children's Activities" area with crafts and other supervised projects for children to do free of charge while their parents shop. The Farmers Market is a great way for church volunteers to connect with neighbors, raise funds for the church and have a lot of fun.
The church, tucked behind Bales Thriftway at 12755 NW Dogwood, west of Saltzman Road, houses a wealth of community activities as well as weekly church services. Sunday morning service is held at 9:30am during the summer. For more information, call 503-646-1598 or visit www.cumcpdx.org.
Sunset Credit Union promotes local businesses
Want a great way to have your business reach over 2,000 (loyal) people AND receive superior business account service? Sunset Credit Union, located at 1100 NW Murray Rd., has found a new way to promote member business accounts to their membership.
"With this economy, we were looking for a way to help generate more business for our members who have companies in the area," said Sunset CEO/President Judy Makela. "We came up with a program where our business accounts offer discounts to other Sunset members. For instance, this month, our members can receive a free coffee mug from us and then bring it into Poppa's Haven Coffee Shop and receive $0.75 off a fill up of coffee or $0.50 off the price of a specialty drink each time they visit."
"We'll be doing it for all our business accounts because it is a win-win for both our members and business accounts," says Makela. "Our members receive discounts at these companies and the businesses see an increase in customer traffic. It's simply keeping with the credit union philosophy of people helping people."
Some of Sunset's other business partners include Pet Barn, Bandito Taco, and many other Cedar Mill businesses. "Anyone who belongs to the Cedar Mill Business Association can now join Sunset and be a part of this unique program." To join Sunset Science Park Federal Credit Union or to learn more, contact them at 503.643.1335, or visit their website at www.sspfcu.com.
Sunset Animal Clinic offers healthy pet treats
It's important to educate yourself on the ingredients in your pets' treats. For example, skinless chicken, chicken liver, corn, beef hide, yeast, potassium, wheat flour, and soybean oil are some of the ingredients that we probably recognize. But what about citric acid, choline chloride, or proplylene glycol? These sound weird so, what are they? Citric acid is vitamin C, choline chloride is an organic compound (a type of salt), propylene glycol is a food additive (it is used in cake mixes, salad dressings, soft drinks and many other foods). They're all safe and are used to make treats taste better or keep well.
The companies that we are associated with: Butler, Hills, Virbac and IAMS; are dedicated to animal health and have been a benefit to the animal community.
These treats have been selected because they offer not only a good-tasting treat that your pet will love, but have therapeutic value or are low-calorie, low-fat treats that help keep your pet in shape.
The most important source of information on pet nutrition is the veterinarian that takes care of your pet. Remember that treats are treats and not a regular source of nutrients for your pet.
Know your veterinarian and staff. Know that they care about you and your pet. Also know that the companies that supply the treats and food care because most pet companies have been in business for 50 years and some more. That means a lot.
Visit Sunset Animal Clinic online at sunsetanimal.com or stop in and see their selection of treats and other pet foods at the clinic, 14740 NW Cornell in Oak Hills Village.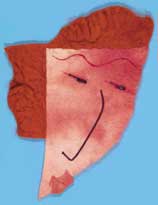 Village Gallery News
FlatKats Up Close
The Village Gallery of Arts' July featured artist Karin Graves is honored with a reception on July 11 from 2-4 pm. The "FlatKats" are a collection of work made with vintage textiles and threads. Each character is inspired by a vintage blanket as Karin uncovers her narrative portrait.
The show opens on July 7 and runs through August 1. Also featured will be the group show of artist members of the Village Gallery. Come in to buy affordable original paintings for your home and office. You will also find original cards, jewelry, fused glass, stained glass, sculpture, pottery, silk scarves, fiber arts, prints, paper arts and mixed media. Support your local artists when you shop.
We are open Tuesday through Saturday from 10 am to 4 pm and Sunday from noon to 4 pm. The Village Gallery of Arts is located at 12505 NW Cornell Rd; Portland, OR. 97229. We are next to the Cedar Mill Library. Call 503-644-8001 or see us on the web at www.villagegalleryarts.org
Planning & packing for the family vacation

Whether your family vacation involves flying or driving, traveling across the country, or venturing abroad, packing suitcases is an art. Today, more people are finding it convenient to ship their luggage before they leave. Shipping your things in advance means more space in the car for the entire family on long road trips. It also means less weight in the car, resulting in better gas mileage. Shipping luggage ahead of time is smart for air travelers, too. Not only can it reduce stress at the airport, it can actually save travelers money.
"With many airlines enforcing luggage weight and size limitations, and imposing fines for overages, we've seen many customers ship their luggage ahead of time," said The UPS Store owner, Tim Kimble. "If you are trying to bring along large items such as golf clubs or surfboards, shipping ahead can save you from paying more. It also helps avoid the headache of lugging everything through the airport."
Tim Kimble offers some helpful tips for packing and shipping your luggage:
A suitcase should be shipped inside a box to protect it. To reduce weight and cost, skip the suitcase and pack your clothes and other items directly in a sturdy box.
If you're sending stuff out, you'll probably need to send the stuff back home as well. One option is to pack a flattened box and a roll of heavy-duty tape for sending souvenirs home...or dirty laundry. You can also have your shipment professionally packed at our The UPS Store® located at 10940 SW Barnes Rd., Peterkort Towne Square. Expert packing is especially recommended for fragile items.
Be sure to notify the place where you will be staying that you're expecting a package. That way, they will sign for the package even if it arrives before you do.
The UPS Store® is open Monday thru Friday 9 am to 7 pm and Saturday 9 am to 5 pm. For more information, call 503-646-9999 or visit our website at www.theupsstore.com/3379.htm.
HealthCheck at World of Smiles
At World of Smiles we are excited to be involved with KATU's Health Check Program. Last week we filmed commercials for KATU channel two. So watch for us on TV starting early July!
Also, support local families with us at the Walk Now For Autism event. You can join our team or make a donation to this wonderful cause by visiting the events page of our website www.visitworldofsmiles.com