Making space for craft

Just up the hill on Barnes from St. Vincent's Hospital, Oregon College of Art and Craft (OCAC) nestles in a wooded 9.5-acre campus, serving over 2,500 children and adults annually through degree and community programs. It's sometimes called the best-kept secret on the Washington County cultural scene.
From its beginnings as small workshops taught in 1907 at founder Julia Hoffman's home, to a location in northwest Portland, and now in its present location near Cedar Mill, OCAC connects you to a world of creativity.
The school is an intentionally small, exceptionally student-centered art college gathering people from all over the country. The College offers a Master of Fine Arts in Applied Craft and Design, a four-year Bachelor of Fine Arts in Crafts, two Certificate Programs, as well as year-round studio classes and workshops for adults and children of all ages and skill levels. Many classes are open to people who aren't pursuing a degree. See the website (ocac.edu) for class offerings.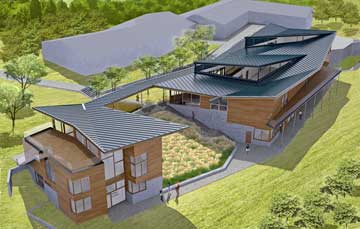 Rendering of the new Drawing/Painting/Photography building currently under contstruction on the OCAC Campus.
Vision for the future
Now into its second century, OCAC has outlined a vision for its future: to become the principal center for the invention of modern craft. OCAC continues to engage people of all ages and skill levels, and looks to enrich the regional culture in which it thrives.
This vision will evolve with the transformation of the entire OCAC campus as we renovate existing studio and public spaces, as well as construct new buildings that add 54,000 square feet to double the College's current facility size. This ambitious project will:
• Improve the educational experience by providing enhanced facilities equipped with modern technology, ample storage, and extensive studio and classroom space.

• Contribute to the creative economy of Portland by bringing more innovative artists to the region.

• Inspire more community artists to rediscover craft.

• Increase services and resources available to the community to better meet demand for our wide range of programming.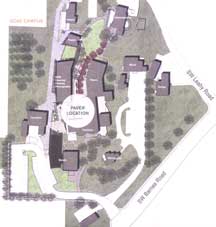 OCAC Campus map, click to enlarge
Campus highlights
OCAC's campus features a community of buildings with studios, library, café, exhibition spaces and on-campus housing.
Enjoy the serenity of the wooded OCAC campus as you savor artfully prepared, reasonably priced lunches, dinners, and Sunday brunch at the Hands On Cafe. The menu changes daily and features ethnic and regionally inspired cuisine. Cash or check only.
The Hoffman Gallery, named after the College's founder Julia Hoffman, brings the work of regional, national and international artists to campus. Exhibitions are selected to reflect current trends in the arts, as well as the historical and cultural aspects of art and craft. Common to all Hoffman gallery exhibitions is the goal of providing a forum to promote dialogue and education.
The Centrum Gallery features student artwork in monthly departmental shows throughout the year. Exhibitions in the Centrum Gallery feature artists with current or former association with the College, such as alumni, former artists in resident, and workshop instructors.
Over 100 artists sell work in the retail Craft Gallery, which features ceramics, jewelry, wood, fiber, handmade books, glass, metal, mixed media, prints and photographs. Most artists represented have a current or former association with the college as alumni, faculty, students, or workshop instructors.
You can sign up to get our free e-newsletter highlighting gallery shows and other activities at the school on our website ocac.edu (click on News & Events and select Newsletter).
Take part in the changes at OCAC
Memberships in OCAC help support the programs of the school, and offer discounts on classes, events, and purchases to members.
And for a limited time, elegant concrete pavers, inscribed with your name, a loved one's name, or a favorite quote, are available for tax-deductible contributions of $250 or $500 each. Your "purchase" of a paver will be a tangible and lasting reminder of the mark you've made on our campus.
The pavers will be placed in the various courtyards near the new Drawing/Painting and Photography building, the first of several new buildings and campus renovations designed by renowned architect Charles Rose of Charles Rose Architects Inc., in local partnership with COLAB Architecture + Urban Design LLC and Murase Associates.
A limited number of pavers are available. Order yours online at . Act now to reserve your place in history as a community supporter of fine art and craft in the Northwest!www.ocac.edu