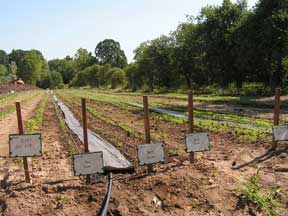 Rows of vegetables replace holly at Dinihanians
Featured Business


Dinihanian Farm Market & YourCSA.com


Vahan Dinihanian and his sister, Lillian Dinihanian Logan, have been running Dinihanian Floral Products for 27 years, taking over the business from their father. Their grandfather planted 40 acres of holly in the 1950s and the family business has mostly been providing greenery and flowers. But this year, they've converted part of the holly farm to a vegetable patch and have partnered with other nearby farmers to grow fresh fruits and vegetables for a Consumer Supported Agriculture (CSA) program that is based at the family farm at 15005 NW Cornell Rd., just across from the Oak Hills shopping center.

A CSA is a partnership between the consumer and the farmer. The CSA subscriber pays up front, at the beginning of the season, to get a weekly box of freshly-picked produce throughout the growing season. The farmer provides a variety of vegetables in season from a central distribution point.

Vahan Dinihanian says that the idea for their new enterprise came from Vicki Hertel, who manages their Christmas tree farm. She started a CSA on her family's farm in Verboort (western Washington County) about four years ago, and is now fully subscribed.

Vahan and Lillian took the idea a few steps further by contracting with several farms in the area to grow crops for their CSA (yourcsa.com). In addition to the first three acres at the holly farm, they have fruits and veggies growing at farms in Hillsboro, on Sauvie's Island, and Dixie Mountain. By spreading out the growing area, it allows them to offer a greater variety of produce, and also lessens the danger of losing a particular crop due to local problems of weather, pests or disease.

Packing greenery at Dinihanian's in the fifties
Another three acres is being cleared at the holly farm for additional late season crops. Right now, they're growing carrots, peppers, and beets here, and adding strawberries, blueberries, raspberries, tomatoes, cauliflower, broccoli, beans, potatoes and more from the other farms for their July boxes. More varieties of fruits and veggies will be added as the season progresses. Their website lists the produce that subscribers can expect to see each month through October.
In addition, they've set up a Farm Store on the property where they sell the surplus produce, locally-raised free-range eggs and more. The store is open every day from 10 am to 6 pm.
What brought them to undertake such a change? "People had better start getting closer to their farmer!" says Vahan. News reports of tainted imported food, plus concerns about the oil it takes to transport food halfway across the globe, have people thinking local and seasonal for their food.
Michael Pollan's books, Omnivore's Dilemma and In Defense of Food, explain why food grown locally is not only more sustainable for the planet but also healthier. Industrially-produced food, dependent on chemical fertilizers and pesticides, has been shown to contain drastically reduced quantities of nutrients, including the vital anti-oxidants that keep us healthy. In fact, research is showing that plants that are grown sustainably actually contain more antioxidants because plants produce them to help resist disease and recover from insect damage.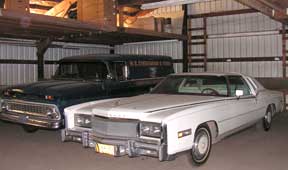 An old rug delivery truck and an ElDorado are preserved in one of the storage buildings. Vahan Dinihanian also restores and rides old motorcycles.
One of the pleasures of subscribing to a CSA is getting a variety of food that you may not have been in the habit of buying. To help people figure out what to do with their bounty, YourCSA is providing recipes with each box of food. When you sign up, you get a binder with the basic CSA information, and you can add the weekly recipes to it. In addition, you get a supply of "green bags" that keep produce fresh longer by absorbing the ethylene gas that speeds deterioration.
"A big part of our marketing plan is simply to do a very good job with the boxes," says Vahan. "We want to encourage word-of-mouth." He says that the sign they have installed on Cornell is getting them the most new customers. They also advertise on Craigslist and through links on localharvest.org, a website devoted to connecting people to local food.
All the produce from YourCSA is "naturally grown" and/or Food Alliance certified. Vahan explains that this means, "Pests are controlled with the minimum of low toxicity sprays, and only enough to rid the crop of an outbreak that would devastate the crop. Nothing is used prior to harvest. Weeds are hand picked, tractor–tilled or just let go." The soil is enhanced with their own compost and sandy loam mix, which is also for sale at the farm.
Yearly membership is $400 for 16 weeks of produce, which started June 30. For those who join later, prices are pro-rated so if you join by July 7, it's $375 for 15 boxes. All prices and an online order form are on their website, yourcsa.com. Shares are designed to feed a family of four. "Overpick" is available at the farm market and by special order if you want to preserve some of the harvest for winter eating. In addition to the regular boxes, they will be providing a Thanksgiving bonus box for your holiday. Next year they plan to include a Christmas tree and a wreath in a yearly subscription.
Still a lumber mill in Cedar Mill!
In addition to the holly, produce, and soil products, there is a small lumber mill on the property. About eight years ago, Vahan installed a Mobile Dimensional Saw from MobileMfg of Troutdale to mill trees cut down locally. He currently has a complete set of lumber available for a traditional German barn called a liegender dachstuhl, contact him if you need one! Additional lumber in fir, maple and cedar sits in the mill shed. They also sell holly firewood and landscape timber.
The Dinihanian family in Cedar Mill is related to the other big nursery "dynasties" in the area by marriage—Gustav Teufel's granddaughter Rosalie met and married the senior Vahan, a third-generation Persian rug dealer from Portland. They acquired the acreage on Cornell, and planted "Teufel's Hybrid" holly, starting Dinihanian Holly Farms.
There are currently seven family members involved in this effort—Vahan and his wife Tasha and their four-year-old daughter Sonja; and Lillian and her husband Dan, along with their teenage kids Alexander and Christiana. Lillian and Dan have a farm in the Dixie Mountain area, in northwest Washington County along Skyline. They grow Christmas trees, peaches, peonies and vegetables, and Lillian is active in the Grange, 4H and Future Farmers of America.
Vahan and Lillian grew up in the farmhouse on the property, helping out the family enterprise. It's now occupied by Carlos Adamy, the manager of the CSA, and his family. Vahan and his family live on another ten-acre farm on Skyline, where he currently grows holly and plans to plant asparagus for next season.
They also grow peonies and boxwood for florists on the Cornell property. While Dinihanians used to ship holly all over, Vahan says that they're, "done with wholesale holly," and that they'll only be selling it locally. They're open during the holiday season with a great selection of decorations and greenery.
Visit the Farm Market on Cornell, or check out the website yourCSA.com for more information.