History in the News


The Bauer Family—steam engines to subdivisions


By Nancy Olson, co-author, Cedar Mill History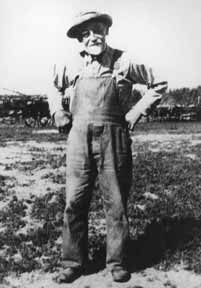 Gottlieb Bauer, 1930 (photo courtesy Clifford Bauer)
When my husband and I first moved to Cedar Mill in 1964 we purchased a house and several acres on Saltzman Road where we lived for nearly 25 years. The home was built by Willard Bauer for his first wife on part of the 80 acres purchased by his parents in 1929. This was where Willard Bauer grew up with his sister, Gladys, who later married into the Peterkort family. It was my neighbor Willard who more than anyone inspired Linda and me to pursue the history of Cedar Mill. He had great stories and great photographs from the past.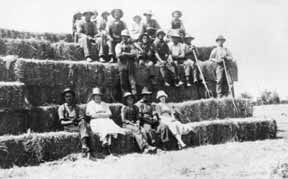 Bauer family and friends rest at the end of a hard day baling hay (Photo courtesy Herbert Bauer)
It was in 1905 that Willard's grandparents, German immigrants Gottlieb and Caroline Bauer, arrived in Cedar Mill with their children Henry and Lena. The family rented land and eventually purchased 80 acres on a portion of the future Sunset Science Park in 1919. Henry and Lena were joined over the years by five more brothers.
Gottlieb Bauer and his sons, Henry, Richard, Clifford, Arthur, Otto, and Herbert, worked together raising wheat and dairy cows. Their baler and thresher were driven by a wood-burning steam engine. Clifford recalled that the engine was pulled by a horse-drawn water wagon that was filled twice a day during harvest time. Creeks and ponds supplied the water that was transferred to the steam engine through rubber hoses. When work on the Bauer farm was completed, the family used their equipment to harvest crops for other farmers in the area, including Joe Murray.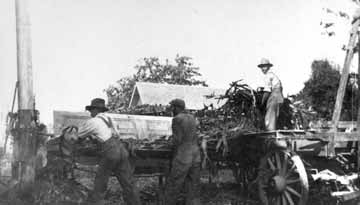 A Bauer team uses a steam engine to make silage, a way of storing animal feed for the winter (Photo courtesy of Clifford Bauer)
Caroline Bauer died in 1927 and Gottlieb in 1935. Henry, the eldest son, by this time had purchased his acreage on Saltzman Road and built the house where Willard was born. In 1982, this land was sold for development into a housing subdivision called Bauer Woods. Several other "Bauers" were built over the years.
The Bauer clan members were scattered throughout Cedar Mill. Willard's childhood home remains standing on Saltzman Road.