Donate "gently-used" children's books
By Natalie Farci
My friend Kristen Coldwell and I have been in Girl Scout Troop 645 for five years now, and this summer we decided that we wanted to do a children's book drive for our Silver Award Project. This project is required to be over 40 hours long.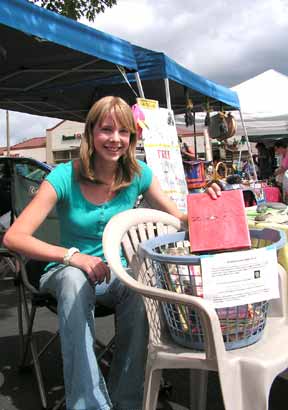 Kristen Coldwell collects books at the Market
We started by finding out which charities needed and accepted gently used children's books. Although most shelters and charities would only take new books, we did find a few places that will accept the books we collected: The Women's Shelter in downtown Portland, St Joseph's Shelter in Mt. Angel, Campo Azul Migrant Camp in Western Washington County, and a school in the Gulf Coast region.
In addition, Dina Gross, the coordinator of the Cedar Mill Farmers' Market, has a friend who runs a library in Mauritania in northwest Africa. She is planning to take a suitcase full of books with her when she returns later this year.
The books we want to collect are children's books for kids anywhere between infant and teenager. So far we have only collected a few bags from our neighborhoods, and we have been keeping them in our homes or garages.
Although some of the charities are a little far away, it will be our job to deliver the books, with the help of our parents, to each of the shelters.
We are required to finish this project by the end of August, and are looking to collect a lot more books. If you would like to donate your gently used children's books to these good causes, you can either bring them to the Cedar Mill Farmer's Market (Saturday morning from 8-1) or you can call me at 503-466-2304 so that we can pick up books from you.