Powers that be
Washington County's Special Service Districts
When Oregon's land use laws were established in the 1980s, legislators assumed that urban/suburban areas would be served by cities since this was established land use planning practice . In 1993, Senate Bill 122 mandated that cities and counties establish urban service agreements to make transitions of new land into Metro's Urban Growth Boundary (UGB) "orderly and efficient." When the original concept of UGBs was developed, Metro required that land added to the UGB within its jurisdiction be annexed to a nearby city before urban development occurred. But because some of these areas were relatively distant from city limits, developers argued that annexation would be impractical, and Metro dropped the policy around ten years ago.
For this and other reasons, as we explained in the October and November issues of the News, we now have large areas of the county that have an urban or suburban character where residents are adequately served by the county's special districts and some residents are reluctant to vote to join a city where they would pay higher taxes for additional services.
In this issue, we're taking a look at two of the special service districts that provide urban amenities to unincorporated areas, with associated property taxes paid only by residents of the urbanized areas of the county. In a full-service city like Hillsboro residents pay one tax rate to the city's general fund for all their services and it is up to the city to divide the tax revenues between services.
Special service districts have proven relatively easy to fund because the special district offers a fixed service at a fixed cost. In the Cedar Mill area, special service districts provide for fire protection (Tualatin Valley Fire & Rescue), parks & recreation (Tualatin Hills Park & Recreation District) and schools (Beaverton School District) in addition to the two districts that are the focus of this article: the Enhanced Sheriff's Patrol District (ESPD) and the Urban Road Maintenance District (URMD).
Enhanced Sheriff's Patrol District
The Washington County Sheriff's Office is the primary provider of law enforcement services for residents of the Cedar Mill area. These services are funded by two main sources:
First, a base level of law enforcement service, appropriate for rural areas, is funded by county-wide property taxes. These include taxes paid to the general fund and the public safety local option levy, recently re-approved in 2006.
Second, in the more densely populated unincorporated areas, additional patrol services are funded by the Enhanced Sheriffs Patrol District local option levy.
Cedar Mill is in the Enhanced Sheriff's Patrol District (ESPD), so the police presence in this area is approximately double that of the rural areas of the county.
The most common measure of law enforcement services in a given area is "patrol officers per 1,000 population." The recommended minimum patrol staffing level for municipal level services is 1.0 officer-per-thousand. In the late 1980's, people living in the urbanized unincorporated areas had a service level of only .77 officers per 1,000 because population growth outpaced law enforcement service levels we paid for.
In an effort to improve services, the county offered residents in that area the option to increase law enforcement services through a local option levy. The first ESPD levy was passed in 1987 by a 61% margin and it has been continuously renewed since its inception: in 1994 by a 65% margin (a 4-year levy); in1998 by a 68% margin (a 5-year levy); in 2004 by a 68% margin (a 5-year levy). The next renewal will likely be presented to voters in the ESPD on the May 2008 ballot.
In the ESPD, additional deputies allow for quicker response times to 9-1-1 calls. Other positions funded by the levies provide support services including criminal records report writers, patrol administrative support, and a crime prevention specialist.
ESPD deputies receive the same excellent training and equipment as other patrol deputies, and they are normally assigned to their patrol districts for at least a year. They focus their time in their districts and respond to life safety calls for service, livability issues such as gang problems, drug houses, nuisance properties, abandoned vehicles, speeding drivers, offensive littering, etc. and calls that are typically coded for lower priority response. An ESPD deputy may respond to an emergency in a neighboring district, such as a life safety issue, but the primary focus is in the ESPD areas.
The ESPD levy currently funds 113 positions, including 98 deputies. The proposed levy renewal in 2008 will fund the same 113 positions plus an additional 19 deputies over the life of the levy. This will ensure consistent policing services in the face of the projected population growth.
For more information about the Enhanced Sheriff's Patrol District, please visit the Sheriff's Office web site at www.co.washington.or.us/ESPD.
Washington County Urban Road Maintenance District (URMD)
Washington County's roads are classified by the type of traffic they carry. Local streets primarily provide direct access to adjacent land. Neighborhood Routes are in residential neighborhoods and provide connectivity to the Collector and Arterial system. Collector streets (Saltzman is a good example) provide both access and circulation between residential, commercial, industrial and agricultural community areas and the Arterial system. Arterial streets (Cornell, Murray) interconnect and support the Principal Arterial highway system.
Road classification sets the funding priority. The major roadway system of Collectors and Arterials is highest priority for maintenance funding. Lowest priority are Local streets and Neighborhood Routes which carry less traffic.
The majority of funding for maintenance of all county roads comes from the county's share of state motor vehicle funds—a combination of fuel taxes and registration fees—plus a (pitiful) one-cent per gallon County fuel tax and other sources.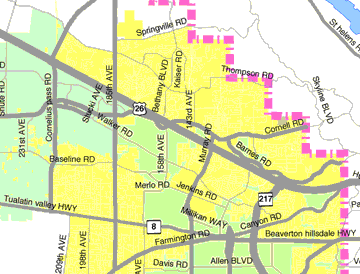 Voters in the urban unincorporated areas of the county formed the URMD in 1987 and approved a five-year serial levy to pay for it in 1994. Measures 49/50 turned the five-year URMD levy into a permanent tax and locked the rate at its current level. URMD's main purpose is to help pay for road maintenance services on neighborhood streets in urban unincorporated areas. As lowest priority for maintenance funding, these streets received very little maintenance and were in poor condition.
When it was formed, the typical road targeted by the URMD was: in an urban/suburban low-to-medium-density neighborhood; between 20 to 40 years old; approximately 30% uncurbed; had substandard or no drainage; had little or no maintenance for 15 to 25 years; and many of these roads were in "poor or very poor" condition. Now after a dozen road maintenance seasons, the average road in the District is in "good or better" condition.
County engineering staff manages the day-to-day work; prepares work programs, administers contracts, and inspects contracted work. Clean Water Services provides drainage work under contract to District. County maintenance staff does vegetation work, small paving and chip seal jobs under contract to the District. Private contractors do most of the major work such as asphalt overlays, slurry seals and crack seals (over 80% of the annual work program).
All Local Roads and Neighborhood Routes within the Urban Growth Boundary outside of cities are eligible for URMD, with the following exception: undeveloped properties inside recent UGB expansion areas such as North Bethany do not pay URMD taxes, but annexation to URMD will be a condition of development.
All money collected under URMD is spent only on URMD-eligible roads for URMD-eligible activities. The annual surface maintenance contracts (overlay paving, pavement repairs, slurry seals, and crack sealing) include only URMD-eligible roads and activities. So far, URMD funds are keeping up with maintenance needs. Some activities on URMD roads are not funded by URMD. Gas tax money is used to repair stop signs (regulatory) and to trim vegetation blocking a traffic control sign (hazard abatement). If URMD didn't exist, the County would be still have to do this work.
Road Maintenance/Reconstruction Priorities
The road maintenance portion of the county's transportation plan calls for maintaining roadway pavement condition at certain base-level standards, and establishing priorities for determining how available resources should be allocated to first achieve, then maintain these condition levels. Adequate roadway maintenance is critical: it is much less expensive in the long run to maintain the surface and integrity of a roadway than to let it go and have to completely replace it prematurely.
County engineers look for certain conditions on the road surface before deciding what to do and when to do it. Loss of aggregate, certain types of cracking and other signs of stress are good indicators of what's going on beneath the pavement, as well as the surface condition. They use sophisticated computer software that considers each road's condition, prior maintenance history, and traffic loads to help evaluate the most cost-effective treatment.
Then they look at available funding and other projects in the area that might impact the road. Since there are always more roads to pave than money to pave them, they wind up with a solid list of worthy candidates every year.
Historically, funding for maintenance of the system has fallen short of the need, although the policy to focus non-local maintenance funds on the major roadway system has kept the Arterial and Collector roadways in good condition.
Based on the county's Transportation Plan, transportation maintenance from now to 2020 will require $745 million. However, expenditures, based on past trends, are expected to total only $541 million, resulting in a shortfall of $204 million for maintenance. As the county grows, expect to see proposals to cover this shortfall.
[Special thanks to Victoria Saager, WaCo LUT, for assistance with this article.]