Featured Business
Super Suppers
If your family is tired of pizza and other fast-food or takeout options, and you'd enjoy sitting down to a good meal without a lot of hassle, Super Suppers has some really good options for you. Dennis Halseth and his wife Xiaoyin Li opened their local outlet of this national franchise business last August in the Peterkort Towne Square mall, just east of Albertson's.
For as little as $3.50 per serving, your family can be enjoying home-cooked gourmet-quality dinners, with, as the company slogan goes, "No shoppin' choppin' or moppin.'"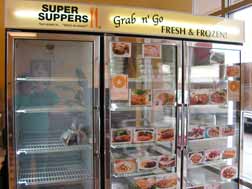 You have several options for getting your meals. You can stop by any time and pick up "Grab'n'Go" meals, frozen and available in dozens of varieties, from chicken and fish to beef, pork, and vegetarian entreés. You can call ahead or order online, and pick up exactly what you want pre-made, and even get curbside service. There are small additional charges for all the pre-made options. Side dishes and desserts are also available. And there's no minimum order.
But probably the most fun option is to attend one of the make-it-yourself sessions. You can schedule a session to make sure the entrée items you want are available, or you can just walk in during their open hours—Monday-Friday 10 am-7 pm, Saturday 10-5. The only drawback to just dropping in is that they may not have certain ingredients ready for all available menu items. You can also schedule a session with several friends.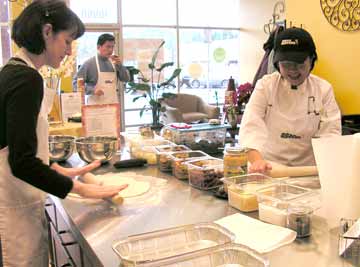 During a session, you can prepare any number of dinners. The regular size feeds two or three people, the full entrée feeds up to six. Most people prepare several at each session, so they will have a stock of meals in their freezer for those nights when they just don't feel like elaborate meal preparations. Complimentary snacks and drinks are provided while you work, adding to the party atmosphere.
When you arrive, the various preparation stations are all set up with recipes and all the ingredients and tools you need to assemble your meals. During a recent session, a popular choice was the Spinach and Feta Braided Bread. Christy Goodell first rolled out the prepared dough with a professional rolling pin and some coaching from Li, who was also preparing a portion of the bread for the freezer. Then she spread the prepared filling, cut part of the dough into strips and "braided" it, transferred the finished roll to a foil baking pan, brushed it with olive oil, and sealed it. She placed it in the freezer and then moved to another station where she prepared Pesto Salmon and Vegetables en Papillote.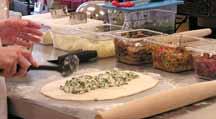 "I have two kids under five at home," Christy said, "and finding things that they want to eat is sometimes difficult. I know that this is good food because I can see what's going in it, and I know they'll enjoy it."
Friends Liang Chang and Fay Chen were preparing Turkey Burgers with Pepper-Thyme Gravy at another station. Chen has been to Super Suppers several times since it opened. She likes being able to try new foods. "I'm an expert at Asian cooking," she said. "But I'm not that familiar with American food, and it's hard to know what things will taste like when I just use a cookbook. But here, I can see what is going into the food, and I don't have to buy a lot of spices that I don't know that I will use. There are a lot of international recipes, too, so I can try Greek food, Mexican food, and get a lot of variety without having to stock a lot of supplies in my kitchen." She brought along her friend Liang Chang so that he could prepare some dinners for his family.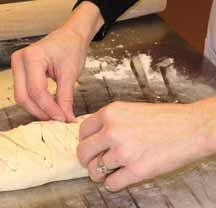 Owner Dennis Halseth, who had previous experience in hotel and resort management, had spent the last 15 years working as an accountant for private companies. He and his wife had talked about having their own business off and on for years. "When changes came at my former company we decided that if we were going to open a business, now was the time. We did not want to start from scratch so we looked into several franchise opportunities. We chose Super Suppers because it was geared toward helping busy families get back to the dinner table together by offering professional chef-created entrees that not only taste great but are nutritious and affordable."
His wife works full-time "to pay the bills" and helps out at the store on the weekends, and provides, "a lot of love, support and suggestions." Her enthusiasm for the business and the food is obvious.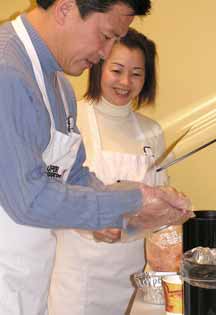 Complete nutrition information is available for all the meals, which have no trans-fats. "Grab'n'Go" entrees have no salt added, although you're free to add salt to the meals that you prepare. In fact, one of the benefits to assembling your own entrees is that you can customize the dishes to your family's taste and dietary needs.
At home, some entrees require thawing and stovetop cooking in your own pan, like the Braised Pork Chops with Cinnamon Apples. You brown the chops and then top them with the sauce ingredients, which are packaged separately. Other items can be popped into the oven still frozen. Average cooking time is about a half-hour. You can also order some entrees to pick up at the store unfrozen, ready to bake right away at home.
The founder of the company, Judie Byrd, is a professional chef and has a cooking school in Forth Worth, Texas. The franchise provides all the recipes, but local stores select from the 20+ menu items for each month's offerings. Four "Signature Entrees" represent the most popular items and are always available. Recipes are geared for families, with ingredients that appeal to a broad range of tastes. Gourmet quality, but not "weird."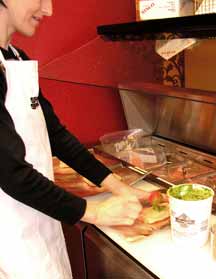 A lot of the food that goes into the meals is delivered by Sysco, which has a contract with the parent company. This includes packaged and bulk food, meat and fresh produce. Halseth picks up some items locally, particularly smaller quantities of fresh produce because Sysco has minimum order requirements.
This is the first Super Suppers in the Portland area, and as with most new ideas, has been a little slow to catch on. "We'd like to see more people at our scheduled sessions," says Halseth. "Right now, most people come in and pick from our Grab n' Go or place an order by email or phone to pickup. We're sure that once people get an idea of what we're offering, they'll begin to incorporate us into their schedules and our sessions will get more popular." They're also considering adding home delivery and kid-favoriet entreés soon.
Along with recipes and business plans, the franchise provides marketing materials and a well-designed website (supersuppers.com) that has general information about the business and location-specific menus and online ordering and scheduling applications.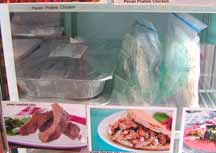 There are several incentives available to people who recommend their friends, as well as a frequent-buyer program. They can also provide larger quantities of food for church or other group dinners that can be cooked at the groups' kitchen.
For more information, or to schedule a session or a pickup, visit the website at supersuppers.com and browse to the local store, or call 503-641-5700.