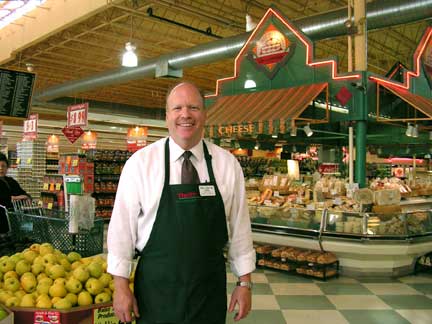 Carl LaForce, Bales Cedar Mill General Manager, welcomes special requests
Bales Thriftway

In December 2004, Ken Findley sold the stores in Cedar Mill and Aloha that made up the Bales' family grocery business to Miller Family Holdings LLC, a Private Equity Investment Company. "We had been approached a number of times over the years by big corporations who wanted the stores, but I wasn't ready to get out of the grocery business. I loved it, it had been my life, but things have changed a lot and it was time. We were very comfortable with the new owners, they felt the way we do about the employees and the business," said Findley. "Our priorities were always 'customers first, employees second' and we were convinced that these priorities would be carried forward. We didn't want to let down our employees or the community."
Mark Miller is the CEO of Signature Northwest,LLC, a Retail Grocery Chain, the company that was formed to run both the Cedar Mill store and the other Bales-owned Thriftway in Aloha, Bales Farmington. In June 2005 Signature purchased another store in West Linn, the former Zupan's, which is now Bales West Linn. Mark's father Bob Miller is former president and CEO of Fred Meyer Corporation and former CEO of RiteAid, where he remains as chairman. There are several other investors in Signature Northwest. Mark graduated from the University of Puget Sound and holds his MBA from Pepperdine University.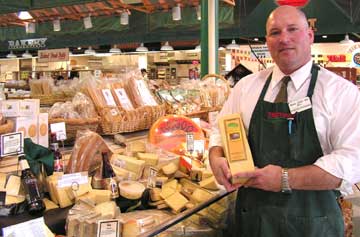 "We are excited about the opportunity that these three stores have in their marketplace," says Miller. "We believe in growth through acquisition. If other stores become available that meet the high standards that the current Bales Stores operate under, then we would look at them," he continues. Any new acquisitions would be in the Pacific Northwest.
No big changes
Shoppers may have noticed a few small changes in the Cedar Mill store, but nothing major. New checkout equipment was one change. "We installed all new front-end systems which give us better, timelier information in our effort to better serve the customer. We have put in some new managers, but less than 1% of the employees left when we purchased the store," Miller says. "We are really trying hard to keep the same successful formula that Ken Findley had when we acquired the stores. Run clean stores, with exceptional service and quality."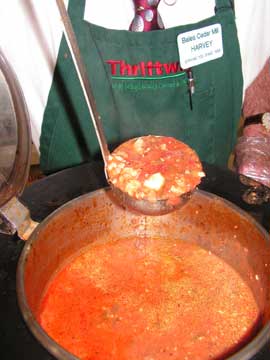 Carl LaForce developed the recipe for this cioppino, available daily and filled with fresh seafood
One of the new managers is Carl LaForce, General Manager. Carl came down from Seattle, where he had run a Metropolitan Market location for a couple of years. Prior to that he had been a food buyer for six years for Associated Grocers' Thriftway. "This store really felt familiar to me, because years ago I had run Larry's Market, and this store was built as a copy of that one," he mentioned.
One of the first changes you'll notice in the store is the exceptional assortment of cheeses available in the case next to the deli. Bill Evans, one of the new hires, is the Cheese Steward. He has a "Cordon Bleu" degree from Western Culinary Institute, and has presided over the transformation of this part of the store. "We purchase almost all our cheese in the original big wheels and then cut and package them ourselves. It ensures a much fresher product and lets us offer a wider variety of cheese," Evans says. The selection includes European, American and local Pacific Northwest cheese. Helpful signs identify cheese varieties and give information about their origin, content and use.
Bales wine selection has always been pretty good but it has become an even more important part of the store with the addition of the Wine Steward Steve Gale. Another Cordon Bleu graduate, Gale has his Sommelier certificate. He formerly worked at a Zupan's market. He's on hand to help customers make selections and is happy to provide special orders for that important dinner or party.
Bales continues to get fresh produce, meat and seafood from northwest suppliers. This is one of the main things that sets them apart from the big corporate groceries in the area. "We still send our trucks out to Hood River to get peaches, apples and pears," Carl mentions. Miller says, "The competition in our markets are, for the most part, the big guys, and they do a good job but they are directed from their corporate offices on what products to buy and where to get them, and this is driven largely from cost. They are owned and operated outside of Oregon where we are a local company made up of individuals who grew up or spent a significant amount of time in Oregon. All we do stays here."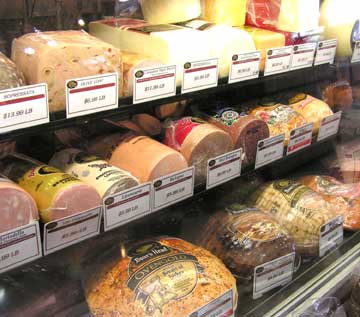 Boar's Head deli meat and cheese are worth a try!
One of the first changes Carl LaForce made when he arrived was to bring in the Boar's Head line of deli meats and cheeses. This top-quality line comes from a demanding company. "They made us change the way we did some things before they'd let us sell their product," mentions Miller. "And it was all for the best." Although the line is expensive, LaForce points out that it is economical because the flavorful products go a long way. "You can make a turkey sandwich with about half the turkey you'd normally use, and it tastes better. It's because they don't pump water into their products."
While there's no big remodeling project being planned, some areas will be reorganized. "We're planning to mix the organic foods back on the shelves next to the regular foods. This should make it easier for the shopper to find things and to compare products for contents and value," says Miller. "We strive to have at least 100 organic products in the store at any time. We think that combining organic and local products with traditional grocery items will make a better shopping experience," he continues. They may put housewares and seasonal goods in the space next to the Post Office, that is currently occupied by the organic foods.
[For background on Odus Bales and his contribution to the community, see the October 2003 issue of The Cedar Mill News. Archives at cedarmill.org/news/archive.html]