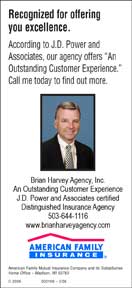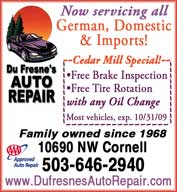 Cedar Mill Business Association
2008 Members
American Family Insurance
Bales Findley Property Management
Bales Marketplace Cedar Mill
Beighley & Associates Landscape Architects
Cedar Mill Bible Church
Cedar Mill Chiropractic Clinic
Cedar Mill Community Library
Cedar Mill Lumber
Cedar Mill Realty
Comfort Keepers In-Home Care
Cornell Urgent Care
da Vinci Smiles Dental
Du Fresne's Auto Service
Edward Jones - Bill Rawson
Electronics Unlimited, Computer Repair
Elliott Bookkeeping School
Giftique Gift Baskets
Robert Gill & Assoc. Appraisals
Jon Goodwin, DMD
Lazette Harnish LMT
Mike Irinaga Insurance/Farmers
Lee Davies Real Estate LLC
Pacific Northwest Tax Service
Papa Murphy's Pizza
Peninsula Insurance
Piggyback Plus , Inc.
Polygon Northwest Company
Pro Travel Network
Sandy Sahagian Portraiture
Sassy Frocks Women's Clothing
Dean Shade,, Attorney at Law
St. Pius X Catholic Church
Sunset Animal Clinic
Sunset Athletic Club
Sunset Medical Practice Group
Sunset Science Park Credit Union
Sunset Tire Factory
Team Web Website Design
Tilly's Gelato & More
UPS Store
Village Gallery of Art
Walker Garbage Service
West Hills Chiropractic
Norman White Real Estate
---

---

Diane Sandefur attended classes at Elliott Bookkeeping School (EBS) in 1993, and she liked it so much, she bought the company...

---

Next Meeting
Cedar Mill Business Association

Tuesday, April 8, noon
Place: Cedar Mill Community Library

Topic: CityFest Community Outreach Program
Speaker: Dan Larsen, World & Local Outreach Pastor, Cedar Mill Bible Church

free pizza—bring your own beverage

The Cedar MIll Business Association's meetings are free
and open to anyone interested in business in Cedar Mill

---

If you think it's hard to get into and out of the Waglreen's/library parking lot now, just wait and see what the county has in store for us....

---

---

---

History in the News


Lost Park

In 1926, Cedar Mill was the location of a popular recreation site called Lost Park which drew visitors from Portland, Beaverton and Hillsboro....

---

In this series of articles, we have been taking a look at the governance of Cedar Mill, most of which is unincorporated Washington County. Counties traditionally provide county-wide services and services to rural residents, while cities provide urban amenities and services for their residents.

---

At the March 11 meeting of the Cedar Mill Business Association, the Downtown Identity committee noted that the Town Center banners had been taken down because they had proved unable to withstand the winter storms. We will be working with the sign company to develop a better material and revised designs....

---

---

Citizen members of the Murray Road Improvement Project (Highway 26 to Cornell) have been expressing concern that the project plans didn't include putting utilities (cable, power, telephone) into underground trenches to match what was done for the Cornell project.

---

---

---

---

Surprising as it may be to most of us, there are homeless students attending almost every school within the Beaverton School District (BSD). In fact, two years ago Sunset High School had the highest population of homeless high school students in BSD. District-wide there are 861 homeless students so far this year.

---

ID Theft Workshop April 17

Win a free document shredder! The Washington County Sheriff's Office will present, "Identity Theft, Scams and Fraud: Here & Now" on Thursday, April 17, 6:30-8:30 pm, at Sunset Presbyterian Church Fellowship Hall, 14986 NW Cornell.

This free presentation for Washington County citizens will include presentations from Sheriff Rob Gordon and the Sheriff's Office Fraud & Identity Theft Enforcement Team (FITE), and the Oregon Department of Justice. For more information, call 503-846-6048

---

Strader Town Halls

Desari Strader, who represents Cedar Mill and other areas as Washington County Commissioner, is holding a series of Town Hall meetings to share information and listen to her constituents.

April 7, 9-noon, Garden Home Recreation Center room 10

May 9, 10-noon, Cedar Mill Community Library upstairs meeting room.

---

Our former State Senator, Brad Avakian, says, "In March, my good friend Dan Gardner announced that he will step down as Oregon's Labor Commissioner...

---

Under the umbrella of Washington County's Adopt-a-Road program, volunteer groups can now adopt roadway landscaping.

---

---

---

---
---
The Cedar Mill News
Published monthly for the Cedar Mill Business Association by
Cedar Mill Advertising and Design
12110 NW West Rd., Portland, OR 97229
Do you have news or events or know of something
that you would like to see covered in the Cedar Mill News?
Contact us!
Publisher/Editor: Virginia Bruce
503-629-5799 • email us
Printing courtesy of Copytronix
Printed copies are distributed in CMBA organizations throughout the Cedar Mill area.
Opinions expressed in this publication are not necessarily those
of the Cedar Mill Business Association or of the advertisers.