Advertising
People like local!
Because we bring our readers the news and events they can't find anywhere else, we have a loyal and engaged audience! You can reach them with your message and show your support for our work with an ad!
800 print copies are quickly distributed free around the community. The "open rate" for our 4000+ email subscribers is over 50%. All readers will see your ad on the website and in the PDF version.
Advertising Rates
Circulation
Ad Layout
Deadlines & Mechanicals
Frequency Discount
Distribution
Advertising Rates effective October 1, 2019
download the PDF
One column = 1.84 " Two Column = 3.76 "
Frequency:
Once
6 x year
12 x year
width
height
1 column (1.84″)
1 inch
$30
$24
$20
1 column (1.84″)
2 inch
$50
$42
$37
2 column (3.76″)
1 inch
$50
$42
$37
2 column (3.76″)
2 inch
$90
$78
$72
1 column (1.84″)
4 inch
$90
$78
$72
2 columns (3.76″)
5″ (1/4 page)
$220
$175
$138
4 columns (7.6″)
5″ (1/2 page)
$380
$330
$280
Ad layout
$35
$0
$0
Custom sizes available, call or email for info
The Cedar Mill News is published monthly by The Cedar Mill News LLC, 503-803-1813; email info@cedarmillnews.com.
A PDF version of the rate sheet is available here. You can view it online or print it. The PDF version demonstrates typical ad sizes.
Circulation
The Cedar Mill News is published around the first Friday of each month. Normally, 800 printed copies are distributed to various retail outlets and professional offices throughout the Cedar Mill area. In addition, over 4000 people subscribe by email, and either download a PDF or view The News online. All advertising is displayed on The News website, with a link to your website if you provide that information.
Ad Layout
Ad layout is free for advertisers with Frequency Agreements. $35 charge for layout of one-time ads, deductible if a Frequency Agreement is signed with the next ad insertion. Advertisers should supply logo, graphics etc. by the 15th of the month previous to publication. Use of color in your ads is included, and is recommended. We can also adapt an ad from another publication and re-size it for our format, please inquire about acceptable format. Electronic files are almost always preferable to hard copies.
Deadlines & Mechanicals
Camera ready ads due by the 25th of the month prior to publication.
Preferred format 300 dpi TIFF or PDF files. Ad copy and graphic files for revised ads are due by the 20th of each month for ad production. Call or email for exceptions.
Frequency Discount
To obtain frequency discount, advertisers agree to advertise either six or twelve times throughout a year (a year starts with the first insertion). Ad size may go up or down any time, the Agreement only covers frequency.
The Frequency Agreement is available as a PDF file here.
Payment
Advertisers will be billed after their ad appears. 5% discount for six-time prepayment. 5% rebilling fee for accounts more than three months overdue.
For more information, email us or call 503-803-1813.
Distribution
Over 4000 people have signed up to get The News in their inbox. They read the stories online, or download and read the PDF version. All ads are included in both online versions.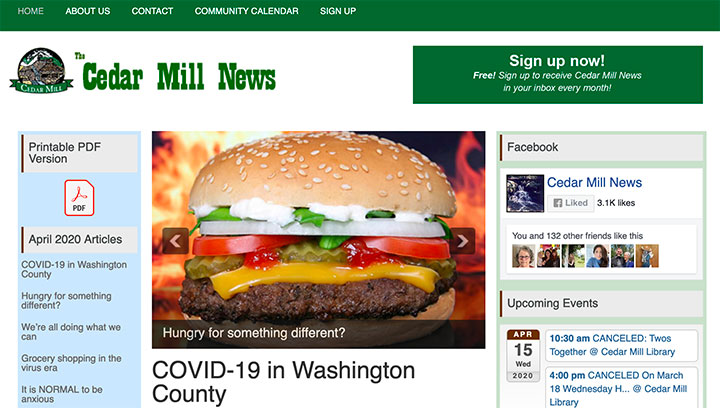 Normally, 800 free print copies are available at:
The Cedar Mill Library (on the shelf near the inner front door)
Bethany Library
Market of Choice Timberland
Safeway (right end of the service desk)
Grand Central Bakery
Poppas Haven Coffee
Papa Murphy's Pizza
The Sunset Athletic Club
Cedar Mill Liquor Store
Cedar Mill Farmers Market (May-October)
Sunrise Bagels,
and other locations…
Over 3000 people have "liked" our Facebook page. They get frequent community updates along with reminders to sign up for the email list.
(Note: if you have good customer traffic and want to stock the News, let us know!)