Cedar Mill Park meeting August 8
Tualatin Hills Park & Recreation District hosts a neighborhood meeting at 6 pm at the Cedar Mill Library to consider proposed revisions to a master plan to redevelop Cedar Mill Park.
As part of the park redevelopment, a portion of Cedar Mill Elementary School is proposed to receive improvements. Additionally, THPRD will present play equipment concepts to generate a conversation about what style of play equipment is preferred by the neighborhood. The 11-acre park is located at 10265 NW Cornell Road.
Cedar Mill Park Concert August 16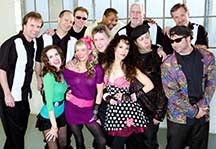 5 Guys Named Moe, a 12-piece, horn-driven ensemble, plays for our annual concert, sponsored by THPRD. 6-8 pm, Cedar Mill Park, adjacent to Cedar Mill School on Cornell near 95th.
Bring your family, a lawn chair or blanket, and meet your neighbors and friends for a summer evening of fun and music.
Food and beverages are available for purchase. Along with community partners and sponsors, our Rec Mobile and the Nature Mobile will be on site to engage kids with games and activities.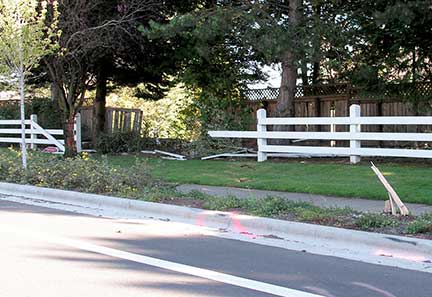 Sometime during the weekend of July 28, a vehicle travelling at a high rate of speed lost control and went off the road, not only going through the fence on Saltzman but ending up in the back yard of a house on 129th Place.
No alcohol or drugs were involved, but because of the excessive speed, the 18-year-old driver was charged with reckless driving, reckless endangering, assault III (for injuries to one of his passengers) and criminal mischief II (for damage to the fence). The passenger was not seriously injured. No one else was injured. A deputy spoke with the homeowner and gave him the insurance and contact information for the driver.
The Cedar Mill News ©2012
Published monthly by
Pioneer Marketing & Design
1100 NW Murray Rd., Ste. 1000.,
Portland, OR 97229
Do you have news or events or know of something
that you would like to see covered in the Cedar Mill News?
Contact us!
Publisher/Editor: Virginia Bruce
503-803-1813 • email us
Printing courtesy of Copytronix
Printed copies are distributed throughout the Cedar Mill area.
Opinions expressed in this publication are not necessarily those
of the advertisers.