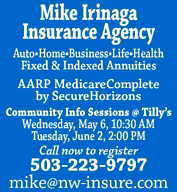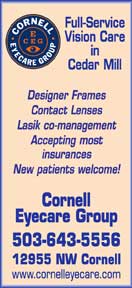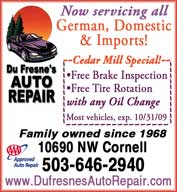 Cedar Mill Business Association
2008 Members
Abracadabra Air Duct & Chimney Sweep
Alexander Learning Studio
American Family Insurance
Baby & Me Children's Resale
Bales Findley LLC
Bales Marketplace Cedar Mill
Beaverton Valley Times
Beighley & Associates, Inc.
Body Imaging Radiology
Cedar Mill Bible Church
Cedar Mill Chiropractic Clinic
Cedar Mill Community Library
Cedar Mill Farmers' Market
Cedar Mill Home Theater
Cedar Mill Lumber
Cedar Mill Realty
Cedar Mill Veterinary Hospital
Comfort Keepers
Cornell Eye Care
Cornell Urgent Care
daVinci Smiles
Diva Dogs
Du Fresne's Auto Service
Edward Jones
Electronics Unlimited, LLC
Elliott Bookkeeping School
Randall N. Freed DMD
Giftique
Robert Gill & Associates
Jon Goodwin, DMD
Lazette Harnish, LMT
Harmony School
Home Video Studio
Huntington Learning Center
Lee Davies Real Estate LLC
Life Coach, LLC
Mike Irinaga Insurance Agency
Mikes Auto Parts
Mr. James Hairstyling
NW Organizing Solutions
Oregon Community Credit Union
Pacific NW Tax Service
Papa Murphy's Pizza
Peninsula Insurance Inc.
Pet Barn
Piggyback Plus, Inc.
Polygon Northwest
Pro Travel Network (85 Countries Travel)
Prudential NW Properties
Rosemary's Solutions
Safeway
Sandy Sahagian Portraiture
Sassy Frocks LLC
Dean Shade, Attorney at Law
St. Pius X Catholic Church
Sunset Animal Clinic
Sunset Athletic Club
Sunset Medical Practice Group
Sunset Science Park Credit Union
Sunset Tire Factory
Take Shape for Life
Team Web
Thai Lily Restaurant
Tilly's Gelato and More
The UPS Store (Peterkort)
U. S. Bank
Village Gallery of Art
Walker Garbage Service
West Hills Chiropractic
Westside Music School
White Realty
World of Smiles Pediatric Dentistry
---

---

Dr. Michelle Stafford decided to become a dentist when she was in high school while working for an orthodontist. "I have always been surrounded by children, and I believe that some people are just naturally good with kids...

---

Next Meeting
Cedar Mill Business Association

Tuesday, November 11, 11:45

Place: Leedy Grange Hall
835 NW Saltzman

Topic: Tax planning for 2008 and 2009 for small businesses and individuals

Speaker: Alan Levine, C.P.A.

Free pizza—bring your own beverage

The Cedar MIll Business Association's meetings are free
and open to anyone interested in business in Cedar Mill

---

Now that the first phase of construction is underway on the Murray Road Improvement Project, we thought it would be a good time to review what improvements are planned and offer information about the work schedules and what travelers in the area can expect throughout the next months of construction.

---

The plan to widen Saltzman road to three lanes—one travel lane in each direction and a center turn lane for the stretch from Cornell to Bauer Woods Drive—is progressing on schedule...

---

---

Samuel Walters, my grandfather, probably the first settler in Cedar Mill, was a farmer at heart and sought fertile land for farming...

---

---

---

Washington County's Urbanization Forum was convened last spring to consider what many think of as the problem of Urban Unincorporated Areas (UUAs) in the county. (For background, you can read our series Urban Needs, Rural Government)...

---

The big news to announce is that we have decided to start our meetings a little earlier from now on, at 11:45, so we can have more time to network and get lunch and introductions out of the way before we start the more-structured part of the meeting.

---

---

The 2008 Cider Festival was a smashing success! Great fall weather greeted over 600 visitors to the JQA Young House site on Cornell Road on Sunday, October 19 from 1-4 pm.

---

The International Dark-Sky Association (www.darksky.org) fights light pollution, which it defines as any adverse effect of artificial light including sky glow, glare, light trespass, light clutter, decreased visibility at night, and energy waste.

---

---

---

---

---

---

---

---

---
---
The Cedar Mill News
Published monthly for the Cedar Mill Business Association by
Cedar Mill Advertising and Design
12110 NW West Rd., Portland, OR 97229
Do you have news or events or know of something
that you would like to see covered in the Cedar Mill News?
Contact us!
Publisher/Editor: Virginia Bruce
503-629-5799 • email us
Printing courtesy of Copytronix
Printed copies are distributed in CMBA organizations throughout the Cedar Mill area.
Opinions expressed in this publication are not necessarily those
of the Cedar Mill Business Association or of the advertisers.