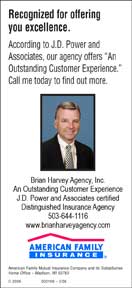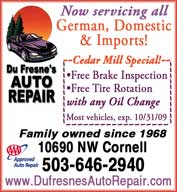 Cedar Mill Business Association
2008 Members
American Family Insurance
Bales Findley LLC
Bales Marketplace Cedar Mill
Beighley & Associates, Inc.
Cedar Mill Bible Church
Cedar Mill Chiropractic Clinic
Cedar Mill Community Library
Cedar Mill Home Theater
Cedar Mill Lumber
Cedar Mill Realty
Comfort Keepers
Cornell Urgent Care
daVinci Smiles
Du Fresne's Auto Service
Edward Jones
Electronics Unlimited, LLC
Elliott Bookkeeping School
Freed, Randall N, DMD
Giftique
Gill, Robert & Associates
Goodwin, Jon DMD
Lazette Harnish, LMT
Lee Davies Real Estate LLC
Life Coach, LLC
Mike Irinaga Insurance Agency
Mikes Auto Parts
Oregon Community Credit Union
Pacific NW Tax Service
Papa Murphy's Pizza
Peninsula Insurance Inc.
Pet Barn
Piggyback Plus, Inc.
Polygon Northwest
Pro Travel Network
Rosemary's Solutions
Safeway
Sandy Sahagian Portraiture
Sassy Frocks LLC
Dean Shade, Attorney
St. Pius X Catholic Church
Sunset Animal Clinic
Sunset Athletic Club
Sunset Medical Practice Group
Sunset Science Park Credit Union
Sunset Tire Factory
Super Suppers
Team Web
Tilly's Gelato and More
UPS Store
U. S. Bank
Village Gallery of Art
Walker Garbage Service
West Hills Chiropractic
White Realty
---

---

With a veritable "tsunami" of aging baby boomers getting ready to retire, caring for the elderly is certainly a growth industry...

---

Next Meeting
Cedar Mill Business Association

Tuesday, June 10, noon

Place: Leedy Grange Hall
835 NW Saltzman

Topic: Office Organization Strategies
Speaker: Kathie E. England, Time for Success Inc.

free pizza—bring your own beverage

The Cedar MIll Business Association's meetings are free
and open to anyone interested in business in Cedar Mill

---

We asked Tualatin Hills Park & Recreation District (THPRD) to give us an update on a number of parks projects around the area. Hal Bergsma, former City of Beaverton planner, is the new Director of Planning for THPRD and he shares this information...

---

---

---

The 7-Eleven Store on the corner of Saltzman and Cornell was robbed three times in May and Sheriff's detectives believe the same suspect is responsible for all three incidents. Detectives are asking businesses and residents in the Cedar Mill area to provide any information that might help to solve these crimes.

---

For the first time in at least 20 years, Cedar Mill's Leedy Grange is sponsoring a community event—the Strawberry Shortcake Social and Historical Photo Exhibit.

---

Like so much of Cedar Mill, NW Saltzman Road has changed with the times. Originally it was a dirt track leading from Peter Saltzmann's homestead, just west of the summit of Skyline Ridge, to NW Thompson Road.

---

---

The second session of Washington County's Urbanization Forum will take place on Thursday, June 19 from 6:30-10 PM in the Walters Civic Center, SE 5th and Main in Hillsboro. Unlike the first session, this time there will be a chance for public comments, says Forum organizer Mark Cushing.

---





At our May 13 meeting, we heard from Lisa Mentesana and Mary Metheny, Beaverton School District's Homeless Liaison Specialists.

---

---

Rescue a tree!


Cedar Mill Park natural area restoration party

Saturday, June 7, 9 am-noon
meet at the picnic tables in the park west of Cedar Mill School at Cornell & 103rd.

The newly-acquired Brady property west of the park has a number of trees that are being strangled by ivy. Join your friends and neighbors for a morning rescuing these trees and doing other restoration work around the park. All ages welcome. Refreshments and some equipment provided, bring along your favorite work gloves and wear long pants and sleeves.

---

---

Mark your calendar for the Cedar Mill Farmers' Market every Saturday from now through September.

---

---

Under the expert direction of Shop Manager Nancy Paysinger, 100 volunteers, including teens, adults and seniors, work to keep the Second Edition Resale Shop a successful on-going fund raiser for the non-profit Cedar Mill Community Library Association.

On Monday, June 16, you are invited to join a conversation about how the region will adapt to growth over the next 50 years.

---

---

---

Library2Go
Summer Reading
Mah Jongg Classes

---

Parents have been asking about plans for sidewalks in the vicinity of the new Bonny Slope Elementary School.

---

Petition for stoplight at Dogwood

1536 signatures were delivered to the Washington County Board of Commissioners on June 2. County engineers are re-evaluating the traffic statistics and other issues—stay tuned, we may get the (green) light!

---

---

---

---
---
The Cedar Mill News
Published monthly for the Cedar Mill Business Association by
Cedar Mill Advertising and Design
12110 NW West Rd., Portland, OR 97229
Do you have news or events or know of something
that you would like to see covered in the Cedar Mill News?
Contact us!
Publisher/Editor: Virginia Bruce
503-629-5799 • email us
Printing courtesy of Copytronix
Printed copies are distributed in CMBA organizations throughout the Cedar Mill area.
Opinions expressed in this publication are not necessarily those
of the Cedar Mill Business Association or of the advertisers.