Road news May 2023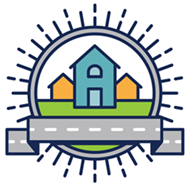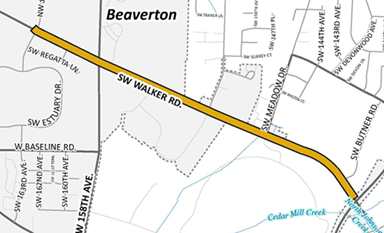 Walker Road Phase 2 Meet the Contractor Open House
Thursday, May 18, 5-7 pm, THPRD Recreation Complex Dryland Meeting Room, 15707 SW Walker Road
We will widen Walker Road between Schendel Avenue and Butner Road to five lanes: two travel lanes in each direction and a center turn lane, with continuous bicycle and pedestrian facilities. Storm drainage will be upgraded and additional street lighting will be installed.
This is the second phase of capacity improvements to Walker Road. A separate project expands the Walker Road/Murray Boulevard intersection.
Construction start (expected): May 2023, Construction finish (expected): December 2024. Sign up to receive project updates by email.
Filbert sidewalk update
The plan to build a new sidewalk along the south side of the street, between Saltzman Road and Murray Road, is moving forward. A contractor has been selected and construction schedules are being developed. Homes in the vicinity of this project on Filbert Street were built by private builders in the 1950s and 1960s. Sidewalks were not a requirement at that time. It serves many of our neighbors as a way to get to shopping, schools, the library and more and people have been walking in the street.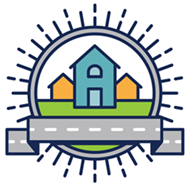 URMD gets ten more years
The Washington County Board of County Commissioners voted 5-0 on April18 to continue the Urban Road Maintenance District (URMD). A review by the Board every 10 years assesses the continued need for the URMD's services. This week's Board approval means that the URMD will continue through June 30, 2034.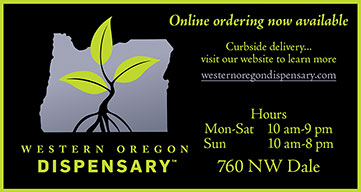 The URMD is a county service district that pays for road maintenance and biking and pedestrian projects in the urban unincorporated area. About 430 miles of neighborhood streets are eligible for URMD maintenance funding. Data shows that pavement condition in the URMD improved significantly after it was funded in 1994. Pavement maintenance continues at a high standard.
While URMD's primary function is street maintenance improvements, the district has also funded 74 Pedestrian & Biking Improvement Projects totaling over $33 million since 2011. The URMD also supports the Neighborhood Streets Program (NSP). NSP promotes safety by reducing speeding and cut-through traffic in urban neighborhoods.
Here's a video about what community members say about how the URMD has improved their neighborhoods: