Community News May 2023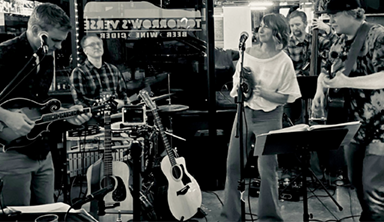 Two band concerts and an auction
Auction: Monday, May 22, 9 am to Thursday, June 1, 7 pm, online sambanote.org
Percussion concert: Wednesday, May 31, 6:30-8 p, SHS Gym, free
Band concert: Thursday, June 1, 6:30 pm, SHS Auditorium, free
Sunset High School bands will be hosting two concerts along with a fundraiser auction later this month. The online auction will feature items from businesses nearby. Visit our website to see the full list of donors and participate in the auction. Auction items will also be on display at the band concerts. Bidding will close at the final concert.
The Winter Percussion troup will entertain you with their high energy performance, joined by special guests to fill out this exciting evening. The next day, the Sunset Concert Bands will be presenting the Senior Send-Off Concert. Admission for both shows is free, and seating is open.
All funds from the online auction will be used by the non-profit 501(c)(3) Sunset Apollo Marching Band and Auxiliary Parents Club (SAMBA) to support all of the comprehensive band and colorguard programs available at Sunset High School. SAMBA raises funds throughout the year to pay for travel expenses, entry fees, uniforms, specialized instruction, show design, instrument purchase and repair, the purchase of music, and scholarships for students who otherwise would be unable to afford to participate. For questions or additional information please contact samba@sambanote.org.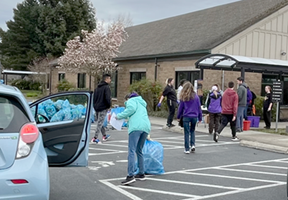 Sunset HS Marching Band Can & Bottle Drive
Saturday, May 13, 10-1, Sunset Church, 14986 NW Cornell RD, free
Drop off your redeemable bottles and cans to help us raise funds for marching band & music programs at Sunset HS. Bring them in any container (or use bags we provided), and we'll give you a new bag for next time. You can reach us at samba@sambanote.org with any questions.
Sunset Climate Change Club Recycling drive
Saturday, May 20, 10-1, Sunset High School, 13840 NW Cornell RD, free
Sunset's Climate Change Club is having their final recycling drive of the school year! We are collecting styrofoam, #6 plastics, batteries, and a few TerraCycle items. More information can be found on our website here.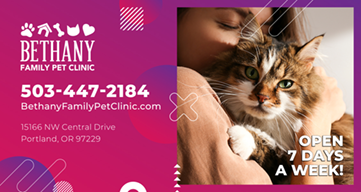 Trillium Hollow Tree Walk
Saturday, May 13, 10 am, Trillium Hollow, 9601 NW Leahy RD, free
Join us for a walk around a local 3.65-acre community with a perennial stream and wetlands. Hear about the restoration that has been done and see a variety of trees and shrubs. Hot beverage and treat provided after the walk around. Register and get details here.
Webinar: "Trees for Cooler Schools: Implementation"
Tuesday, May 30, 6:30 pm, Zoom, free
Join us to discuss and plan how to start a pilot green schoolyards program in Washington County. Topics discussed will include partners, site selection, architectural design, permitting, tree selection, grant funding. Register here.
Forestry for the Birds
Friday, May 19, 8-11:30 am, Portland Audubon Heron Hall, 5151 NW Cornell Road. For details and to register click here
Join the Forest Stewards Guild and supporting partners to learn about forestry for Western Oregon birds. We will learn about bird habitat preferences; how to identify understory plants, and key forest bird species of the region.
Join a wetlands tour
The Wetlands Conservancy will be hosting a series of Wetland Tours on-site at our properties throughout the Portland Metro area every Saturday in May, which is American Wetlands Month.
Visit our website for details.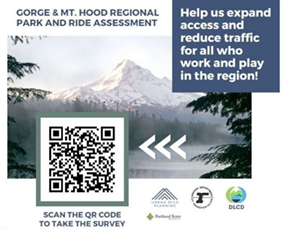 TriMet to Mt. Hood or Columbia Gorge?
Do you ever visit the Columbia Gorge and Mt. Hood? Would having Park & Rides near these areas help expand access to nature while reducing congestion and greenhouse gas emissions? Portland State University graduate students are evaluating these questions, and they want your feedback.
Music Night at Amaterra
Thursday, May 25, 5-8 pm, Amaterra Wines, 8150 SW Swede Hill Drive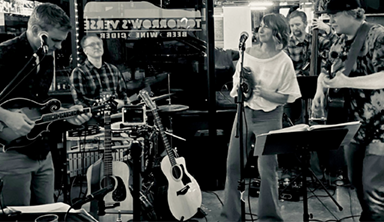 Join us for a night of great tunes! Woodland Empire is an eclectic band of singers, multi-instrumentalists, and improvisers playing unique, original songs alongside classic covers done in the Americana/roots rock/acoustic songwriter style. The band features Alli Lurie on vocals and guitar, Andy Lohr on vocals, guitar, and mandolin, Dobro Andrew Field on vocals and guitar, G. Douglas Bundy on vocals, clarinet, keys, and percussion, and Dax Smith on bass.
All are welcome! We ask that at least one person in your party be a Wine Club or Social Club member. Message us for more details or visit AmaterraWines.com to make a dinner reservation before or after the show!
Mental Health Resource Fair
Thursday, May 18, 11-4, Hidden Creek Community Center, 5100 NE Hidden Creek Drive, Hillsboro
Drop in to this free event to find resources and connect with service providers, nonprofits, and culturally specific organizations. Sponsored by City of Hillsboro.
Become a "Changemaker" in the Eco-School Network
It is becoming increasingly important that our schools model practices that reinforce the role we all play in learning, growing, and living in a healthy environment. The Eco-School Network is a nonprofit that supports dedicated parents and teachers to make changes in schools at the grassroots level. Parent and teacher "changemakers" work with students to implement and support ecologically sound practices, habits, and values in our schools.
For example, recently Eco-School Network changemaker members in the Beaverton School District teamed up with student climate change and advocacy clubs at Sunset High School and Westview High School. Together they drafted a Beaverton School District Climate Action Policy (similar to what Portland Public Schools passed in 2022). The team of students and community members will present their draft plan at the May 22 BSD Board Meeting. We would value your input! To have your voice heard or show your support at this meeting, please email bsd.climate.action@gmail.com. If you're interested in becoming a changemaker with the Eco-School Network, please contact sasha@ecoschoolnetwork.com.
Viva Village May events
Viva Village is a Beaverton-area grassroots organization of members and volunteers who focus on enhancing and expanding the ways we can age well. We provide connections, programs, volunteer services, and referrals so members can lead engaged, healthy lives. For more information visit our website. Please RSVP for all events by contacting vivavillageevents@gmail.com or 503-746-5082. Links for zoom meetings will be sent to those who RSVP. Members-only events are listed on our website and in the web version of Cedar Mill News.
Viva Village events open to the public:
Women's Coffee (In-person)
Every Wednesday, 10 am, Jim & Patty's Coffee, 4130 SW 117th, Beaverton
Coffee and conversation. RSVP recommended.
Age Café
Friday, May 5, 11-12 pm. Beaverton City Library, 12375 SW 5th Street
Small group conversations exploring new topics each month of interest to older adults. Co-sponsored by Viva Village, Beaverton City Library, Beaverton Committee on Aging, and Wash. Co. DAVS. Registration optional.
Online Viva Village 101
Saturday, May 13, 10-1:30 am
A fun and informational session about Village life for prospective members and/or volunteers. RSVP for the Zoom link.
Viva Village Forum: BSD
Monday, May 15, 2-3:30 pm, United Methodist Church, Wesley Room, 12555 SW 4th Street
Viva Village is proud to announce a critical forum for Beaverton families as Shelley Bailey-Shah, Public Communications Officer for the Beaverton School District shares information about the district's new direction, dual language expansion, 2022 bond projects, and much more.
It's a "must hear" event for Beaverton residents who care about the direction of our school district. To RSVP or get more information please visit the Viva Village website, email vivavillageevents@gmail.com, or call 503-746-5082.
Men's Coffee Break
Monday, May 22, 10-11:30 am, Ki Coffee, 4655 SW Griffith Dr. #160, Beaverton
Conversation and coffee. RSVP recommended.
Online Viva Village Book Club
Tuesday, May 23, 1-2:30 pm
Selected book: "The House in the Cerulean Sea," by T. J. Klune. RSVP for the Zoom link.
Viva Village events for members and volunteers:
Viva Village Nature Walk
Saturday, May 6, 9:30 am, Trails at Dawson Creek, 2850 NW Brookwood Parkway, Hillsboro
Meet at the north end of the parking lot of the Hillsboro Brookwood Library. RSVP recommended.
Online Mindfulness Classes
Monday, May 1, 8, 15, 22, 29, 11-11:45
Befriend Your Inner Critic. Learn how to live more mindfully. Series 3. Learn how befriending your inner critic can help you live more mindfully. In this series of classes Martha McJacobs will focus on Working with your Inner Critic with Mindfulness. RSVP for the Zoom link.
Online Women's Coffee
Every Tuesday, 10 am
Join members and volunteers for a morning of coffee and conversation. RSVP for Zoom link.
Online Tai Chi Classes
Every Thursday, 10-11 am
Practice Tai Chi technique with certified instructor, Richard Chew. RSVP for Zoom link.
SNAP 101 (members)
May 5, 1:30-3:30 pm, Beaverton City Library, Meeting Room B, 12375 SW 5th Street
For Viva Village members to learn the basics about the new SNAP planning tool. Let us know if you need a binder. If you've already received your binder, bring it with you. RSVP required. Register on the website or contact the Viva Village office.
Life Stories
Tuesday, May 9, 2 pm, Southminster Presbyterian Church, 12250 SW Denney Road
Viva Villager Julie Schmidt, a fourth generation Oregonian, will speak about her family's cattle ranch in Eastern Oregon, started by her great grandfather who came from the Midwest across the country on the Oregon Trail. RSVP recommended.
Dine Around Beaverton and Beyond
Wednesday, May 10, 1 pm, Olive Garden Italian Restaurant, 11650 SW Canyon Rd
Join members and volunteers for lunch and conversation. Participants must be vaccinated.
RSVP required by 1 pm on Tuesday 5/9/23. Space limited to 15 people. *Please notify the office if you need to cancel.
Living Solo (In-Person)
Wednesday, May 17, 12-1:30 pm. Beaverton City Library, Cathy Stanton Room, 12375 SW 5th Street
Meet in person to share experiences, tips, and strategies for living on your own. Bring your lunch. RSVP recommended.
Online Living Solo
Thursday, May 18, 4-5:30 pm
Share ideas and insights about solo living. RSVP for the Zoom link.
Thursday Evening Social Group
Thursday, May 25, 5:30-7:30 pm, PF Chang's Restaurant, 10088 NE Emma Way, Hillsboro (The Streets of Tanasbourne)
Enjoy an evening of dinner and conversation with Viva Village friends. RSVP required. Seating limited to 15. *Please notify the office if you need to cancel.
Fun with Games
Friday, May 26, 1 pm, Viva Village Office, 4905 SW Griffith Drive, #104, Beaverton
A fun afternoon of cards and/or board games. RSVP required. Limited 12 game players. Register on the website or contact the office. *Please notify the office if you need to cancel.
Ask WCSO
With summer approaching, what are some important safety tips to remember when riding your bicycle? May is National Bike Month, highlighting the health and environmental benefits of riding a bicycle and encouraging more people to get out and ride. As we head into spring and summer, many dust off their bikes for commuting, exercise, or just for fun. Regardless of the intent, your Washington County Sheriff's Office wants everyone to practice safe bicycling habits at all times.
Always wear a properly fitted bike helmet. Oregon law requires those under 16 to wear a helmet, though all ages are encouraged to do so to avoid head injuries in the event of an accident. Find out more on proper fitting from the National Highway Traffic Safety Administration (NHTSA).
Be Safe – Be Seen by wearing bright clothing during the day and reflective gear (front white light and red rear light) at night or when visibility is poor.
Ride a bike that fits you! It's harder to maintain control when it is too big or too small. Always maintain one rider per seat and use both hands on the handlebar except when signaling a turn.
Free yourself from distractions that take your eyes, ears, or mind off the road, such as texting or listening to music. Tie your shoelaces, tuck your pant legs, and secure anything that might get caught in your bike chain. Carry all your items in a backpack or securely strapped to the back of your bike.
When riding on the road: Plan your route; choose directions with less traffic, slower speeds, and available bike lanes when possible; Ride in the same direction as traffic and in a single file to share the road with others; Follow street signs, signals, and road markings.
Motorists can also promote bicycle safety by leaving space for bicyclists and only passing when safe to do so, allowing at least three feet of clearance, and never on sharp corners or blind spots. Roads are a shared responsibility; we can all work together to enjoy the outdoors safely. Learn more about bicycle safety here.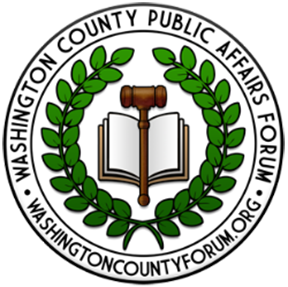 Washington County Forum
Founded in 1956, the Forum provides a place for the interchange of ideas on civic matters. Each week the Forum brings together community leaders, members, and guests who care about what happens in Washington County, the Metro region, and our state. For some sessions we are holding "hybrid" meetings now, with an in-person and zoom option. See listings for in-person locations.
Monday, May 1, noon, in-person at the Cathy Stanton room at the Beaverton City Library & online via zoom
Cassandra Ulven, the Division Chief and Director of Government & Public Affairs for TVF&R will share the revenues they receive, how they provide fire and medical services, and what their challenges are.
Monday, May 8, in-person at the Cathy Stanton room at the Beaverton City Library & online via zoom
Sheriff Pat Garret will talk about the Sheriff Department's budget, activities, and plans for the future.
Monday, May 15, Dave Kraska with Willamette Water Supply Program
Visit the Forum website for updated meeting information. Join the Forum to support its work and to have the privilege of asking questions during meetings.