A closer look at Zoom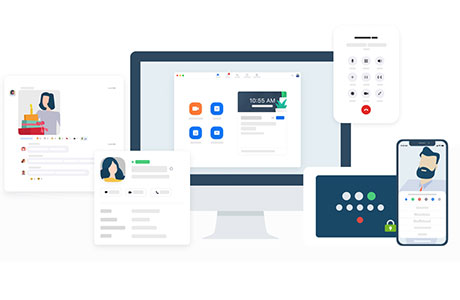 by Beatrice Kahn, CMN intern
Yearning for more than FaceTime for visiting with your family and friends? Craving a platform more cohesive than Skype? With Oregon public schools closed until at least April 28, students are at a loss of their daily communication with peers and teachers. Workers staying home and needing to interact with colleagues are discovering it too. From school districts to the stock market, Zoom has potential to be utilized as a great communication platform.
Zoom is a free application in your device's app store, listed as "Zoom Cloud Meetings." Once downloaded, you can sign up with your personal email, or for students, with your Beaverton School District Google account. Every Zoom user gets their own meeting code, making it easy to start a virtual meeting, even to someone who is not technologically adept. You can invite anyone to a Zoom meeting by using your personal meeting code and emailing the recipient a link.

So, how could Zoom become part of the school district's everyday life for the next month? I recently spoke to Beaverton High School principal Dr. Anne Erwin over Zoom. According to Dr. Erwin, Zoom is the best option as it is available through Canvas, an online tool widely used by BSD students already. Because online learning is not the same as classroom learning, Dr. Erwin hopes that students will take this new challenge as a unique opportunity. Regarding Zoom's accessibility to students without consistent wifi, Dr. Erwin pointed out that internet hotspots were distributed to students who lacked internet access through the Sprint 1Million Project.

Plans regarding online learning are unfolding, as information about the length of the school closure changes. Whatever happens, students in the district will emerge from this challenge stronger and smarter than ever, and Zoom is the tool to provide that.
Use it but be careful!
The FBI has been reporting that scammers and bored bad guys have been "Zoom-bombing"—invading private meetings and conversations through vulnerabilities. They recommend making sure that your meetings are not public, and require a password. They also say to not share a link to a public forum, like social media. Instead, send the link directly. As well, they recommend changing screen sharing to host-only so images can't pop up.

From TechCrunch: "Zoom has been widely criticized over the past couple of weeks for terrible security, a poorly designed screensharing feature, misleading dark patterns, fake end-to-end-encryption claims, and an incomplete privacy policy. So the company says that for the next 90 days it's enacting a feature freeze, which means it won't ship any new feature until it is done fixing the current feature set. Zoom will also work with third-party experts and prepare a transparency report."