Aura Aesthetics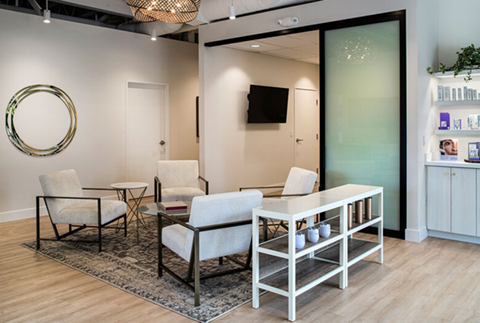 By Virginia Bruce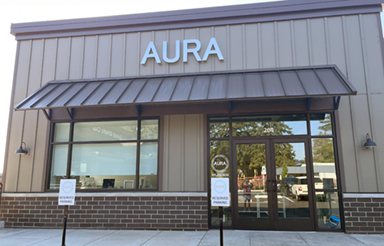 Suzanne Jagger and her staff want you to feel comfortable as soon as you step into the Aura medspa. "Come as you are," is more than a slogan. They even welcome well-behaved kids. "We will always encourage our clients to bring in their kids instead of missing their appointment," says manager Savannah Yates.
"We pride ourselves in the art of listening, so please tell us what you want to achieve. We're here to realize your vision of beauty, not ours, and definitely not someone else's. Feel free to just drop by or go online to schedule a complimentary consultation," Suzanne says. You don't have to know what kind of treatment you want. Just tell them your goals and concerns and they will help design a program to get you where you want to be.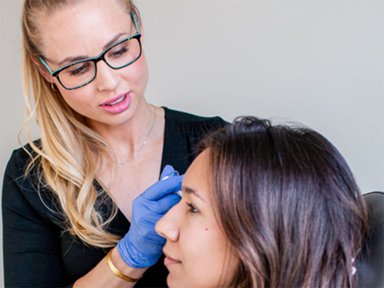 Looking your best is not just vanity. You feel more confident, and others tend to listen more and treat you better. So if you've ever considered getting skin improving treatments, stop in and find out what solutions they can offer. (I lived with big brown sun spots (melasma) on my face for years, and after two treatments they are nearly gone!) They have a membership option that can save you money, and they also offer financing.
We had some questions for Suzanne to help our neighbors get to know her and the facility better.
How did you decide to locate here in Cedar Mill?
I grew up in this area! My family lived in Bauer Crest, and now I live in Bauer Oaks with my husband Justin, an Intel project manager, and my daughter Elle who is 13, and son Noah. They both attend St. Pius. And it is a wonderful community.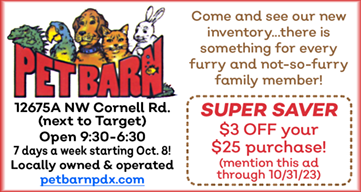 I had been renting a small space for my business and was ready to grow and when I saw the new center taking shape, I knew I wanted to be here. We were the first business after CVS to open, in March 2021. Being near the Sunset Athletic Club facility is a big plus.
Did you work in other medical areas as a nurse before you got into aesthetics?
When I was young, I thought I would go to med school. I soon realized that I just wouldn't have the patience for the long program, so I entered the Johns Hopkins accelerated second-degree nursing program. After graduation, I did some consulting and then worked in an ICU. At the same time, I began to study anesthesiology. I was a pediatric anesthesiology nurse for several years, in the Bay Area and Portland. Medical politics meant that I was doing the same work as male doctors but making less money and with less power to make decisions.
That's when I started exploring aesthetic injection. In some ways my life has been about alleviating pain. The pain of dissatisfaction with how you look is real, and my career now is centered on that. And I use the same knowledge and skills, such as good manual dexterity.
I started a mobile practice in 2016. I assembled a kit of equipment and supplies, and drove around seeing patients in their home. I rented a small space in 2017, and moved to a larger space in 2018. I spent three years there until I opened my Cedar Mill space in 2021.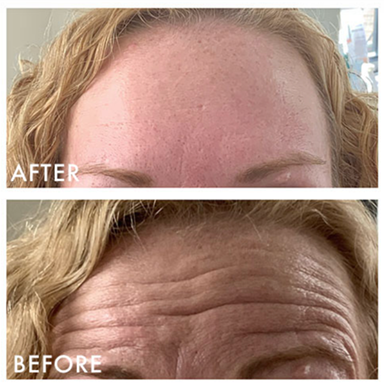 What are the greatest satisfactions you have experienced having Aura?
Removing the stigma from getting aesthetic treatments! I want our clients to feel comfortable and safe. We use evidence-based treatments and we're very careful about safety.
What were some surprises or unexpected outcomes from having your own business?
Owning your own business means you're never done—it's a marathon. I've been on a steady progression since I began in 2016, but each step took planning and hard work.
You mention referring patients to specialists when appropriate. Can you expand on that?
Our practice is kind of like a well-child visit. We don't deal with pathology, and we don't do surgery. We refer to surgeons, dermatologists, and sometimes send people to Key Laser if they need specialized equipment that we don't have here.
I saw some men in the website gallery! What are popular treatments that guys are looking for?
Pretty much the same as women! They don't want to look angry! We help with unwanted facial hair, Botox, and treatments for age spots etc.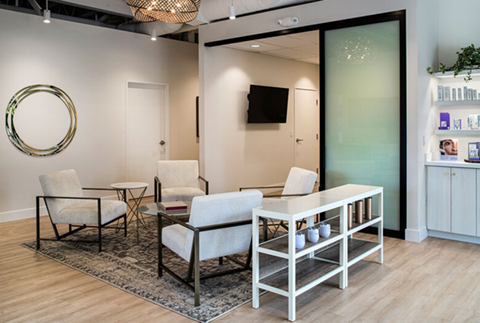 The Medspa is beautiful! Did you work with a designer? Do you want to give them a shout?
Casey Keasler, at Caseworks Interior Design. They are based in Portland but work on residential and commercial projects around the northwest and beyond.
Aside from Cedar Mill News, what other ways are you doing outreach?
In general, print doesn't work very well for us, but I've been a fan of Cedar Mill News for a long time and knew I wanted to advertise. We do a lot of social media (Instagram, Facebook). We have a local marketing manager, and we also work with an LA company for the website. We partner with local businesses, like Orange Theory, Adorn shops, and some stylists. We have an active mailing list and host events to keep in touch with our clients.
When I visited, my esthetician mentioned that you were doing trainings. Can you tell us more about that? (I just learned a new word: Neuromodulators! Fascinating!)
I've been teaching most of my career—I think it's in my blood! I was able to begin in earnest in this new space. There's no "standard of care" in this field, no academies or degrees, so practitioners learn from each other and from reading and going to conventions. Now I travel around teaching, and I also invite people to come to my spa here in Portland to spend the day with us learning how to do Botox and dermal fillers. We also do general health and wellness business consulting because the fundamentals are the same whether you're a naturopath, chiropractor, or aesthetics practitioner.
[Neuromodulators are drugs that affect nerves. Botox acts on the nerves that cause wrinkles]
Tell us a little more about the holiday shopping events! Sound lovely!
We have selected some fine vendors and we provide refreshments and a lot of fun. Visit the Events page of the website to learn more and RSVP.
Aura Medspa is located on the upper level of the new Milltowner Center at Cornell and Saltzman, adjacent to the new Sunset Athletic building, at 12525 NW Cornell, Suite 204. They are open Tuesday-Friday 9-6. Visit the website or call 971-232-9232 to learn more.