Development News October 2022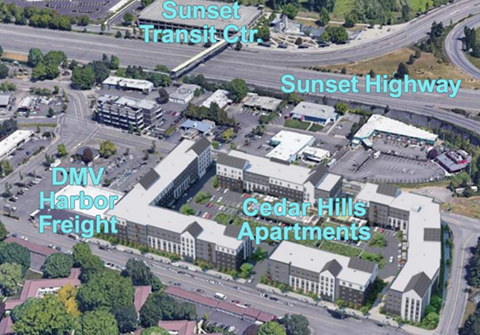 Beaverton considers several local projects
Since 2003, Beaverton has annexed several areas that have traditionally been part of Cedar Mill or are nearby. The entire Peterkort property complex was annexed in along with the Cedar Hills Shopping Center and others.
Peterkort Rock Gym
Wednesday, October 26, 6:30 pm, virtual
The Beaverton Planning Commission will consider the application to redevelop the former Orchard Hardware building in the Peterkort Towne Square center into a rock-climbing gym. Baysinger Partners Architecture requests Design Review Three approval for the remodel and expansion. Minor Adjustment approval is requested to exceed the 60-foot maximum building height standard by less than ten percent. A loading determination is requested to provide fewer loading berths than required by code.
How to Participate: The City of Beaverton strongly encourages submitting written public testimony via email to the project planner. However, visitor comments and public hearing testimony can be provided in the following ways: In writing via email to the project planner Aaron Harris, aharris@beavertonoregon.gov or mailboxcddplanning@beavertonoregon.gov; In writing via mail to project planner to PO Box 4755, Beaverton, OR 97076; or Join the Zoom webinar conference via phone or computer. If you do not have the technology to join the meeting virtually to provide testimony and you wish to do so, please contact planning staff for assistance.
Starbucks
Wednesday, November 9, 6:30 pm, virtual
The applicant, Baysinger Partners Architecture, requests Design Review Three approval to expand the existing Peterkort Towne Square shopping center pad building that currently houses Sunrise Bagels Beaverton. The project will add approximately 1,120 square feet of area on the west end of the building for a Starbucks Coffee shop. It will also add a drive-through lane and pick-up window on the west end of the building. The project also includes construction of a new, approximately 2,950 square foot pad building east of the existing bagel shop store. A loading determination is requested to modify the dimensions of the required off-street loading berths.
Commenting is the same as the Rock Gym above.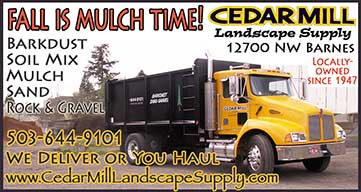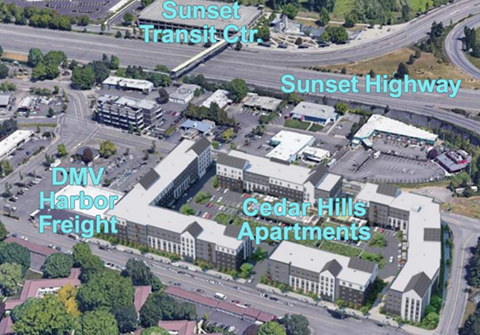 Cedar Hills Apartments approved
The Beaverton Planning Commission issued a decision of approval of Cedar Hills Apartments at the Commission's September 7, 2022, meeting. The Land Use Orders summarizing the Commission's decision can be viewed and downloaded here. Views of the proposed development are included in the Exhibit labeled Neighborhood Meeting Materials.
Redevelopment of former Hall Street Grill
Monday, October 3, 7 pm, virtual
CEDARst Companies is preparing to redevelop the property formerly housing the Hall Street Grill at 3775 SW Westgate Drive. The two commercial buildings currently on the roughly 1.85 acre lot will be demolished and replaced with a new seven-story multifamily / mixed-use building. The ground floor will house the residential lobby on SW Hall, retail space on the corner, and residential units on SW Westgate. Dr. The interior of the ground floor and second floor will include approximately 200 garage parking spaces. Amenities for residents will include a fitness center, club room, and an exterior third floor deck facing south toward Beaverton Creek.
The presentation will occur during the Central Beaverton NAC monthly meeting. All are welcome to attend. Contact Shayna Rehbert, a land use planner at MIG|APG at 503-227-3664 or srehberg@migcom.com if you have questions regarding the meeting or the application.
Gas station next to a wetland up for consideration again
Robert Barman is determined to build a Chevron gas station and convenience store on the former site of the Mad Greek Deli at 185th and West Union, despite community opposition based on several concerns: traffic, potential devastating harm to the adjacent wetland, and danger to pedestrian circulation. This is the fourth revision of his plan to be submitted to the county for review.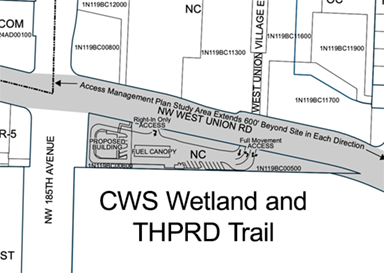 "Special Use and Development Review for "Chevron Market" (an approximate 4,428 square foot commercial development consisting of a convenience market with drive‐thru & gas station served by 4 fueling islands with 8 pumps); an Access Management Plan for access to NW West Union Road (an Arterial road); and Exception to half‐street improvements along NW West Union Road."
A hearing before a county Land Use Hearings Officer is scheduled. To provide public testimony during the hearing, you may testify by telephone or by Zoom Webinar. Please email one of the people below, at least 24 hours prior to the meeting:Paul Schaefer, Senior Planner at Paul_Schaefer@co.washington.or.us; Louisa Bruce, Administrative Assistant II at Louisa_Bruce@co.washington.or.us; Stephen Shane, Principal Planner at Stephen_Shane@co.washington.or.us, or call 503-846-8761.
Brandon Phillips has organized the Neighbors Against Bethany Gas Station (NABGAS). In addition to opposing this development, he and his neighbors have been working to change county building code to prevent this happening again.