Development News November 2021

Target opening in April

Yes, Cedar Mill, the old Bales Thriftway is going to be a Target store! As we wrote last April, Washington County approved the development application last March and remodeling work has been moving along for several months. A workman at the site said their work will finish up in March and we saw information that the opening will occur in April 2022.

A Target spokesman declined to confirm but we're confident that is the story. He sent this, "I can confirm that Target plans to open a new store at 12675 NW Cornell Road within the next year. The store will be approximately 49,000 sq. ft. As we get closer to opening the store, we'll have more specific details to share—including how the shopping experience will be tailored to serve local guests and the grand opening date."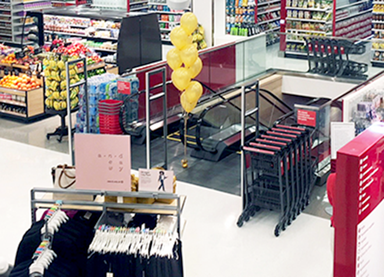 It will be a "small format" store that will likely include a pharmacy, limited grocery, housewares, toys, clothing, and a coffee shop. Target has videos on the corporate website showing this type of store in other areas.
The remodeling contractor, Skanska, is removing everything inside the 1987 building and rebuilding from the walls in. We're not sure why there's no sign, and that has caused confusion, but apparently Target doesn't like to share much information prior to opening.
Peterkort Towne Square
A neighborhood meeting was held as part of the Central Beaverton Neighborhood Association* meeting on November 1 to discuss a proposal to rebuild the western end of the building near Barnes that now includes Sunrise Bagels. Matthew Lillard with Baysinger Partners and Scott Eaton, development consultant for Peterkort & Co., explained the proposal to create a drive-through system to allow customers to pull up to a new coffee shop that was revealed to be Starbucks. Because they are asking for relief from Beaverton's code due to a smaller setback from Barnes, it would be a Type 3 land use process. He also said that having a Starbucks in the center would help attract more new tenants to the center that has been fairly empty for several years.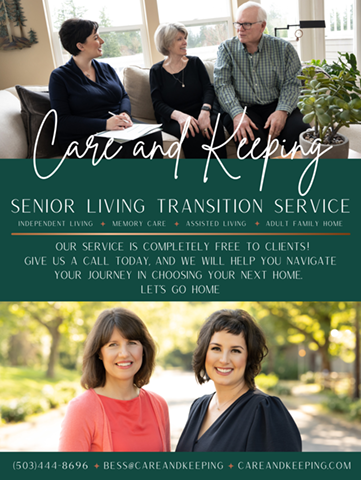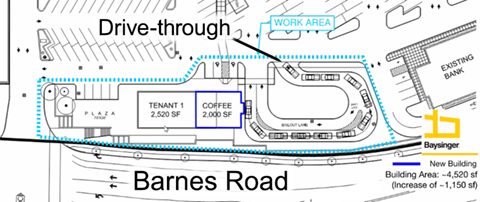 Eaton answered a question from one of the center's existing tenants by providing us with some interesting updates on future developments in the shopping center. He explained that Portland Rock Gym is planning an Olympic grade climbing venue in what used to be the garden area of the former Orchard Hardware. He also said a "local grocer" would develop a store in the 1700-square-foot space previously used by the Hallmark store.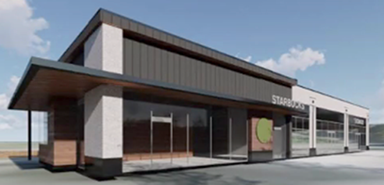 They have been in talks with "a new tenant" for the former Albertson's store. He mentioned that in the past they have had discussions with Whole Foods, Trader Joes, and New Seasons for that space, and said that none of them were off the table at this point. "Retail businesses are very careful not to syphon customers from existing locations. We're still trying to work with these and others. There are hardly any 50,000 square foot tenants anymore. They either want 125,000 or they want 70,000."
*Peterkort properties were annexed into Beaverton in 2005.
Life Time
We had planned to bring you a full update on the Life Time Fitness and Life Time Work development at the southwest corner of Barnes and Cedar Hills Bl., but we weren't able to reach anyone from the corporate office to answer our questions. We did learn that there will not only be an outdoor pool on the site, but there will be a total of five pools!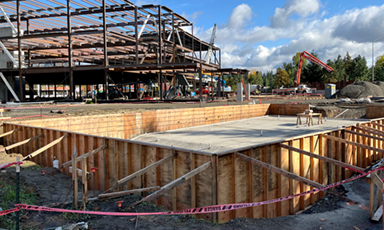 Extensive road work under way now will widen Barnes Road to five lanes from CHB to 117th. There's a lot more roadwork coming to the intersection. We'll provide a complete picture of the road changes along with more updates on the project in the December issue.
Peterkort annexation update
Last month, we wrote about a request to annex a small strip of land into Beaverton. We received an update from Beaverton Planning that says, "…the Peterkort Comprehensive Plan and Zoning Map Amendments applications are being withdrawn. City staff recently received information from Washington County regarding protected natural resources on the subject site…, related to Statewide Planning Goal 5: Natural Resources, Scenic and Historic Areas, and Open Spaces. City staff will take additional time to evaluate this new information and analyze its impact on the proposed City of Beaverton land use designation and zone for the subject site… However, city staff will continue processing the Peterkort Annexation application. City Council is scheduled to review the Peterkort Annexation on December 14, 2021, and January 4, 2022.