1021-Dev't News: West Union gas station; Peterkort annexation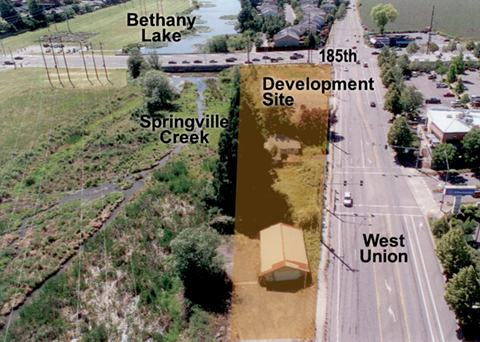 West Union gas station plans being reviewed by WashCo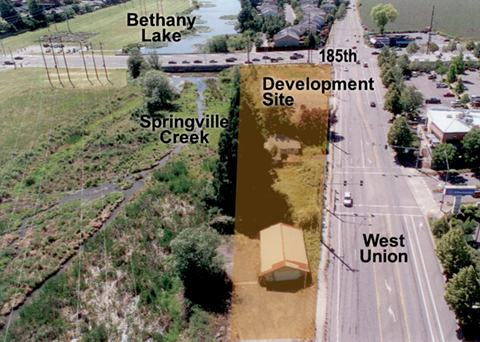 We learned in April 2020 that Robert Barman and his company were planning to build a Chevron gas station and convenience mart on the triangular property where the Mad Greek Deli used to be, on the southeast corner of West Union and 185th. Several public meetings were held so they could get feedback from community members. The original plan was withdrawn and revised, and the final development application was submitted to county Land Use and Transportation (LUT) in March and accepted by LUT in September. A public hearing before one of the county's hired hearings officers will be scheduled, likely during the November 18 session.
Barman and his wife own several other gas stations in the region, including one at Murray and Allen in Beaverton that is described as a "flagship of environmental conscience" for being carbon neutral. Many acknowledge the need for a station in the Bethany area, and the developer argues that this is the only feasible location available.
LUT lists the project as a "Special Use and Development Review approval for a two story, 4,983 square foot commercial development, Chevron Market, (convenience market/gas station) served by 5 fueling islands (10 pumps); an Access Management Plan for access to NW West Union Road; Variances to reduce: 1) the front yard setback (from NW 185th Avenue) from 20 feet to 2 feet, and 2) the street side yard setback (from NW West Union Road) from 20 feet to 10 feet for the main structure and from 20 feet to 15 feet for the canopy, and a Half-Street Exception for improvements to NW West Union Road."

The variances request says that without reducing the front and side yards required by code, the lot would not be large enough to support the convenience store component, which they say subsidizes the low profit margins of a fuel operation.
While a half-street improvement on West Union would normally be required, the developer says that the county already has plans to add an additional eastbound lane to West Union adjacent to the development. It's unclear whether they would pay into the road fund for their share of that future road work.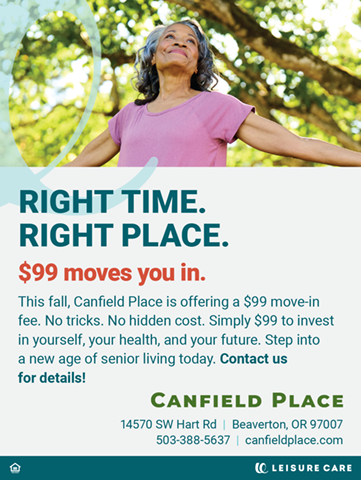 Updates will be available on the county "Projects Under Review" page where you can sort by CPO number (CPO 7) and click on the Case File link (L2100244) to see the latest information. 
Neighbors are concerned that the station, next to the Bethany Lake Wetland, will create an environmental hazard and disturb wildlife in the nature preserve. THPRD, which manages the wetland and its fish and wildlife habitat, open space, and bicycle path, has not objected to the project but noted that they want to see the sidewalk along West Union connected. That is included in the plan.
The application includes a study by 3J Consulting Inc. that shows that all runoff from the impervious surfaces will be treated by high-tech filtration systems and then conveyed by pipes to the existing sewer system, and eventually discharged into Bethany Lake.
A group of neighbors, Friends of Bethany Lake, are organizing to oppose the development. They formed last year when the application was first introduced and grew into a larger group advocating for and protecting the community's natural areas and resources. They don't believe that significant variances from the NC zoning are justified. For more information and to join in their effort, contact BethanyLakeFriends@gmail.com.
Peterkort annexing remaining property into Beaverton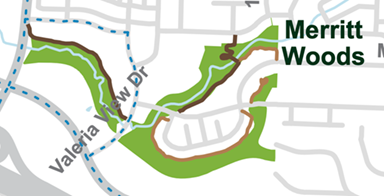 Beaverton has received a "Petition for Consent Annexation" for a strip of land east of Valeria View. Lina Smith, Beaverton Associate Planner, says, "The property contains a THPRD trail and natural resources including a stream, a Metro Upland Habitat area, and Metro Riparian Habitat areas. The property is also located in the Federal Emergency Management Agency's Special Flood Hazard Area and Floodway. The assignment of the applicable City of Beaverton zoning and land use designations upon annexation will not eliminate the existing trail or natural resource designations on the subject property." That means any kind of development is unlikely.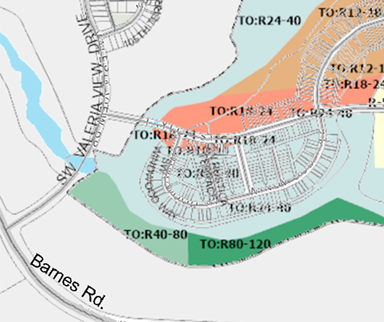 Four Washington County zoning designations—from 18 to 120 lots per acre—currently apply to the land. Smith notes, "Based on the Urban Planning Area Agreement (UPAA) between the City of Beaverton and Washington County, three out of four of those Land Use Districts—Transit Oriented Residential (TO ):R24-40, TO:R40-80, and TO:R80-120) will be automatically assigned to the City of Beaverton's Sunset Center High-Density Residential (SC-HDR) zone upon annexation, through a non-discretionary procedure. City staff will also recommend the assignment of the SC-HDR zone and SC land use designation to the portion of the property that is located in the TO:R18-24 Land Use District to Planning Commission, as this portion is subject to a discretionary procedure.
Peterkort Company president Lois Ditmars says the request is to consolidate all their area holdings under one jurisdiction. The remainder of their land was annexed into Beaverton between 1997 and 2011.
Ditmars also said that the Sunset Transit Center Parking Lot opening is on hold because TriMet ridership has decreased to the point that the existing parking lot isn't as full as it used to be, because of the pandemic. She also noted that they are talking to several potential tenants for the Peterkort Towne Square center but can't share details until contracts are signed. We'll let you know as soon as we hear!