Love trees? Be a Treekeeper!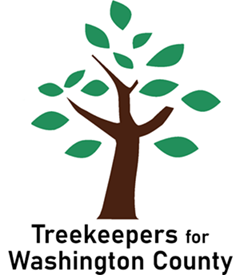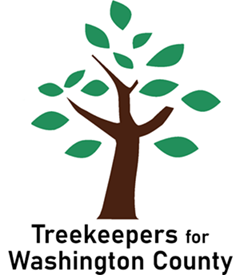 It's easy to appreciate trees when they are in the glory of their fall colors, but at Treekeepers of Washington County we celebrate trees all year around. Besides being beautiful, trees provide environmental, economic, and social benefits—including fighting climate change—by absorbing carbon dioxide and airborne pollutants, storing the carbon, and emitting pure oxygen. Just one average sized tree produces enough oxygen in one year to keep two people breathing. Their shade reduces heat in urban areas and provides habitat for birds and other creatures. That's a lot to love about trees!
Washington County population is exploding, and there is a pressing need for new housing. Our new all-volunteer group seeks to find ways to achieve that with the least impact for trees. Currently, Washington County has no specific protection for existing trees. While they often require developers to plant a few trees in new development, large trees provide a much greater proportion of benefit for urban areas compared to newer, smaller trees in terms of ecosystem services. These include absorbing stormwater pollutants, cooling urban areas, and creating a sense of community. Ending deforestation is the best chance we have to stabilize our climate, save wildlife species, and protect our well-being.
Our mission at Treekeepers of Washington County is to protect existing trees in Urban Unincorporated Washington County through community education and advocacy. We have been meeting with our county commissioners and developers to promote the preservation of mature trees; researching nearby city and county tree protection programs and codes; planning for tree inventories in our area; partnering with other environmental organizations; and tracking proposed developments in our urban areas. 
Protecting the urban forest is our mutual responsibility. We are all stakeholders in this resource and there is so much that can be accomplished if we work together. Please join us. We can help you to take action! Please check out our website at treekeeperswc.org, or contact us at treeswc@gmail.com.
We hope you appreciate the trees that make our county special and livable. Enjoy the fall trees on our Cedar Mill Tree Walk by using our map for a mobile device, or as a downloadable pdf brochure.