Legislative News: new districts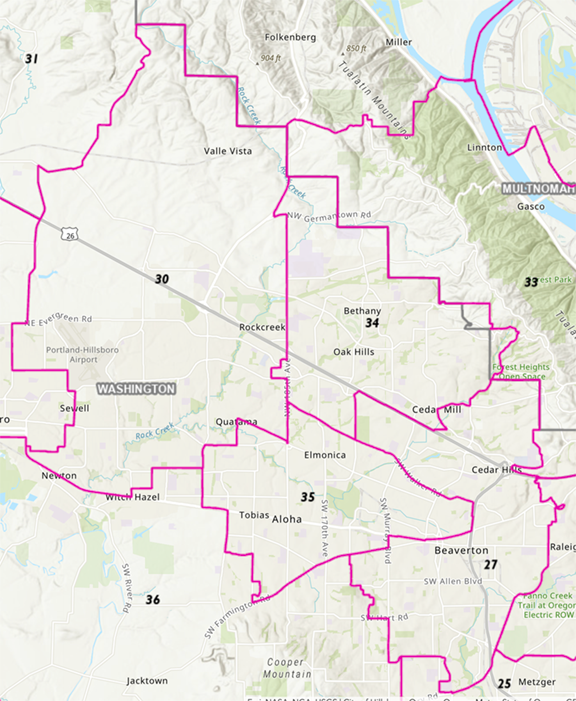 Redistricting plan approved by legislature at last minute
By Virginia Bruce
We wrote in detail last month about the process to draw new boundaries for the Oregon legislature and for our congressional representatives. September 27 was the deadline for the state legislature to enact a plan, and somehow they managed to finish in time, and the governor signed the two bills that created the new districts.
I testified before the committee that the previous plans did not take account of the unique nature of Washington County's urban unincorporated areas north of 26, because it still lumped us together with northwest Portland. Our current State Rep, Maxine Dexter, said that the committee definitely heard us! However, after the new districts take effect, her district (House District 33) will be entirely on the other side of the county line. HD 34 follows the county line to the north/east. This district includes most of Bethany, some of Rock Creek, Oak Hills, and Cedar Mill west and north of Cedar Mill Creek, which the committee apparently used as a boundary. HD 27 includes the Timberland area, West Haven, some of Cedar Hills, and north Beaverton.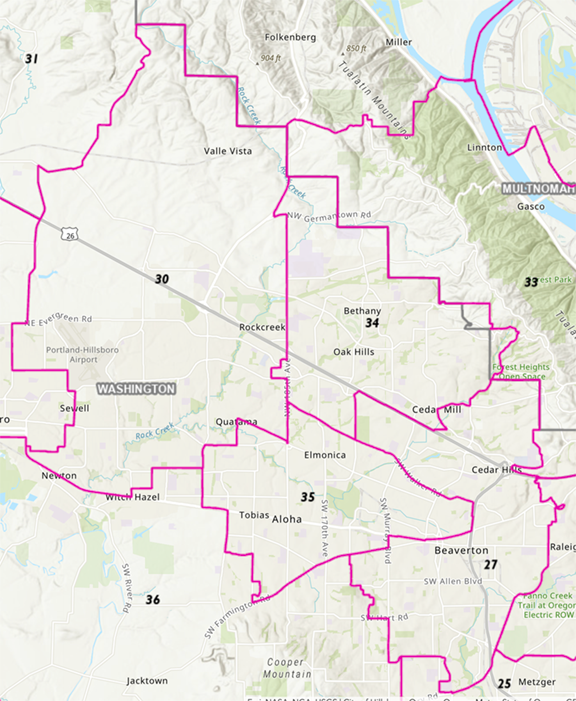 So we're split again, but at least it's all in Washington County. If you're close to the boundary, you can determine your new district with the "interactive map" here. Click on the small icon labeled content, then select a category name to see proposals.
State Senate District 17 will be a combination of 34 and 33, straddling the hills and the county line. Elizabeth Steiner Hayward, the incumbent in SD 17, is up for election in 2022. (As far as we know, she lives in the newly-drawn district.)
Those now in the new HD 27 and HD 34 will elect representatives in 2022 (currently Sheri Schouten and Ken Helm of Beaverton, respectively). Those in HD 34 will elect a senator (SD 17 consists of HD 33 and 34) in 2022, but those in HD 27 will not (SD 14 consists of HD 27 and 28, and incumbent Kate Lieber of Portland lives in the Multnomah County portion of the new SD 14).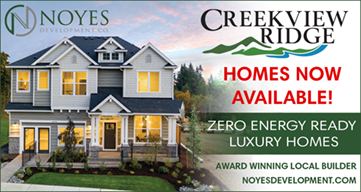 There are likely to be challenges to the plans. As with any complicated endeavor involving a lot of people, nobody is completely happy, and nobody is getting exactly what they wanted.
October 25 is the deadline for electors to file objections to the plan. The Oregon Supreme Court must either approve the plan by November 22 or file an opinion requiring corrections if it rejects the enacted plan by December 6. If the court approves, the new districts will be "enacted" on January 1. The Secretary of State can make further revisions until January 17, 2022.
Peter Wong, who covered the entire process in detail for the Pamplin newspapers, says, "The absolute deadline for both plans being final is one month before the March 8 deadline for filing for the May 17, 2022, primary election. The Legislature and the Supreme Court did not change those dates." (Other redistricting deadlines were changed because the census information was late in arriving.)
So what will happen once it all shakes out? Who will represent us and when will the new districts get new representatives? Some of our currently serving reps no longer live in the new districts.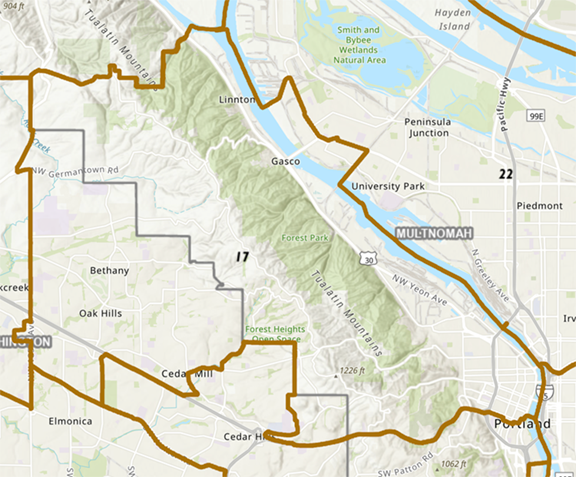 Wong sorted it out for us this way. "State legislators continue to serve their current districts through the end of their elected terms (to Jan. 9, 2023). However, if they want to seek new terms, they will have to run within their new districts in the 2022 elections.
"Obviously, all 60 representatives are up in 2022 because they have two-year terms. As for the senators, there are 15 who would be in the middle of their four-year terms, but they would NOT have to run in 2022. Chuck Riley of Hillsboro has announced he will retire a year before the end of his term; he would have been up in SD 15 next year anyway, and whoever is appointed to succeed him would have to run in 2022 for a full term."
Representative Maxine Dexter's constituent in-person and virtual events
Forest Park Walks
Tuesday, October 12, 8 am, 4099 NW Thurman St, Portland, OR 97210
Please join me on my final morning walk and talk event of the year. We will meet by the information board, rain or shine, just past the green gate at the beginning of Forest Park's Leif Erikson trail. We will walk and talk as we proceed up the main trail and will head up the trail starting promptly at 8:05 am sharp, so don't be late and wear comfortable walking shoes! This is an out and back walk; you may join us for as much of the walk as you choose.
Zoom Town Halls
Saturdays, October 30, November 13, December 11, 10-11 am, via Zoom.
Register for the October, November, and December meetings. We will have special guests and important topics to debate and discuss at our upcoming town halls. Our first Zoom (on October 30) focuses on gun violence in Portland and includes local leaders for this important conversation.
October 30:
https://us02web.zoom.us/meeting/register/tZUsdOmvpjwoHdU50-M1v408sx83ljC-_qJO
November 13:
https://us02web.zoom.us/meeting/register/tZctdeCuqDkjE9JYqYQdLJb4Iia73KC1vCi2
December 11:
https://us02web.zoom.us/meeting/register/tZIkf-yrrTsjHtJh7LodM8XTL_fUJZwP6Chv
I will still be available over Zoom, and if you prefer, my office can help set up a time for meeting. The best way to reach me is through my email at Rep.MaxineDexter@oregonlegislature.gov.