Business News November 2021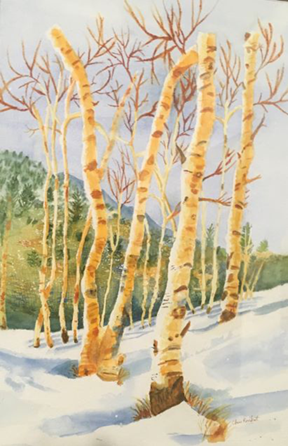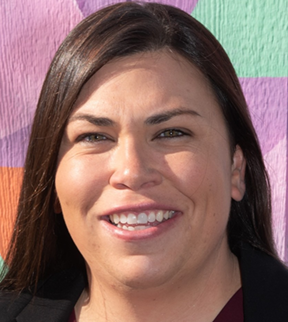 Meet Beaverton's Mayor at CMBA
Tuesday, November 9, noon-1 pm, via Zoom
The Cedar Mill Business Association continues monthly speaker and networking meetings via Zoom. Our November speaker is Beaverton Mayor Lacey Beaty. Join us for a 30-minute discussion about the City of Beaverton and the developments happening throughout the community. Through this session we will gain a unique perspective on the city.
CMBA members will receive the Zoom link through the monthly e-blast. We invite guests to two free visits. Please contact our admin Tammy at admin@cedarmillbiz.com to receive the link to the meeting. For more information about the Cedar Mill Business Association, please visit our website.
Holistic Pet closing, clearance sale on now
Holistic Pet, in the Safeway Center, is closing its doors. We will miss their great variety of food, toys, and pet accessories and the grooming services!
Everything is 10% off now, and the discount will go to 20% after November 7 until it's gone. We wish them well in their next endeavor!
Our local tap room, at the west end of the Safeway center, hosts a variety of fun games and brew-related events. Come in to enjoy their ever-rotating variety of brews, bring food from one of the many restaurants in the mall, and relax with neighbors.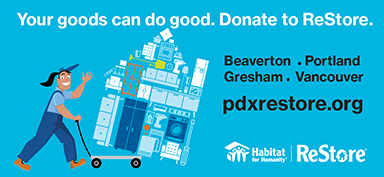 Gilmore Girls Brunch Trivia
Sunday, November 7, 11 am-1 pm 
Join us for our first brunch trivia of the year. Trivia starts at 11 am, but check-in starts at 10:30 am. Please get there early to order drinks and get materials. Teams limited to 6, with a minimum of 2. NO RSVP
Thursday, November 18
Meet folks from Pfriem in Hood River and sample several beers.
A current list of what's on tap is on the website.
Knife and Tool Sharpening.
Sunday, November 7, 4 pm, Forest Heights Village Center, 2061 NW Miller Rd
Hi neighbors! Since the last knife sharpening event was so successful (they worked almost until midnight!), Bill Baines of EdgeMaster Mobile Sharpening will be at the Village Center parking lot in Forest Heights again.
This is an excellent time to sharpen knives and food processor blades ahead of your holiday cooking. He also sharpens those garden tools you will be storing for winter. Bill has worked at the Beaverton Farmers Market for years and we are fortunate to have him with us again. You simply drop off your items and they will call you to let you know when to pick them up later that same evening. Happy holidays everyone!
Help wanted for Christmas Tree sales
November 27 – December 20
Help us with Christmas Tree sales at Dinihanian Floral, 15005 NW Cornell Rd. Send resumes to: lillian@dinihanian.com
Open House for new childcare center
Saturday, November 20, 9-11:30 am, Wow & Flutterville, 800 NW 107th
A new location for this licensed childcare program is just opening in Cedar Mill. Owner Deanna Cohen says, "Our program has been licensed for twelve years and serves children ages 6 weeks to Kindergarten. We'll have homemade pumpkin bread, cider, and music."
Village Gallery of Arts
Our mission is "to ignite the joy of learning, creating, and appreciating art in our community. We support professional and emerging artists by providing high quality affordable art education to children and adults as well as providing venues for sharing their work. Village Gallery of Arts is a non-profit (501c3) organization, receives no taxpayer money, and is staffed entirely by member volunteers.
Featured Artist Laura Leiman: "My show theme, 'Threads that Bind,' explores the common fibers of Vietnamese and Japanese culture, each with distinctive and original customs that radiate through the personalities and landscapes I paint. While ornately crafted costumes can express a love of heritage, we show our unique personalities through what we wear, what we create, and how we daily express ourselves. By weaving together our common threads, we reveal a greater integrated world. Media includes liquid acrylics, ink, collage, and gesso."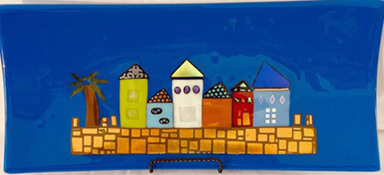 Featured Artisan Eileen Millsap: "Art in many forms has surrounded me my entire life. My mother was a painter and print maker. For the last 15 years I have worked in fused glass. Colors, textures, and shapes have inspired me. I work with large glass sheets of many colors and textures. I design my pieces, cut and fuse them in glass kilns in my studio. In the last stage, I slump my pieces into their final shape using ceramic molds. My work is largely functional consisting of bowls, plates, and other useful shapes.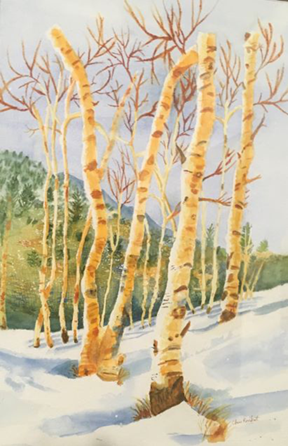 Artists' Reception
Sunday, November 7, 1-3 pm
Come meet the artists and browse the new show! Masks required.
Classes and Workshops
In-person classes are held at 1060 NW Saltzman. Masks are required for all in-person classes. Registration is online for all classes and workshops. Please see the Village Gallery of Arts' website for details and return for regular updates.
Children's Classes and Workshops
Thursdays, November 4, 11, 18; 3:45-5 pm. Maximum of eight students per class. In-person, three-session class for ages 7-11.
Join an exciting class learning a variety of art forms! A crew of rotating instructors from our gallery will provide students a chance to explore a variety of media and approaches while building their artistic concepts and skills. Look forward to both 2D and 3D projects each month! All supplies are included. Each class will feature a different project and different instructor.
Adults' Classes and Workshops
Emily Stevens: Painting on Fabric/Making Gifts for the Holidays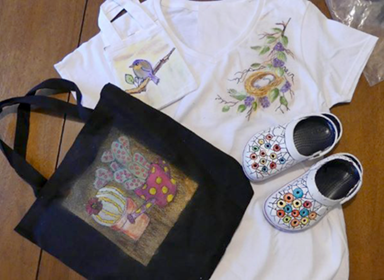 Thursday, November 11; Tuesday, December 7, 10 am-3 pm. Maximum of 10 students per class. In-person, one-session class, two separate sessions.
Explore painting on fabric that may be used for clothing, greeting cards, tote bags, aprons, tee shirts, or wall hangings. Learn the basic techniques using fabric paints and media. Go home with painted textile art samples that may be used for gift giving or other uses. All supplies will be provided by the instructor; bring designs or images you want to paint and clothing or fabric you want to paint on.
Jean Anderson: Watercolor Batik
Wednesday, November 24, 10 am-1 pm. Maximum of eight students per class. One-session Zoom class.
This is a fun and interesting technique on nontraditional paper using centuries-old batik techniques to create beautiful watercolor batiks. I will provide you with tips on painting with watercolor on rice paper, including the type of rice paper to use. You will learn how to mask using wax with an old brush or traditional batik tools. Full written instructions are included with the class. Recordings of each class will be available for a limited time. A detailed supply list is provided upon enrollment.
Local realtor donates low-income housing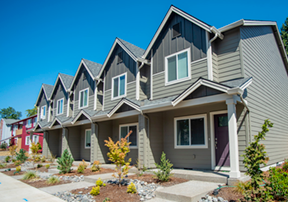 Union Gospel Mission recently received a generous donation from the Crandall Group of a five-unit townhome complex worth $1.5 million. Mark and Angela Crandall and Crandall Group made this donation of brand-new housing to help with the growing need for affordable housing in the Beaverton area. Safe and affordable housing is a huge challenge to find for people who are transitioning out of homelessness, recovery, or escaping domestic violence. For single-parent families, the challenge is even greater. 
"Thanks to the incredible generosity of the Crandall Group, Union Gospel Mission has a powerful tool in our toolbox to help single parents and their children transition to a life of self-reliance. These townhomes give them a running start toward independence," says Jason Christensen UGM Executive Director.
Matt Wellner, broker with Crandall Group, says, "There was an apartment fire on the site that left it vacant. We purchased the vacant property, permitted and built a brand new five-plex, then donated it to Union Gospel Mission. The Mission is operating it as transitional affordable housing for single parents, with a focus on single moms."
Union Gospel says that the vision is to support single parents by not only providing safe, affordable housing but also to provide a supportive community with other families who are working to overcome the challenges they faced due to addiction, abuse, and homelessness.