Road News November 2020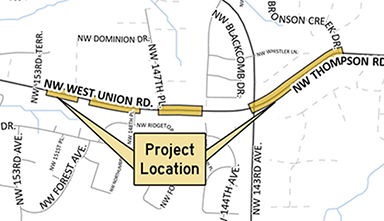 Visit the online West Union/Thompson roads construction kickoff
Through Sunday, November 8, online here
The $1.2 million project, funded by the Urban Road Maintenance District (URMD), involves completion of sidewalk gaps on the north side of West Union/Thompson roads, between Bronson Creek Drive and 153rd Terrace, and a segment of sidewalk on the south side of West Union Road, connecting to 148th place. ADA-compliant ramps, waterline relocation and installation of stormwater drainage and a streetlight are also included in this project.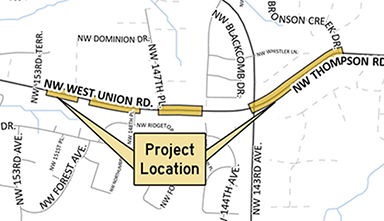 All right-of-way has been acquired. Construction is scheduled to begin in November, with completion anticipated by April 30, 2021. Intermittent weekday lane closures, between 9 am-3:30 pm, are expected.
To learn more, visit the "kickoff" page or contact Capital Project Services at 503-846-7800 or lutproj@co.washington.or.us. The main project page is here.
Walker-Murray intersection
Following Beaverton's denial of the previous appeal, the project is going forward. Construction is tentatively scheduled to begin in spring 2021.