Cedar Mill Farmers Market seeks sponsors and volunteers for 2024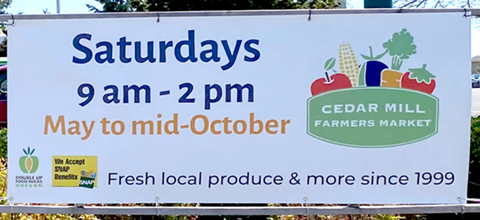 Saturdays through October 14, 9-2, corner of NW Cornell & Murray
We had such an incredible 2023 season at the Cedar Mill Farmers Market! A big THANKS to our board and our staff! We wouldn't be able to maintain our market without the help of these awesome people. We also greatly rely on sponsorships that, for 2023, included: Oak Hills Dentistry, Sunset Athletic Club, Dirk Hmura, Miller Paint, Safeway, Cedar Mill News, Sunset Science Park Federal Credit Union, The Farmers Market Fund, and Tualatin Soil & Water Conservation District. A big thank you to these incredible businesses and organizations for supporting our market!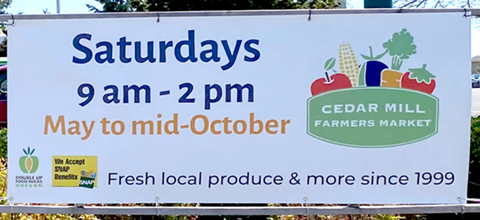 Here are a few fun facts from 2023: 54 vendors took part during the season; 46 kids participated in the Power of Produce Kids Program each week; a total of 1100 interactions during the season; 1275 was our average number of guests each week, with 30,663 people total for the season. We appreciate our community members who volunteer, support our vendors, and help make our neighborhood stronger. We look forward to getting more of you involved in our 2024 season.
Speaking of the 2024 season, planning is beginning now. Here are some important dates: Seeking volunteers and sponsors now; vendor applications go live January 15; musician requests begin February 15, and community booth requests begin February 15.
A farmers market relies on the support of partners in our neighborhood. Your Cedar Mill Farmers Market relies on you, our sponsors and volunteers! We would love for more local businesses and families to get involved in 2024. You can get involved by sponsoring our market or one of our programs. For example, we need $2500 for our Power of Produce to bring this awesome program to our children for 24 weeks each season. We also need $2500 to bring the music program to our market each season. Please consider getting involved and supporting one of these programs.
Here are some volunteer roles we need filled: Market Day volunteer scheduler/recruiter, Power of Produce Activity Coordinator, Fund Raising Coordinator, Social Media Promoter, and Market day volunteers. We need you to volunteer for several dates, such as weekly, once a month, or something consistent so we can get to know you and you can really learn the ins and outs of the market and be confident in your volunteer role. Volunteering only once is hard because it doesn't give you the training and confidence you need to really feel comfortable to help. Volunteers are essential to the market's success and the last couple of years it has been hard to get volunteers.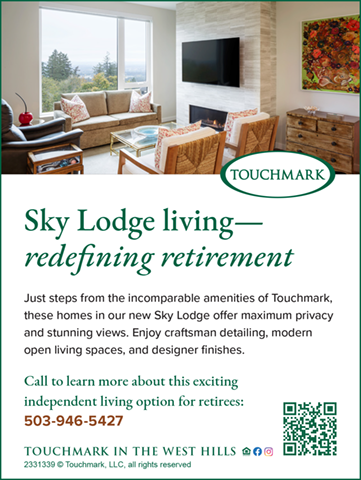 Please contact us at ourcmfm@gmail.com to start a conversation about how you can get involved. We need people to get involved pre-season as well as during the season. Planning is vital to a successful market.
We are excited for the 2024 season and want you to be excited too! Please contact us today to get involved. Thank you!
Cedar Mill Farmers Market: An assistant's view
By Emelia Carson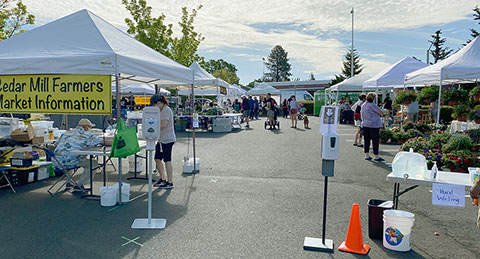 This year I have had the pleasure of working as Assistant Market Manager for the Cedar Mill Farmers Market. I went into this position hopeful and excited to be a part of our community, and the joy I feel has only grown from there. Working for the market has introduced me to so many people, many of whom I am lucky to now call friends.
I had expected to have busy Saturdays going into this job, but I didn't expect all the elements that go into it. Every week, Karen Carroll, our Market Manager, and I work together to make a market map for our vendors, change it, and then change it again for all the different booths we have each week. On Saturday, we set up canopies for our Sponsor Booth, Community Booth, Sustainability Booth, Music area and our Power of Produce booth. We plan activities for the kids, and sometimes we have lovely volunteers come out to help (though we always love to have more)!
The job is sometimes chaotic and stressful. Keeping everyone safe and happy while doing what's best for the market as a whole is more complicated than it seems. In addition to market day, there are so many "behind the scenes" tasks that need to be done. A lot goes into bringing this market to our community. It is a ton of work but it is very fulfilling. I have learned so much about produce and the environment from interacting with the vendors and playing games with the kids at the Power of Produce booth. Getting to know our customers and our vendors this season has brought me so much happiness and taught me more than I could have expected.
The Cedar Mill Farmers Market is a neighborhood institution, providing fresh local produce, handmade crafts and goods, and delicious food to our community. I am proud to be a part of it. Our last day of the season is October 14. Please come out and celebrate the end of our market season with us!