Garden & Nature October 2023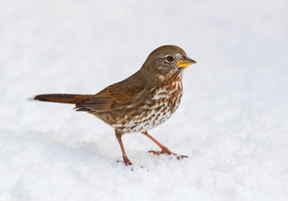 Treekeepers of Washington County
We work to protect and advocate for trees in urban unincorporated Washington County. We have a good lineup of events in October. Don't miss these! All of them are free.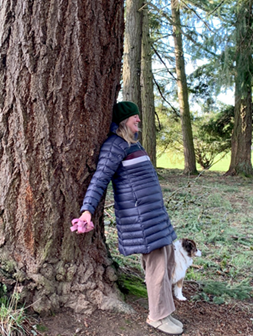 Raleigh Park Tree Walk
Sunday, October 8, 12-1 pm, starts at the West Slope Community Library
Join neighbors Betsy Ubiergo and Brooke Bachelor for an "awe walk" as we visit key "mother trees" in the lovely Raleigh Park neighborhood. They will share information about the healing energy of forest bathing and how spending time with trees can positively impact our physical and mental health. Please join us for this relaxing one-hour, one-mile loop walk and see your neighborhood through new eyes. Register through this sign up form.
Raleigh Park Ivy Removal
Saturday, October 14, any time between 10 am-2 pm, 3670 SW 78th Ave, all ages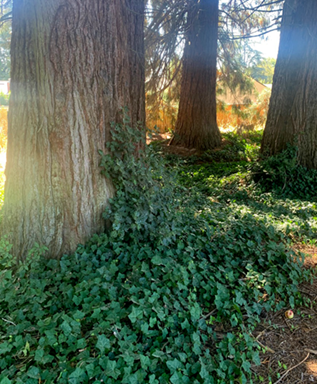 Save the sequoia grove at Raleigh Park Elementary School by helping remove the invasive ivy that threatens to overwhelm the trees. Please bring gloves and pruners if you have them, as well as water and snacks. We'll hope to see you! For more information, contact Brooke at bbache2@gmail.com.
October Tree Talk Meetup
Brooke Bachelor hosts us again, indoors this time. We hope to include a discussion with a local arborist about ways to achieve one of our goals: the hiring of a professional urban forester/planner by Washington County. Sign up if you plan to attend so Brooke knows how many to plan for.
We hope to see you at these events! Contact us at treekeeperswc@gmail.com or visit the Treekeepers WC website to find out more.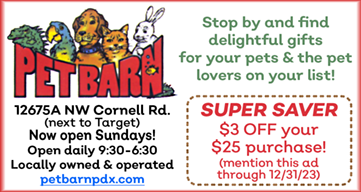 Washington County Master Gardener programs
We Study Gardens: An Update from OSU's Garden Ecology Lab
Join the Washington County Master Gardener Association and OSU Professor of Horticulture, Gail Langellotto, PhD, for an update on OSU's Garden Ecology Lab. Since 2016, the Garden Ecology Lab at Oregon State University has studied local gardens, as well as the gardeners who tend these unique spaces. What native plants attract the most bees and beneficial natural enemies? Do native cultivars retain the same benefits to wildlife as their native progenitors? Do the garden systems that are tended by Master Gardeners align with what we teach about soil health? Get the answers to these questions and others, and hear what we are planning to study next! Approved for one hour of Master Gardener education credit.
Divide and Conquer: Plant Propagation
Saturday, October 7, 10 am-12 pm, WCMGA Learning Garden at Jenkins Estate, 8005 SW Grabhorn Rd, free in person class, no registration needed
Multiplying your plants by dividing them can be one of the most satisfying methods of plant propagation. Some plants take a delicate touch; others respond well to brute force. In this class, Master Gardener Jennifer Rosenquist will demonstrate methods for dividing your plants successfully. Approved for one hour of Master Gardener Education Credit.
Digging and Storing Dahlia Tubers
Saturday, October 14, 10 am-12 pm, PCC Rock Creek, Bldg. 4, Room 103 and 104, PCC Rock Creek Campus, 17705 NW Springville Rd., free in person class, no registration needed
Participants will learn when and how to dig tubers in the fall as well as various storage mediums and conditions to ensure optimum survival. Non-digging options will also be included. A demonstration on digging and dividing tubers will be given. Kimber True, OSU Ext. Master Gardener Volunteer, will lead the class.
For more information, please go to the WCMGA website. The Washington County Master Gardener™ Association (WCMGA) sponsors a wide variety of gardening–related demonstrations, lectures, seminars and workshops in various Washington County Oregon locations. Most of our events are free and open to the public. The WCMGA is a 501c3 non-profit.
Tualatin SWCD Fall Workshops
Tualatin Soil and Water Conservation District is hosting a wide variety of virtual and in-person workshops this Fall. Learn about naturescaping (gardening with native plants), rainwater harvesting or how to plan for your farm's future. All workshops are free! Details and registration can be found on their website.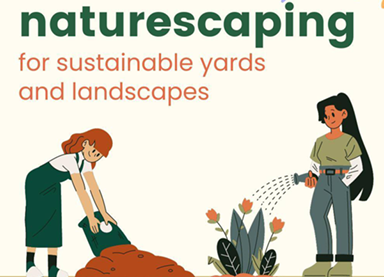 Naturescaping: Basics
Tuesday, October 17, 6-7 pm, online
This webinar introduces the basic principles of naturescaping or gardening with native plants. We'll help you choose the right native plant for your space, big or small.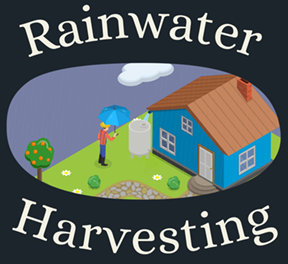 Rainwater Harvesting
Wednesday, November 1,6-7 pm, online
Harvesting rainwater allows us to utilize the water falling on our homes and landscapes, even during the dry season. In this webinar, learn about rainwater harvesting options for spaces big and small in this webinar!
CWS 31st Annual Leaf Disposal & Food Drive
Saturday, October 28, 8-4, CWS Field Operations, 2025 SW Merlo Court in Beaverton
This fall, bring your leaves and food donations to one or more of our convenient events. Clean Water Services says, "Leaves, pine needles, and grass clippings are accepted. Bring debris loose or in a paper bag (no plastic); Please limit debris to 50 pounds per bag: Program is for residents, not commercial operation. We'll also collect monetary and food donations for local food banks. Visit the Clean Water Services website to learn more.
We love trees—and we know fallen leaves can block storm drains and cause problems for you and your neighbors. Help prevent localized flooding by properly recycling leaves. Use one or more of these helpful tips:
Drop them off. Place leaves in paper bags or bins and drop them off at a CWS or partner city event this fall. Leave your leaves. Leaves can make excellent natural mulch. You can leave the leaves that fall on garden areas or mulch them with your lawnmower for use in planting beds. Hire a service. Many neighbors work together to manage leaf fall. You can combine resources to hire a service that will collect and dispose of all your leaves together.
Find support for yardwork, if needed, through the 211 Community Resource Directory online, call 211 or 503-222-5555, or text your zip code to 898211 during office hours.
Audubon October programs
Fall and Winter Birding: A Primer on Where, What, and When
Wednesday, October 11, 6-7 pm, online
Become an expert on late fall and winter birds! Find more details on the Audubon website.
Understanding Owls
Thursday, October 12, 6-7 pm, online
In this first of three stand-alone classes, learn about owls with Brodie Cass Talbott. Find more details on the Audubon Website.
No School Day Camp Fun Fridays: Salmon Run!,
Friday, October 13, 8:30 am-3 pm, Grades 3-6
Join us for a day in the Gorge as we go in search of Salmon trying to find their way back to spawn! We will learn about the geology that made the Gorge habitat so special, hike the trails, and visit the Bonneville Fish Hatchery to try and find these amazing fish that are so important to the ecology of the Pacific Northwest. Find more details on the Audubon website.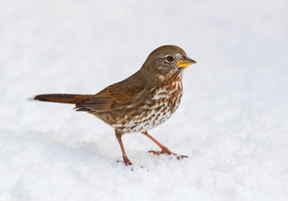 Birding by Ear: Winter Migrant Birds
Tuesday, October 24, 6-7 pm, online
Build your ear birding skills by reacquainting yourself with their vocalizations. Find more details on the Audubon website.
Find more classes and see Audubon of Oregon programs on the Audubon website.
Annual Native Plant Event
Saturday, October 7, 9-3, Tualatin River Farm, 4490 SW Minter Bridge Road, Hillsboro
Add native plants to your landscape at the Clean Water Services event hosted by Tree for All. You must live within CWS' service area to be eligible for five free plants. Plant species are subject to availability and will be pre-selected in bundles based on your planting location. Advanced registration is required. Reserve a ticketed pick-up time (in 30 minute increments) and select your planting location; shady or sunny. One ticket per household please. Contact trf@cleanwaterservices.org with questions. Register with this sign up form.
Ivy Removal at West TV Elementary
Saturday, October 21, 10 am-noon, West Tualatin View Elementary School, 8800 SW Leahy Road
The trees behind West Tualatin View Elementary School need to be rescued from the invasive ivy that threatens to starve and topple them. This first effort is to clip the ivy from the trunks. All ages are welcome to help. Children will need to be supervised by an adult. Please wear grubby, washable clothing, long pants, a long-sleeved shirt, and sturdy, closed-toe shoes or boots. Bring gloves and pruners if you have them, as well as water and snacks. You are welcome to just show up, but registering helps us provide enough tools. Register on this page.